Need Some Family Bonding Time?
As a river guide for the last 25 years I can assure you that the best outdoor activity for family bonding is a multi-day rafting trip.  I have witnessed in my own life, and in the life of my clients how spending time in nature brings families together. According to the medically reviewed article
How to Strengthen Family Bonds
by Denise Witmer the keys to family bonding are schedule time, share meals, do chores together, create a mission statement, and have family meetings.   These ideas define a guided multi-day rafting trip.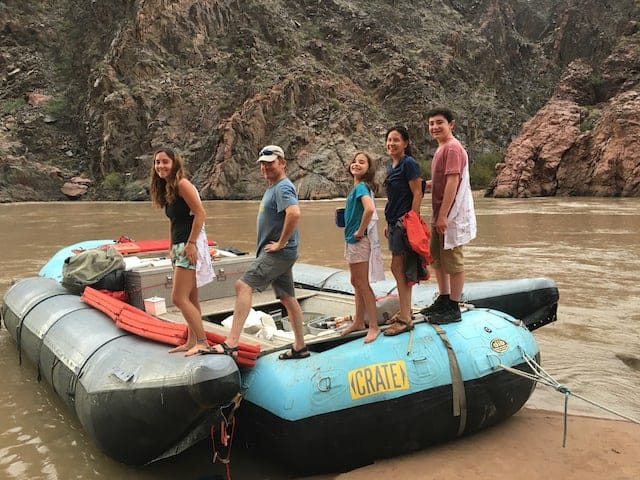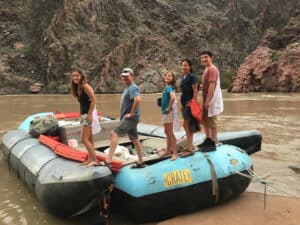 Schedule Time
First off, a rafting trip has to be planned in advance.  It is something everyone has to agree on, commit to, and set aside time for.  Once on the river, families spend uninterrupted quality time together making lasting memories.
Share Meals
Meals are prepared by the guides.  There is no stress in deciding what to eat or where to eat.  Meals are enjoyed along the sandy shores of the river.  
Do Chores Together
Camp chores unloading rafts and setting up camp require working together and helping each other out.  On the river, each family member is important and works toward a common goal.
Have Family Meetings
Family conversations occur every night before bed, on every hike, and during each meal.   These conversations are a natural part of spending time together in nature. 
Create a Family Mission Statement
In the article Witmer uses "In our family, we love each other and we help each other." as an example of a family mission statement.  Something similar could be said for the mission statement of a rafting expedition. 
My Story
I grew up on the river.  My parents took me to the North Slope of Alaska on the Noatak River for 21 days when I was 2 years old.  The Tatshenshini, Colorado, and Green came shortly after.  On those trips I bonded with my family and nature.  We spent days and nights together, and the appreciation and memories I gained from those early trips will stick with me always.
As a guide, I witness firsthand on a daily basis family bonding on rafting trips.  Nature brings out the best in families.  I think this happens because families have each others undivided attention and they are spending time together.  One of countless examples of family bonding occurred on a rafting trip my wife Mindy and I were guiding together.
The trip was an 8-day rafting trip on the Colorado River in Grand Canyon.  The Grandparents had booked the trip with their adult children-and spouses, and their grandkids.  They were a really nice family that was excited to be there and make memories, but one of the granddaughters was determined to not have a great time.  She did not want to leave her friends and smartphone for a week of camping.   On this particular trip the moment of enlightenment happened at Matkatamibia Canyon.  I had led the group up through the Muav Limestone canyon.  Before following the group up the canyon, Mindy was going to make sure everything was secured on the boat and double check all three of our lines from the boat to shore were tied and secured correctly.   The granddaughter was going to stay back at the boats, but when she realized she would be alone if she did not hike up the canyon she changed her mind and hiked alongside Mindy.  On that hike, she opened up to the canyon and told Mindy how much fun she was having, but did not want her parents to know.  As the trip continued on it became obvious she was having a good time and everyone knew it.  At the conclusion of our trip she added a nice note to our river memories book and finished it with "I had an amazing time, but don't tell my parents."
As parents now, Mindy and I get to share the river with our kids.  Their excitement over camping, rapids, and wild places touch our hearts.  Spending time with them on river trips rekindles my old memories and my deep love of place.  Our kids remind us how important it is to preserve and protect our world for the future.
Time Spent Together is Never Wasted
"Kids don't remember their best day of television"
– Anonymous
A multi-day rafting trip is a great way to spend time together.  Families on rafting trips eat three meals a day by each others side.  A day on the river is not dependent on any type of electronic device.  In fact, as guides, we encourage everyone to put away their electronics and get in tune with the natural rhythm of nature that our species has evolved with for thousands of years.  We start our day with the sunrise and fall asleep under blankets of stars.   All the while, listening to the melodys of the the canyon, and connecting on a deeper level to family and nature.
Families share tasks and stresses are limited to the natural world.   You don't have to worry about the traffic getting to work, but instead you notice you are hungry, tired, cold, or wet.  You work together to set up camp, play frisbee on the beach, or discuss life around a campfire.  Smart phones and social media are replaced with conversation and quality time together.
Adventure?  Obviously!
Rafting trips are packed with adventure.  The time spent on river is full of rapids, water fights, and swimming.  Time off-river is spent hiking, playing games, and building sand castles.  Camping along the river gives families plenty of options, and no one will ever be bored.
What Rafting Trip is the Best For Family Bonding?
The best rafting trip for strengthening family bonds is on the Green River through Desolation Canyon in Utah's remote wilderness.  The trip is 5 days in length and the rapids range from class II-III.  More adventurous participants have the opportunity to paddle their own inflatable kayak.  Camps are large and sandy in mid to late summer when the spring run-off starts to subside.  Colorado River & Trail Expeditions(1-800-253-7328) specializes in
family rafting trips in Desolation Canyon
, and offers discounted youth rates.
-Walker Mackay