About Colorado River & Trail Expeditions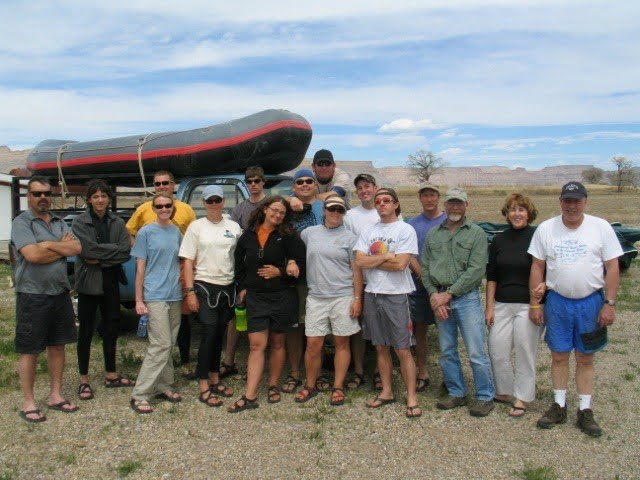 An Incredible Experience!

EDWARD O - Helena
An Amazing Adventure!
Words are not adequate to describe the week-long trip my husband, friends and I made down the Colorado River with CRATE. The crew, a family affair, made the difference with Capt Walker's expertise, and his sister, Bonnie, and brother-in-law, Adam's fabulous food, and attention to the amenities that can make or break a trip. Adam's geology background made him the perfect guide as we rafted through the Grand Canyon and hiked up side canyons. There were many Bighorn sheep, Blue Herons, migratory ducks, and even a wild turkey. I would recommend this trip to anyone who loves nature and the unexpected, and is willing to "unplug" for a week.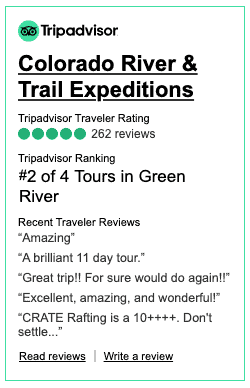 Book Your Adventure Today!

Colorado River & Trail Expeditions (CRATE) has been a licensed Grand Canyon white water rafting concessionaire since 1971. We began rafting other stretches of the Green River and Colorado River shortly thereafter, including Cataract Canyon, Desolation Canyon, and Westwater Canyon. In 1978, we explored the Tatshenshini and Alsek Rivers in Alaska and soon added those wild and remote rivers to our catalog of rafting adventures. For over 40 years, we have consistently provided high quality, fully outfitted rafting adventures through some of the most beautiful landscapes in the west.
Off-river hiking and side canyon exploration are emphasized on all of our river trips. Our guests have unique opportunities to see and experience the remote back country beauty, as well as the grandeur of the river corridors and the thrill of white water rafting!  If you are looking for a fun, exciting, and unforgettable outdoor adventure, contact us today for more information about the Grand Canyon and our other river rafting trips.
We Provide Everything You Need for a great rafting trip! (Except clothing and personal items)
All of our Grand Canyon, Canyonlands, Green River, and Alaska river rafting expeditions are fully-outfitted. We provide everything you need for your rafting adventure, including clean, comfortable camping gear, dry bags for your personal items, healthy delicious meals, excellent rafting equipment, and fun, friendly, knowledgeable guides.
Colorado River & Trail Expeditions is well known as a premier river rafting outfitter in North America. We are a family-operated company under original ownership since 1971. You can trust in our experience, our commitment to environmental stewardship, and our dedication to great customer service. For more information about featured river rafting expeditions, contact us today at 801-261-1789, or toll-free 800-253-7328. We look forward to sharing and enjoying a remarkable rafting adventure with you!
If you have any questions or to book an adventure today please call us at (800) 253-7328. 
CRATE Rafting Trips Since 1971
Free PDF copy of our Rafting Brochure!