History of Colorado River & Trail Expeditions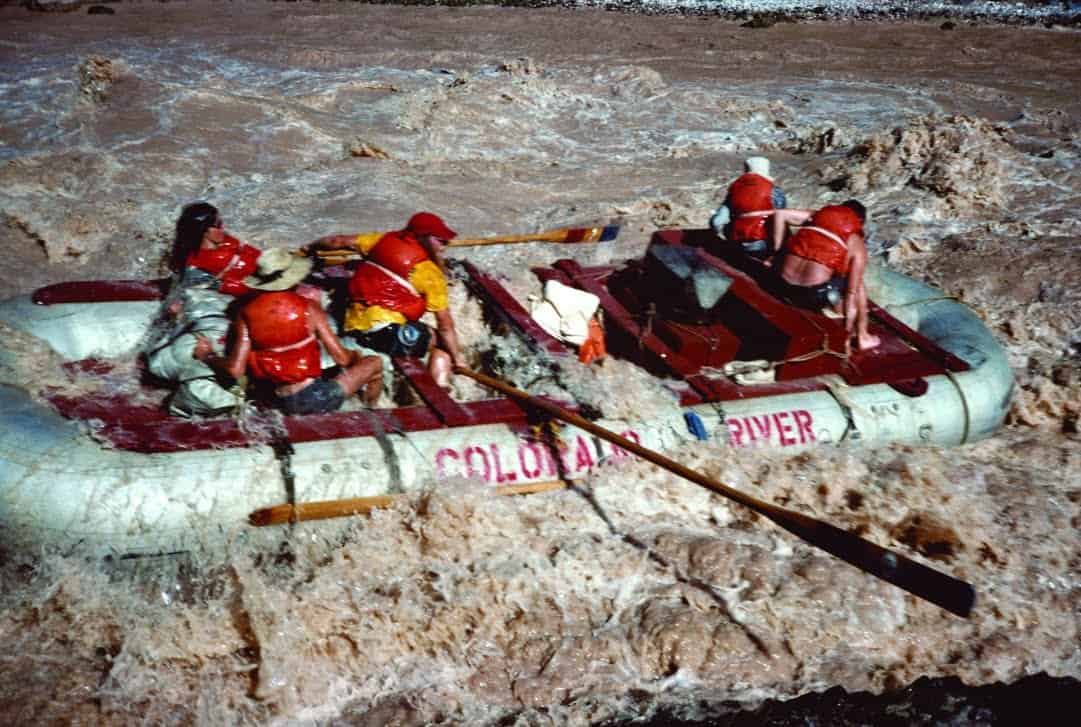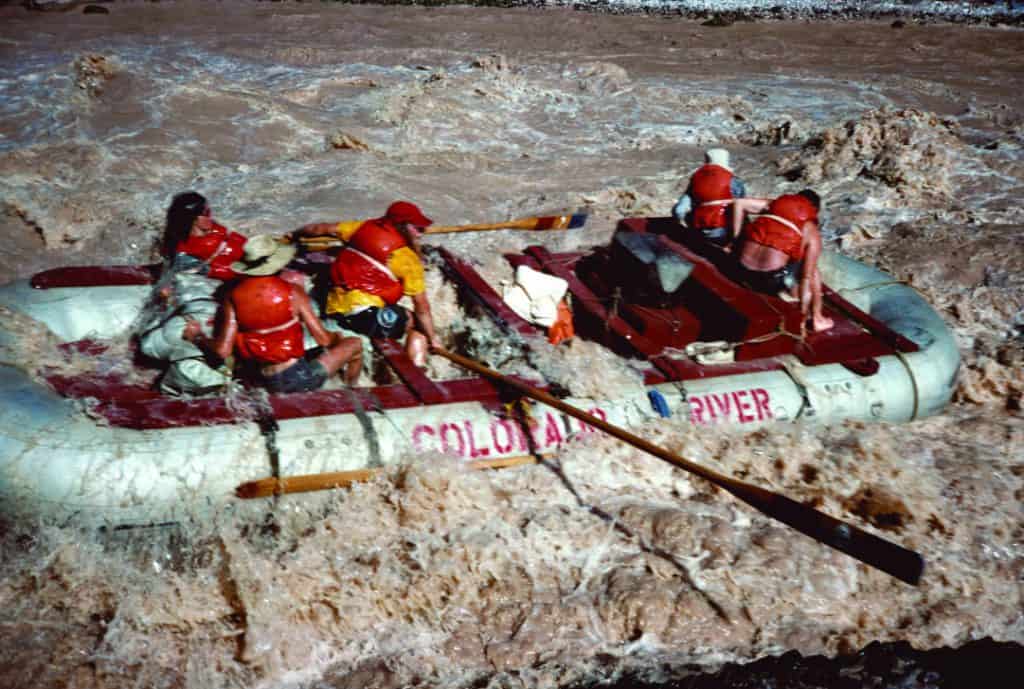 Celebrating 50 Years in 2021!
The outdoor adventure experience of a lifetime.

lydiah991 - Brainbridge Island
Grand Canyon Rafting Trip Review
Our group rafted the Colorado River through the Grand Canyon. It was such a positive experience from reservation to the take-out. Our rafting adventure was so well-coordinated and we felt confident in our delightful crew from the first rapid to the last. Delicious meals, great conversations, challenging hikes, and yummy desserts. The crew checked in with us regularly to make sure we were comfortable and were accommodating for various levels of abilities. We even had poetry read to us each morning before we started our day. Would I go again? Absolutely! Would there be a few things I would do differently? Absolutely! Less personal items (you won't be shampooing as often as you think), less clothing, and a few more layering pieces. Overall, this was truly a trip of a lifetime.
Book Your Adventure Today!
Time and The River Flowing-A History of Colorado River & Trail Expeditions

Celebrating 50 years in 2021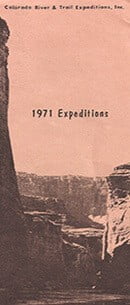 Colorado River & Trail Expeditions started in 1971 with a permit in the Grand Canyon. A year-or-so later, we added Cataract Canyon, and Desolation Canyon. Later we acquired a Dinosaur National Monument permit from Jack Currey when he sold Western River Expeditions. We eventually sold our Dinosaur operation, but we have kept all of our other original permits. During the off-season CRATE has explored other rivers including three trips down the Usumacinta in southern Mexico, the Frazier River in Canada, and the Noatak River in Northwest Alaska. In 1978 we took a September trip down the Tatshenshini River in Southeast Alaska and were captivated by its wildness. We still run a trip on the Tatshenshini River every summer, and in 2010 we expanded to its sister river, the Alsek. We ran an exploration trip on the North Slope of Alaska down the Kongakut River in 1990 and still run charter trips there for groups. We have hand picked the river sections we have operated on over the last 50 years and feel very lucky to have them in our lives.
Colorado River & Trail Expeditions was founded because of a love of being on the river. That is still the case today. We continue to outfit rafting trips of exceptional quality with the best equipment, delicious meals, and superior customer service. We are especially proud and appreciative of the outstanding men and women who guide our trips. They are smart, fun, knowledgeable, experienced, and committed to the care and well-being of our passengers.  Our guides have been, and will continue to be the key to our success.
The word "Trail" in our company name signifies the emphasis we place on off-river hiking and exploration.  When we started in 1971 we would spend one night off river backpacking up to a special place.  We also tried to do a few backpack trips and tours in the shoulders months before or after river season.  Although we no longer do guided backpacking tours, or spend any nights away from the river, we still put an emphasis on off-river hiking and exploration.  Frequent treks will take you to scenic vistas, waterfalls, emerald pools, slot canyons, shaded grottoes, geological formations, ancient ruins, historical landmarks, and many other places that are beyond the beaten path.  Travel by river.  Explore on foot.  Sleep under the stars.  Life doesn't get any better than this.

BC-Before CRATE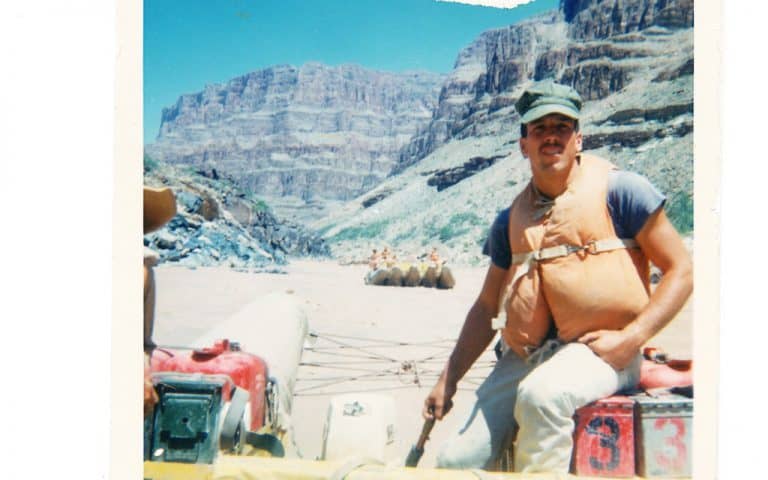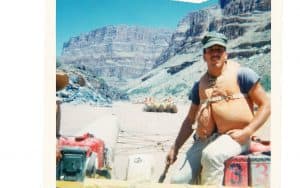 Dave Mackay got his start running rivers in 1965 working for Jack Currey's Western River Expeditions.  Dave and Jack played handball together at the Deseret Gym in Salt Lake City.  Jack was getting into river running, and invited Dave to come check it out.  Dave instantly fell in love with the river, canyons, and work.  He guided on many rivers and canyons while working for Currey, including the Grand Canyon, Cataract Canyon, the Middle Fork, Selway, and down in Mexico.  In 1968 Vicki hiked down to meet a Western River trip at Phantom Ranch.  She was young, adventurous, and working at the Los Angeles airport.  She wanted to do something "that would get her into the airport paper."   Dave happened to be the trip leader on the expedition.  In 1969, Dave invited Vicki to go again as a swamper and she fell in love with the river! By 1970, Dave was convinced that he wanted to start his own company and Vicki was excited to help him. So, at the end of the 1970 season they went to Grand Canyon National Park headquarters to apply for a permit. Ours was the last Special Use Permit given out for Grand Canyon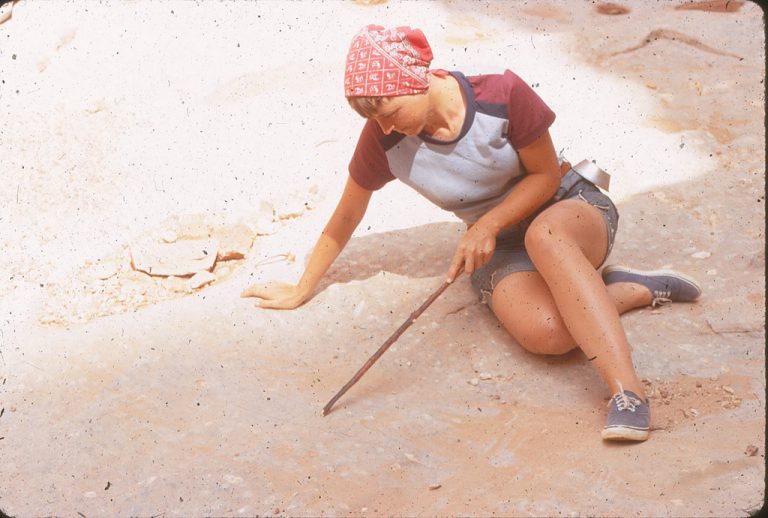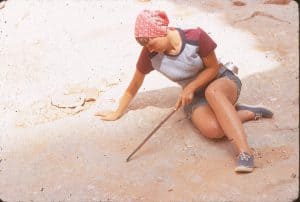 river running. A few years later the park converted to the current system of concession contracts and user-day allocations, basing allotments on historical use. We remain a small Grand Canyon company today because we had only a short time to establish our history of use. It is interesting to note that our first permit application was two pages long, filled out on the manual typewriter in the superintendent's office. Our most recent concession application was hundreds of pages long and about four inches thick!  Dave was a pioneer of sorts in the operation of the rafts in Grand Canyon.  When he started running the river he didn't get a training trip or much instruction.  His first trip he had his own boat with passengers.  He took pride in having good runs and not breaking equipment and over time became an innovator in the operation of the raft.  He developed technical, low water, back down runs for the big rafts.  He is well revered by the Grand Canyon community as this quote from the Grand Canyon Boatmans Quarterly Volume 11 Number 2  shows  "Once upon a time, back when the current generation of doddering old timers were Young (late ' 6os, early ' 7os) , you could actually kinda count the "good" boatmen on a hand or two, and people would even ruminate occasionally about who might've been the best……..Dave Mackay was often mentioned, along with Steve Bledsoe, Dennis Massey, and a few other obvious choices."  Vicki was and is equally responsible for the success of Colorado River & Trail Expeditions.  She has a special way of making everyone she talks to feel like a long lost friend and has a genuine interest in people whether they be guides or customers.  Her kindness, efficiency, work ethic, and love of the river continue to keep Colorado River & Trail Expeditions going strong.

1971-Our First Year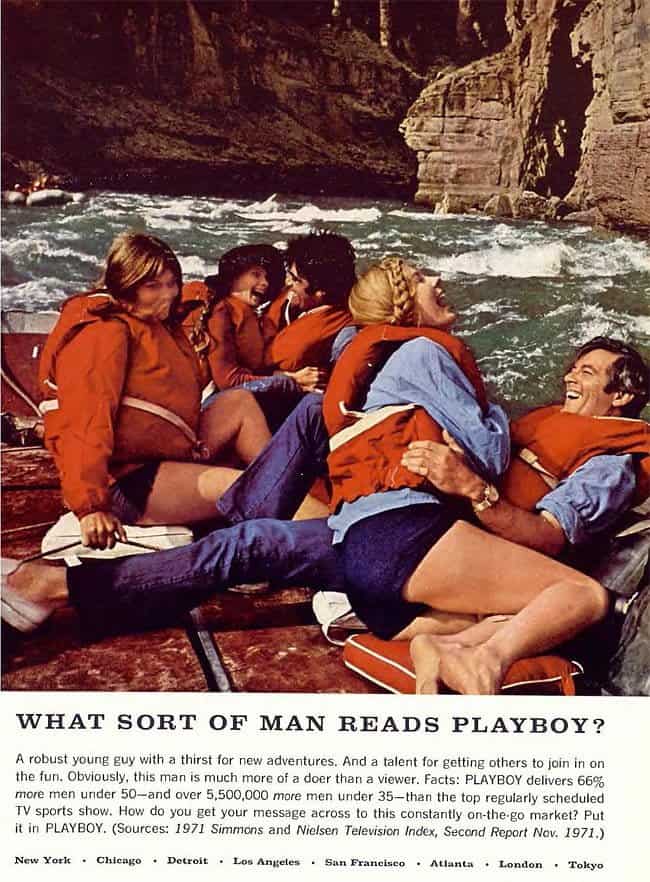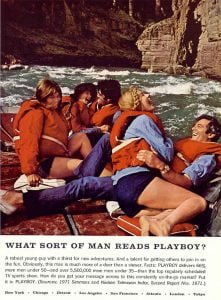 Some of our first customers were Sierra Club folks from southern California and Playboy Magazine. The Playboy people included the Playmate of the Year and other attractive professional models! The outcome of their trip was a full page ad in Playboy and other magazines targeted at "what kind of man reads Playboy?" CRATE ran six Grand Canyon trips in 1971. The cost was $345.00 per-person for a 9-day trip from Lees Ferry to Temple Bar. Because the original CRATE warehouse was in Salt Lake City, gear was hauled from northern Utah and back again to run each trip. Dave, Vicki, Walt Gregg, Stu Reeder, Bill Trevithick, Mondell Hebbert and other guides from the early days spent many nights sleeping along the side of the road between SLC and the Grand Canyon.

An Early Thank You Letter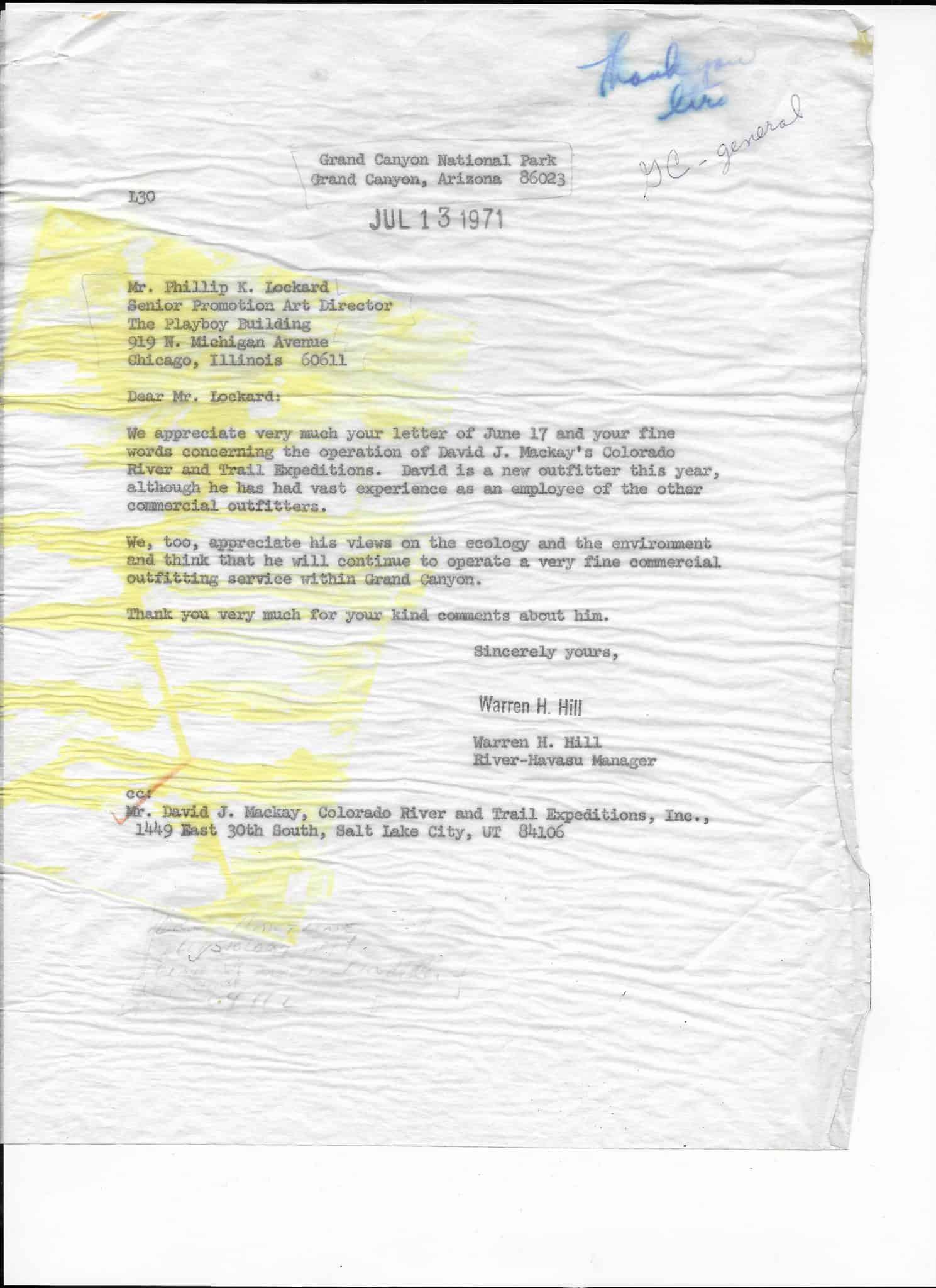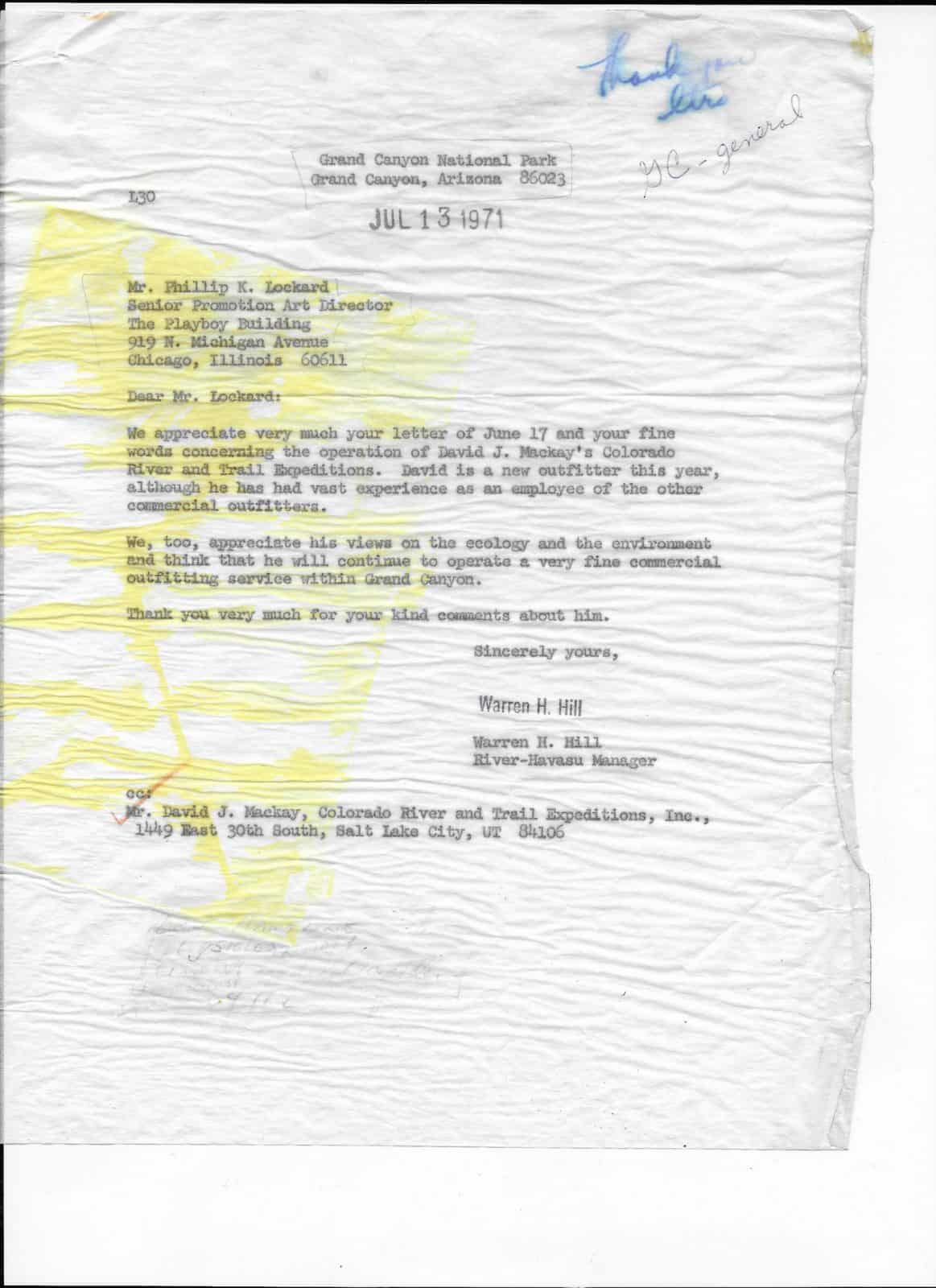 We were CC'd on this reply to one of our early customers thank you letters written directly to Grand Canyon National Park.  The original letter came from Phillip K. Lockard, the Senior Promotion Art Director, at the Playboy building!  It is classic for so many reasons.  First it is one of our early Thank You letters.  Second it is directly from Warren H Hill of Grand Canyon National Park.  Third it recognizes Colorado River and Trail Expeditions as a new outfitter while emphasizing the experience of David J Mackay.  Fourthly it recognizes our early knowledge and concern for the ecology and environment of the Grand Canyon.  Lastly it predicts our success!

1970s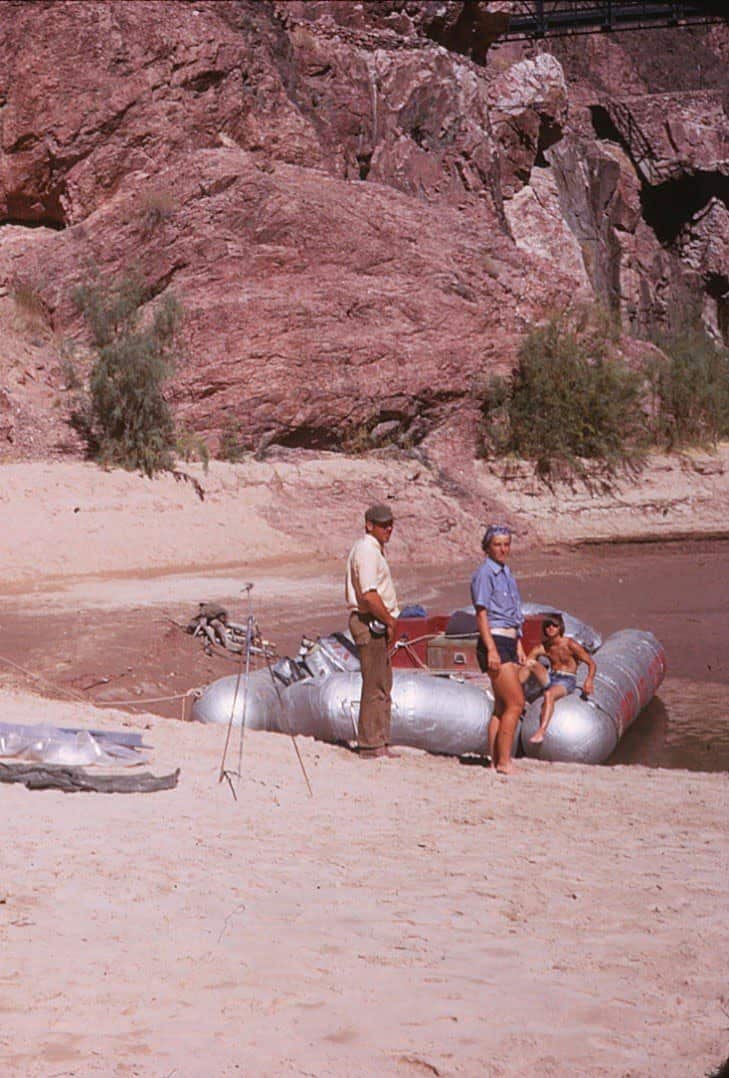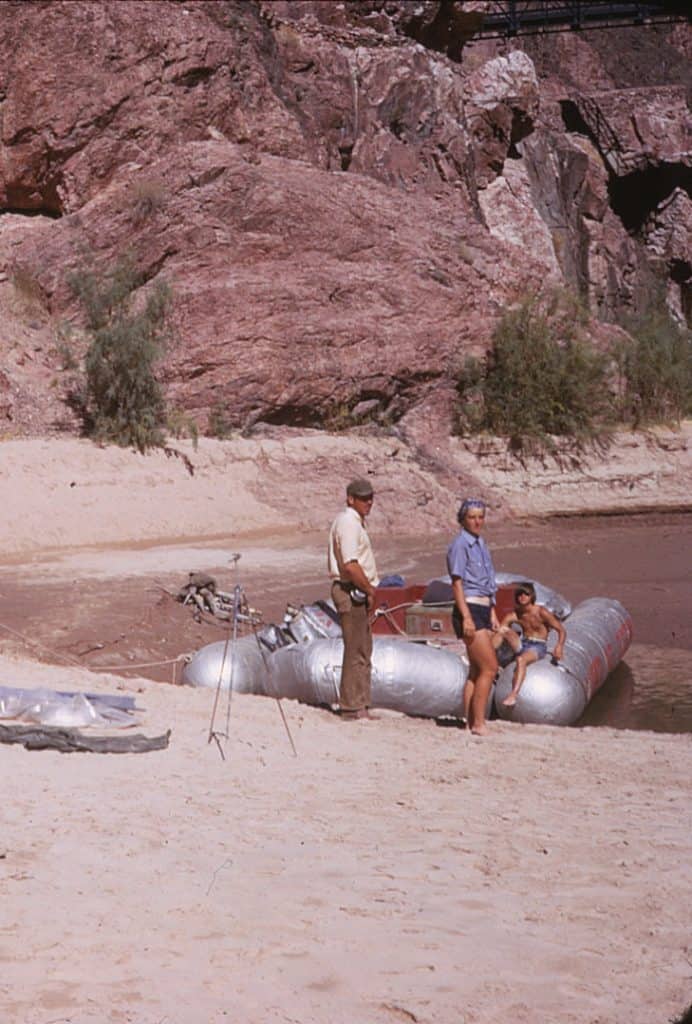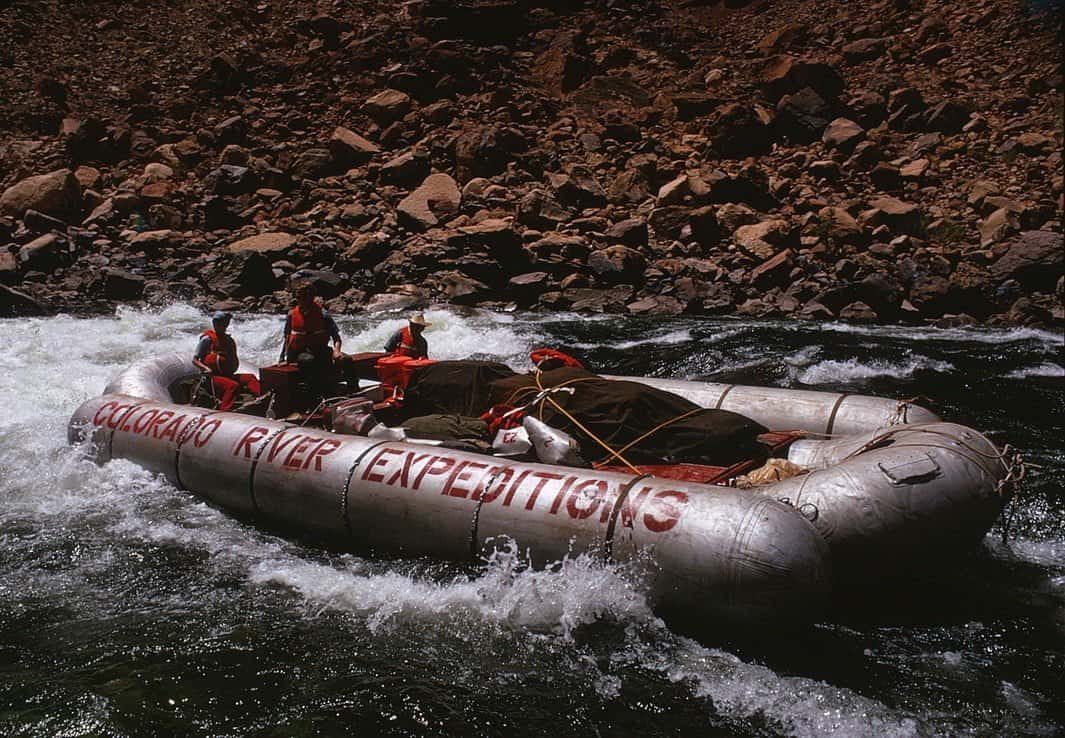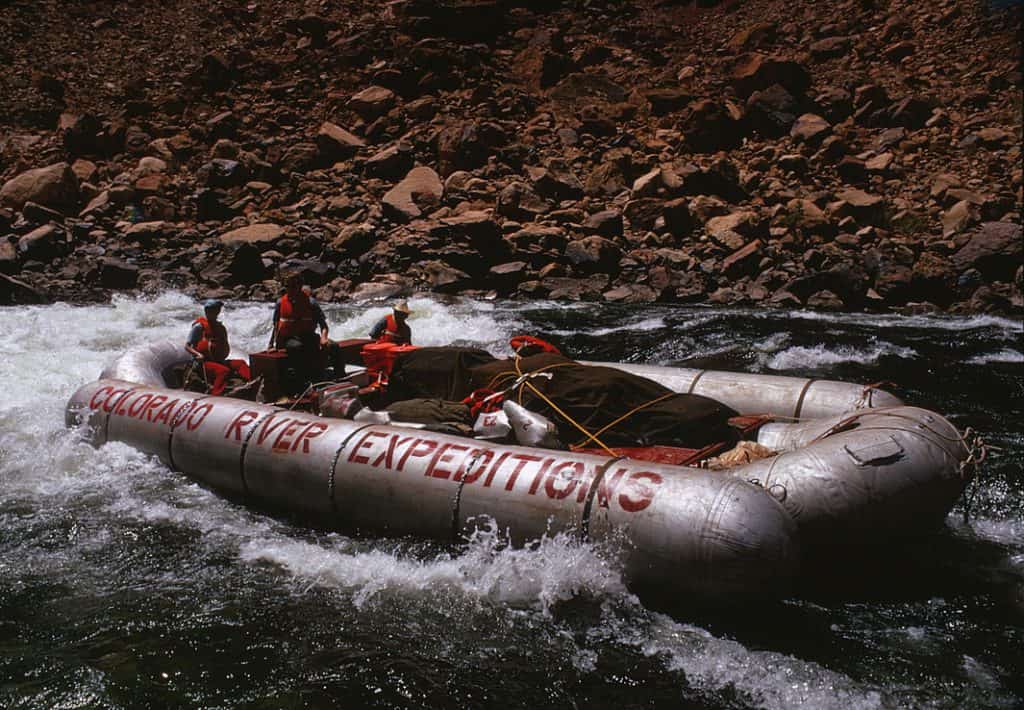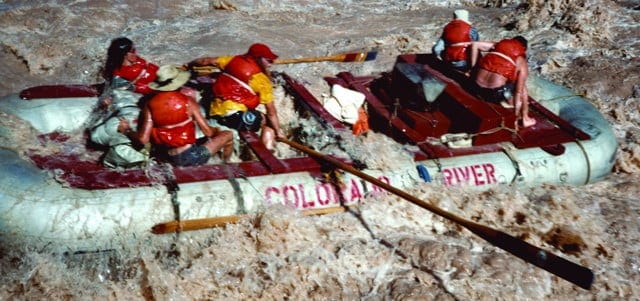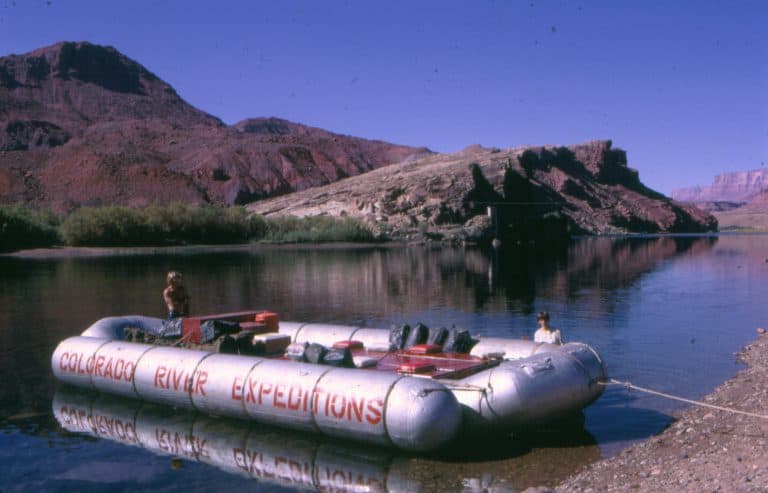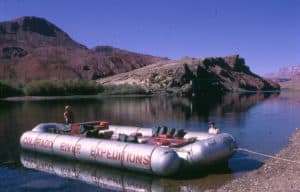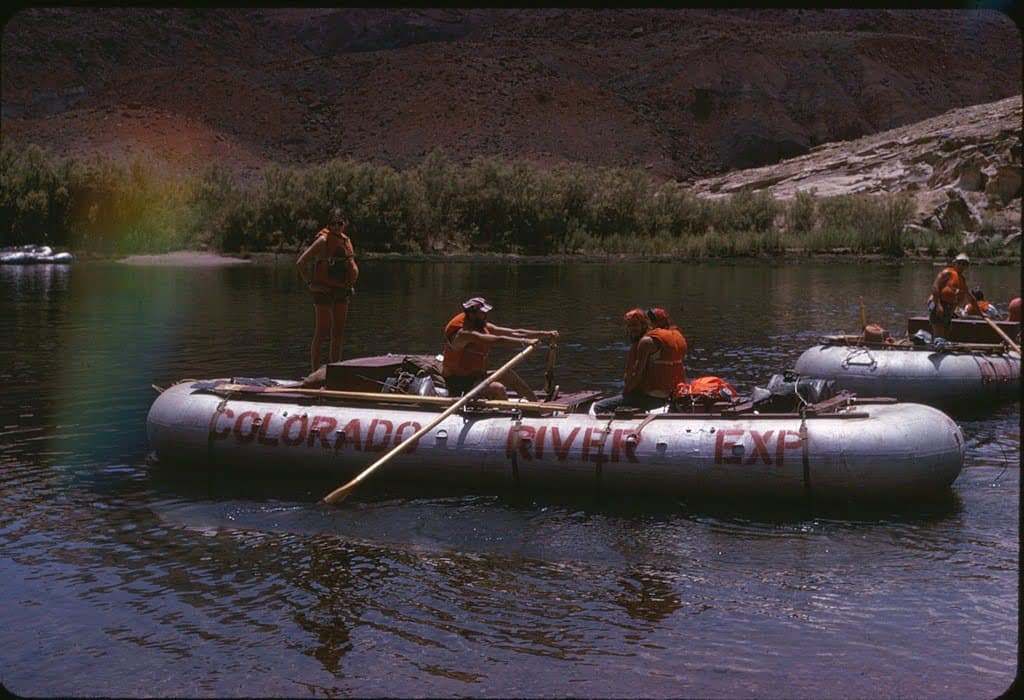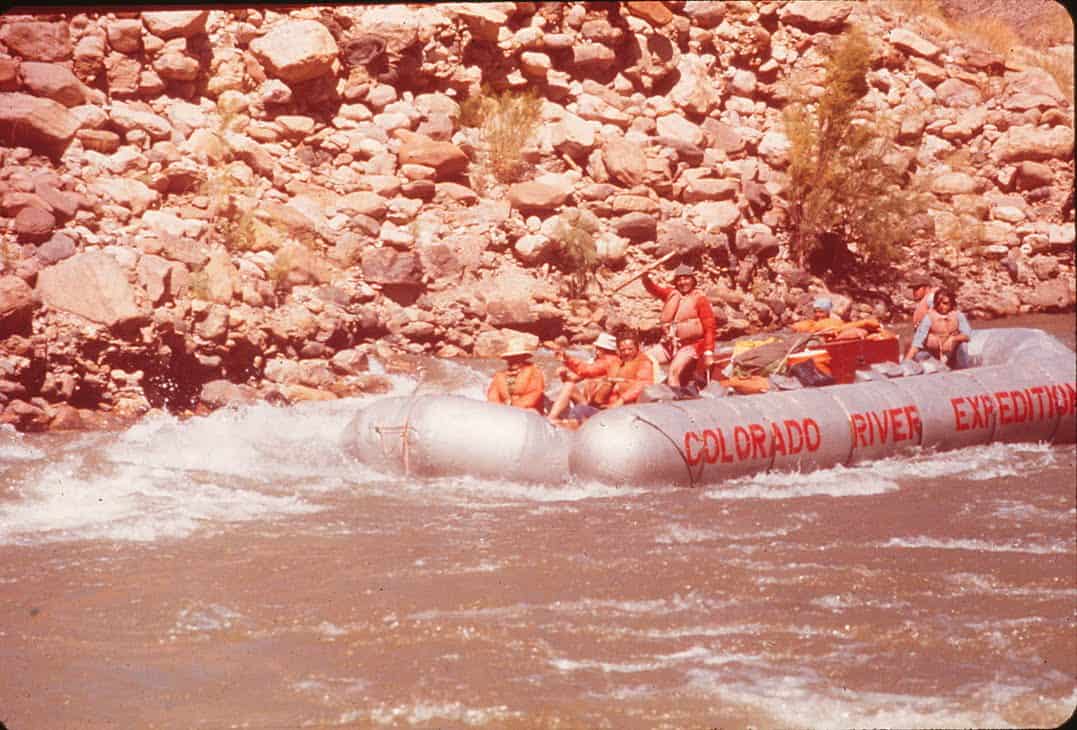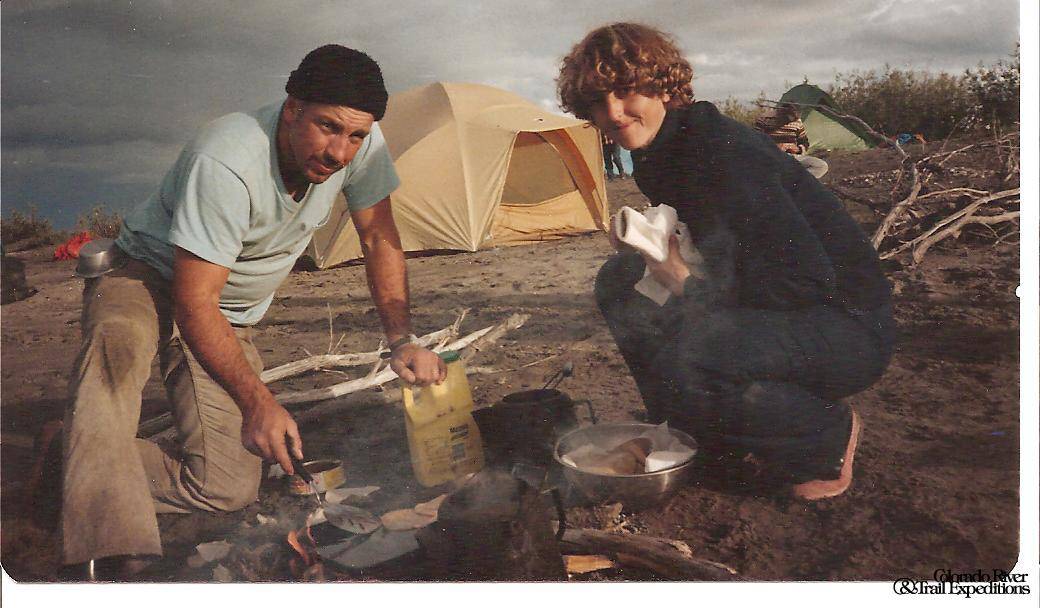 1983 and 1984 High Water
A wet fall and a huge snowpack along parts of the Colorado River Basin set the stage for extremely high water year on the Colorado River.  The amount of water was not anticipated and plywood was the only thing that kept water from flowing over Glen Canyon Dam.  Cataract Canyon peaked above 100,000 cfs in 1983 and 1984 and during 1983 Grand Canyon saw just under 100,000 cfs, the most water it had seen since pre-Glen Canyon Dam.  Although many rapids in Grand Canyon became washed out, Crystal developed a gigantic hole that flipped a handful of the large motorized rigs.  Lucky for CRATE our guides did their best to miss this monster hole and we did not have major mishaps. Unlike Grand Canyon, where most of the rapids actually "wash out," Cataract Canyon tends to just keep getting bigger with more water and 1983 and 1984 were no different.  Big Drop 2 became particularly large and violent.  The little Niagara rock, on the right side of the rapid became completely covered forming a gigantic hole pushing the water to the left. While the big red wall wave on river left pushed the water to the right.  Together they funneled a huge amount of water into each other creating huge ocean size waves.  Here is a video of Nathan Jones running one of our motorized rafts through Big Drop 2 at a flow over 100,000 cfs.

1980s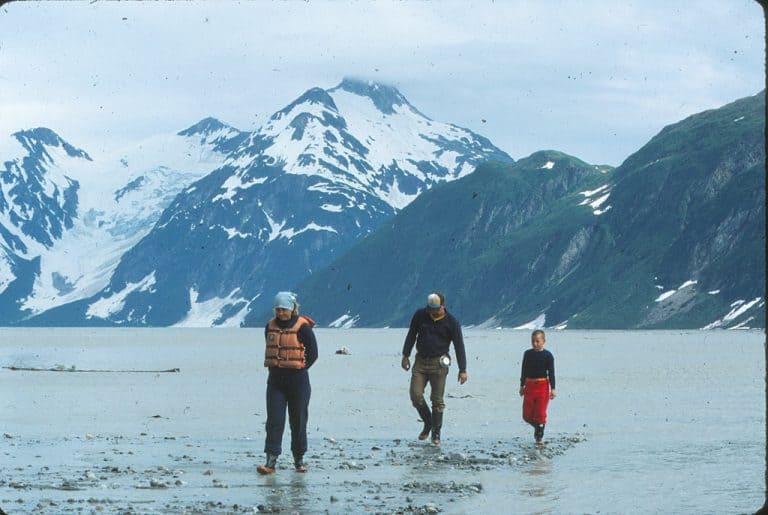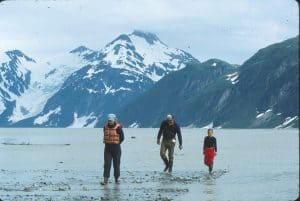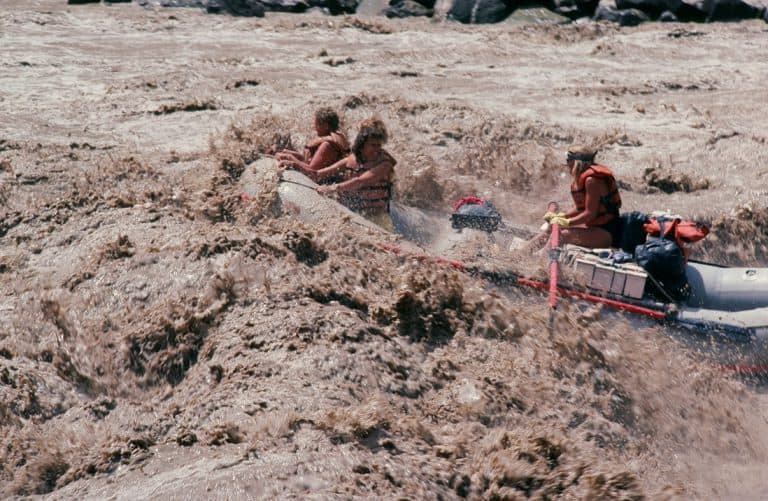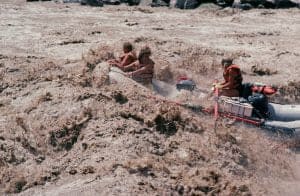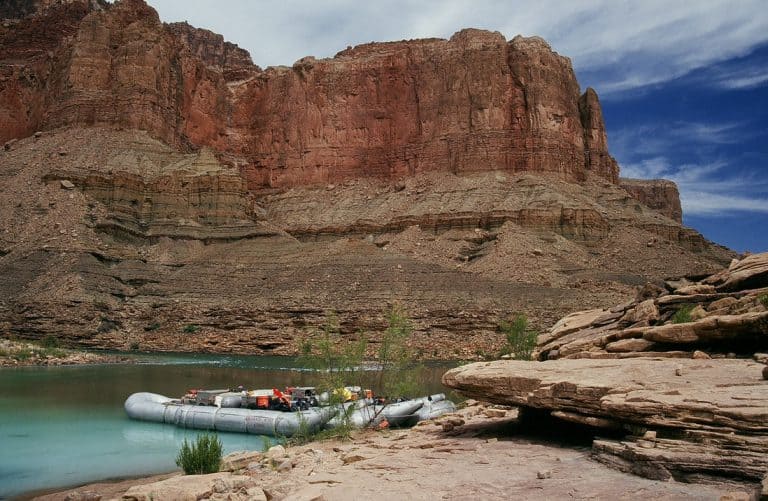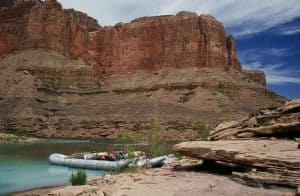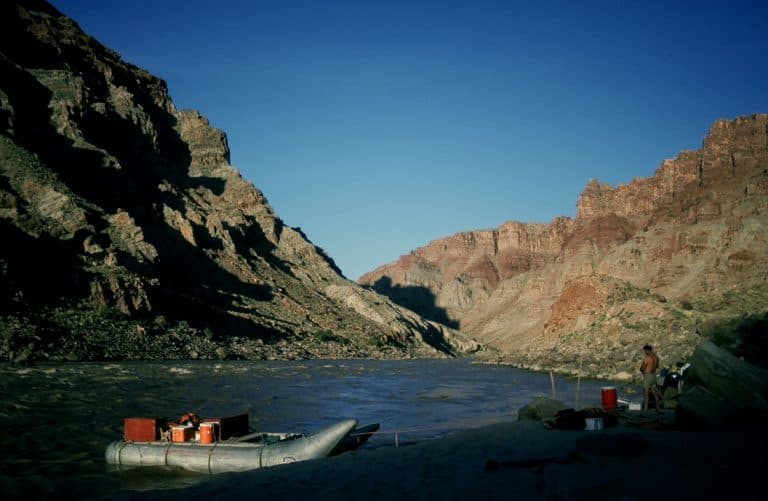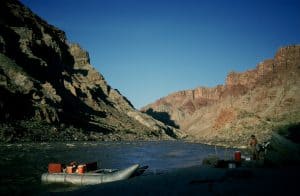 Mariner Motors Advertisement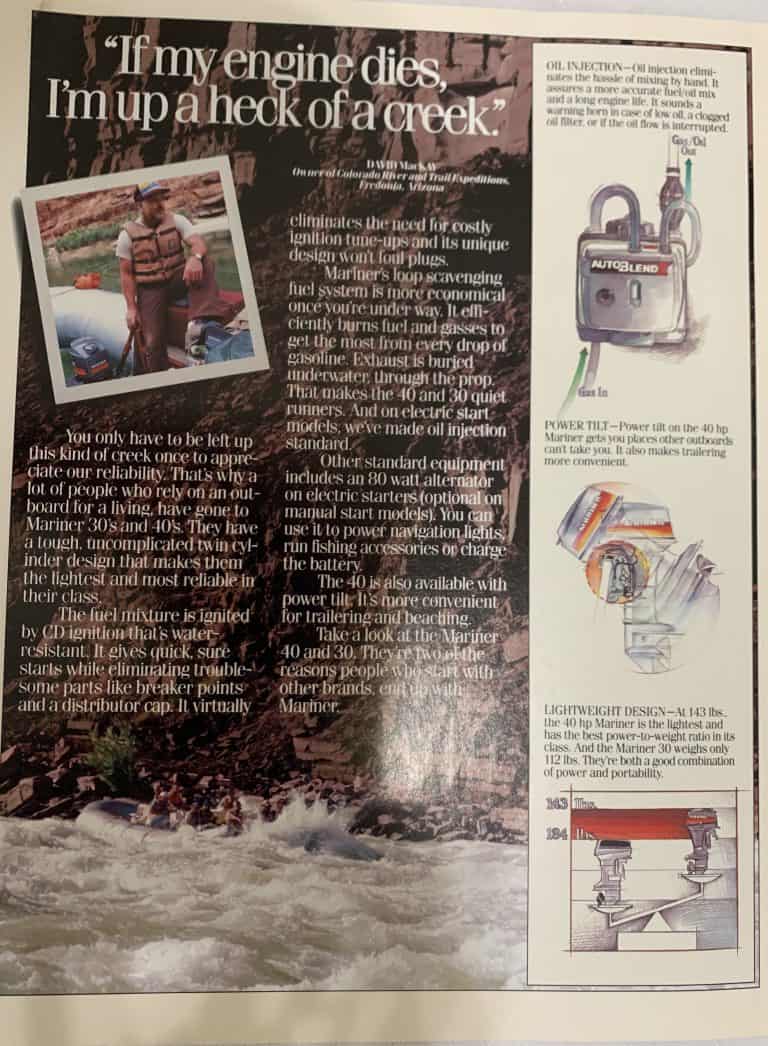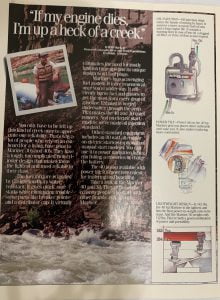 Mariner Marine, a combined effort between Mercury and Yamaha produced the best performance based outboard ever made for river running applications.  The 30 horsepower mariner is light–weight only 113 pounds.  It is also incredibly reliable and relatively simple.  CRATE was a dealer for Mercury Marine and started to sell these throughout the industry.  Dave Mackay went to Florida to get his mechanic certification for the outboard and they decided to highlight the use of the Mariner 30 on the Colorado River in their catalog.  Grand Canyon National Park outlawed the use of 2 strokes in Grand Canyon in 2001, but the lightweight 2-stroke mariner is still used in Cataract Canyon.

1990s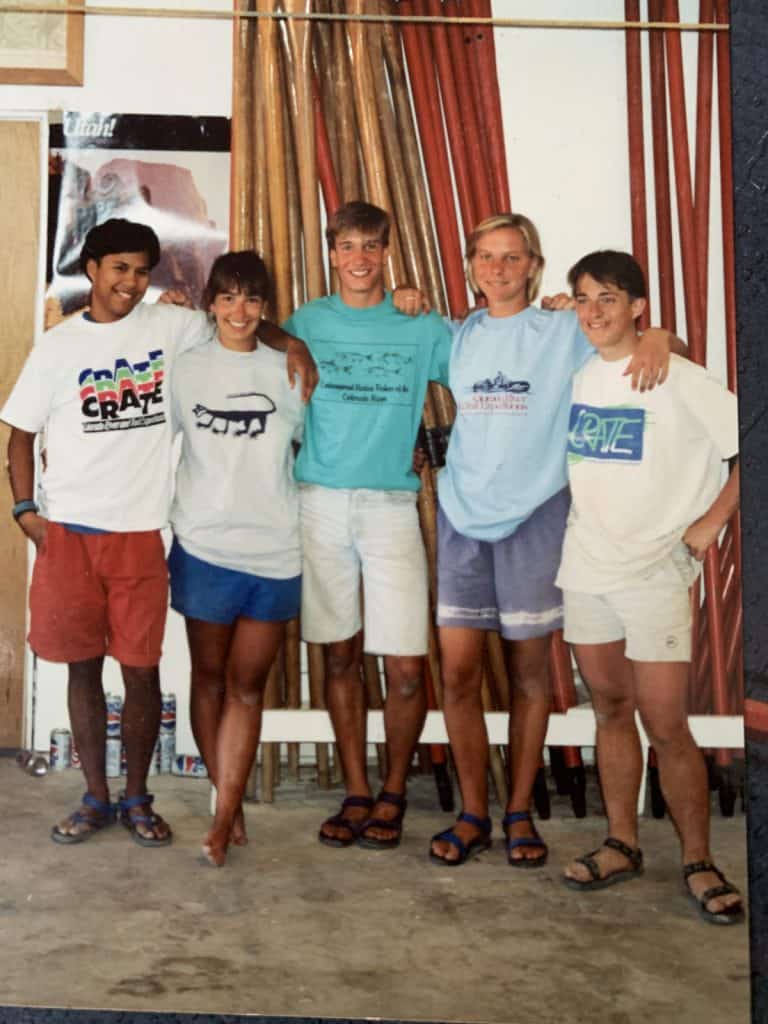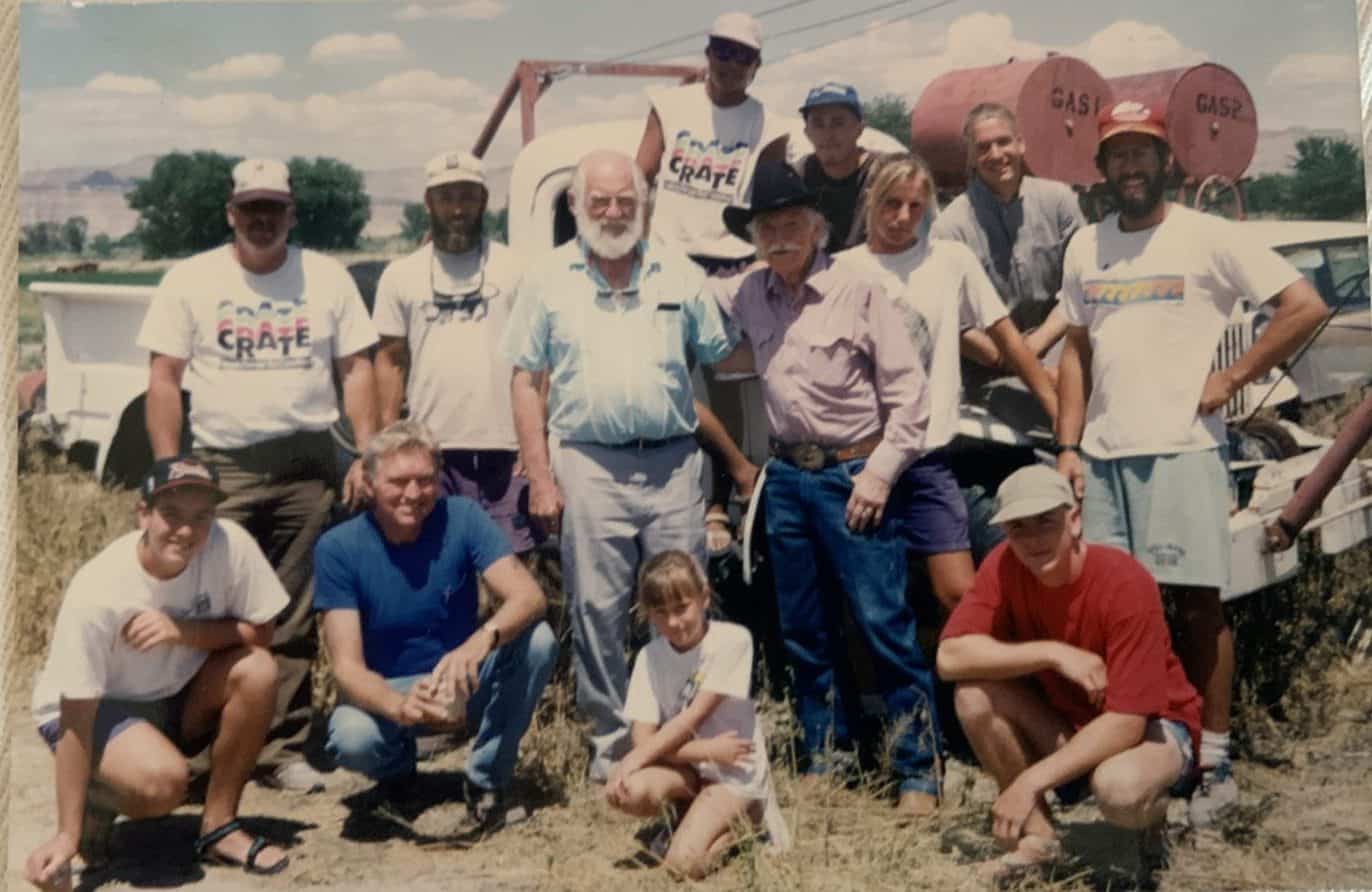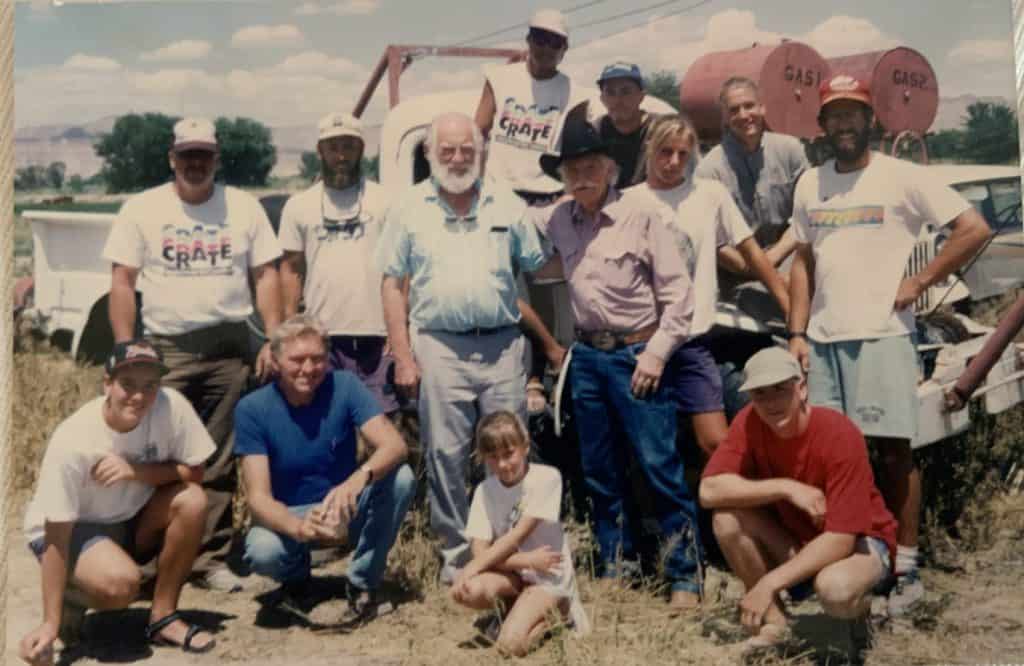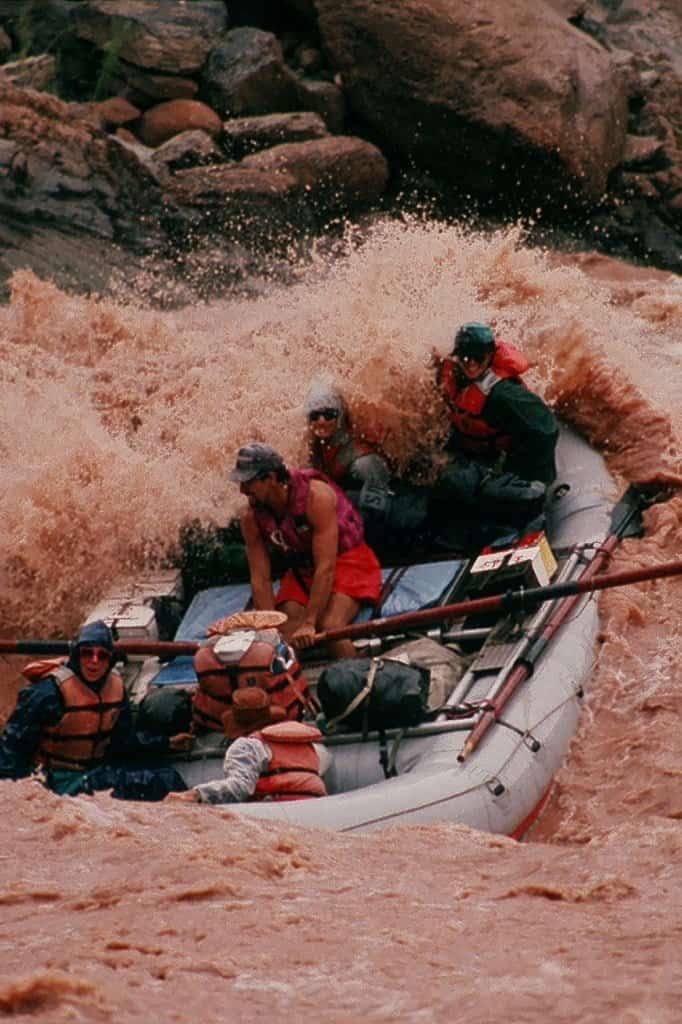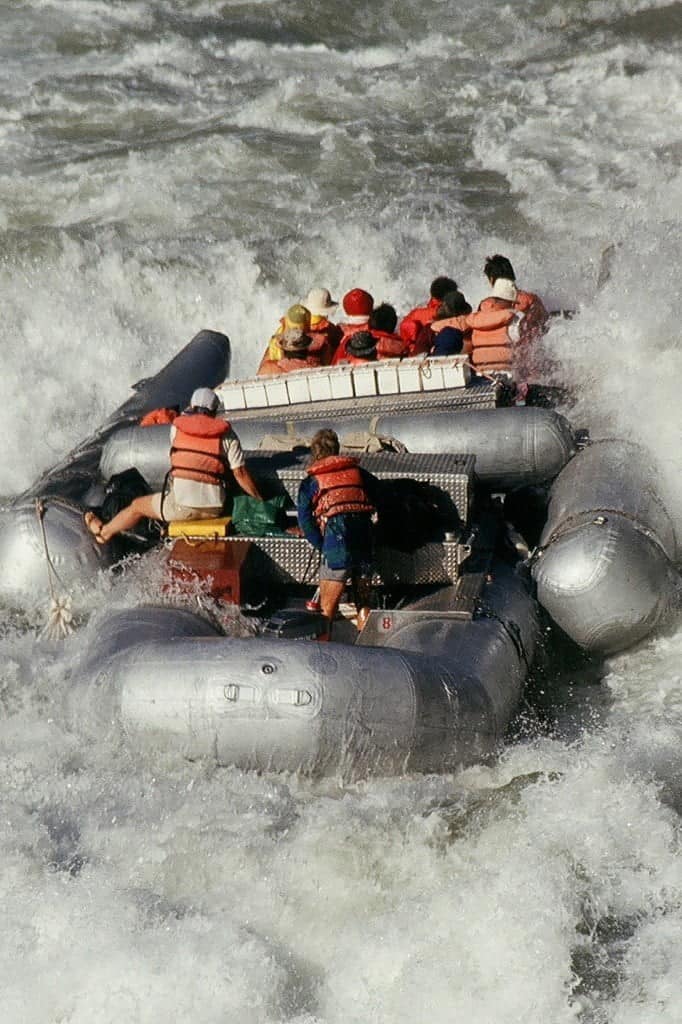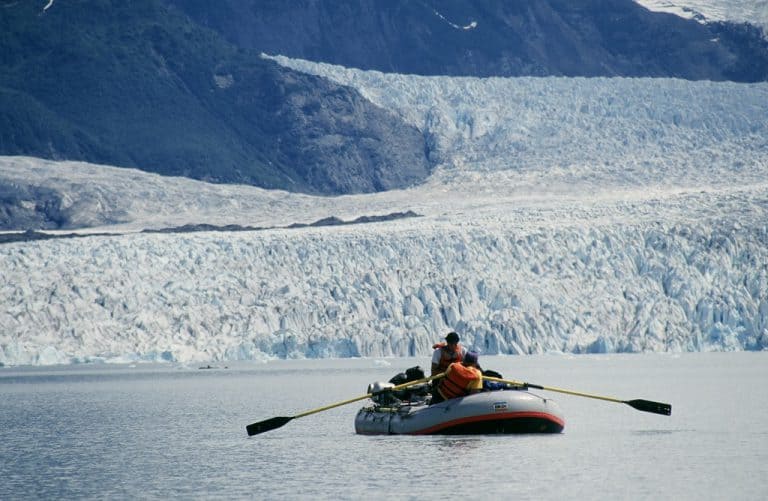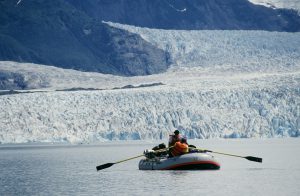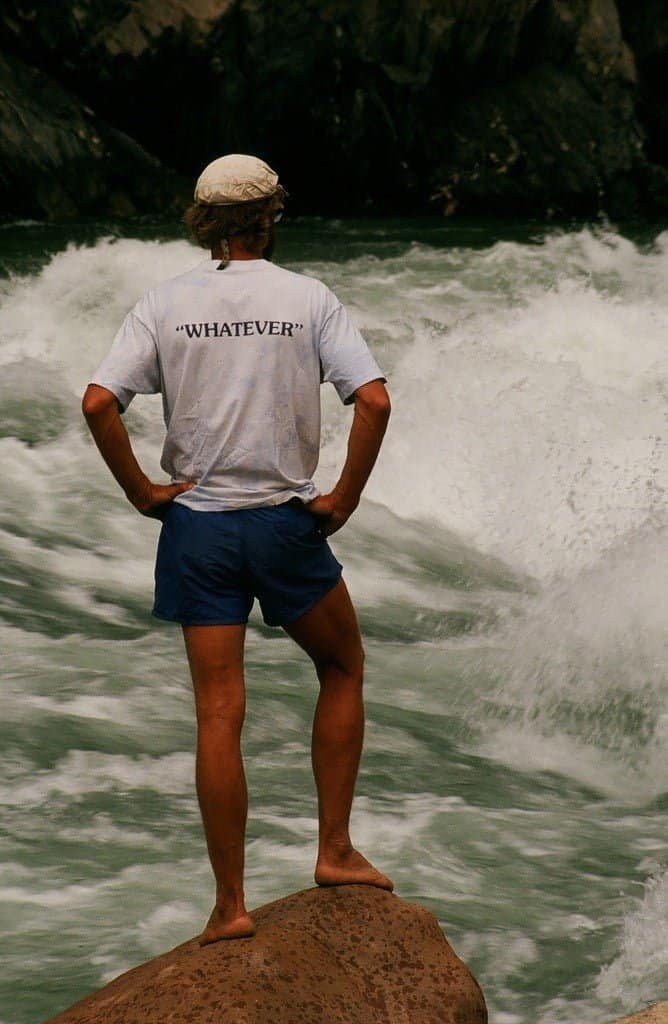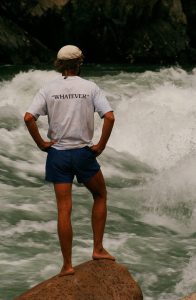 9-11-2001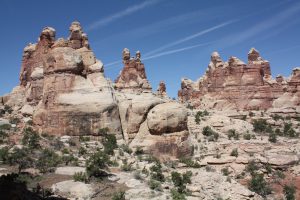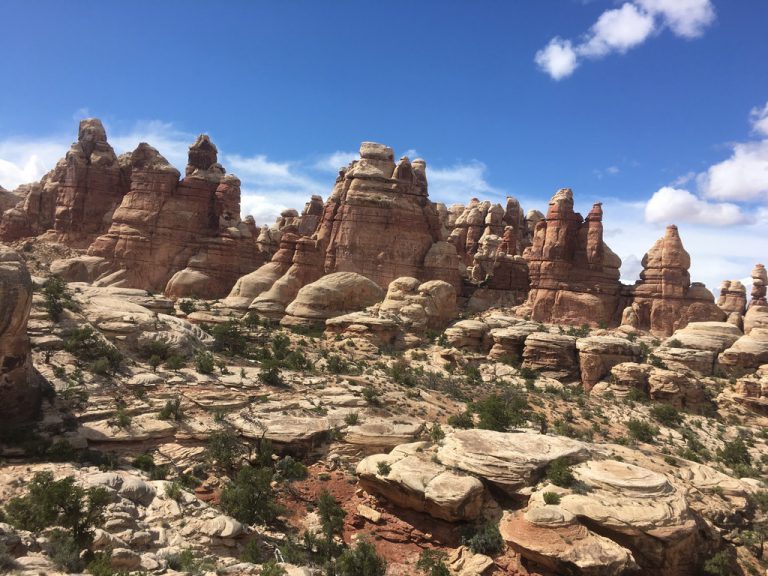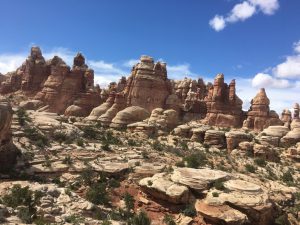 We had a fall rafting trip on the water in Cataract Canyon when 9-11 happened.  While chaos was happening throughout the world, our trip was doing an off-river hike near the confluence of the Green and Colorado Rivers.  We had noticed that planes were not flying, but did not think too much about what may be unfolding.  The following day we did a big hike up to and around the Doll's House.  Robin Marks who has done a lot of trips with Colorado River & Trail Expeditions over the years happened to have a cell phone on him, and even more surprising picked up a signal.  He made a phone call and learned about what had happened.  We were shocked, but comforted by being together out in the wilderness.  Over the next few days we continued downstream.  We ran the Big Drops and enjoyed the quiet and solitude, while we all discussed and wondered what world we would return to.  When we finally got off the river our first taste of society came in Hanksville, Utah.  The news on the TV behind the gas station counter was showing the planes crashing into the World Trade Center.  Our stomachs dropped and our souls ached.

2000s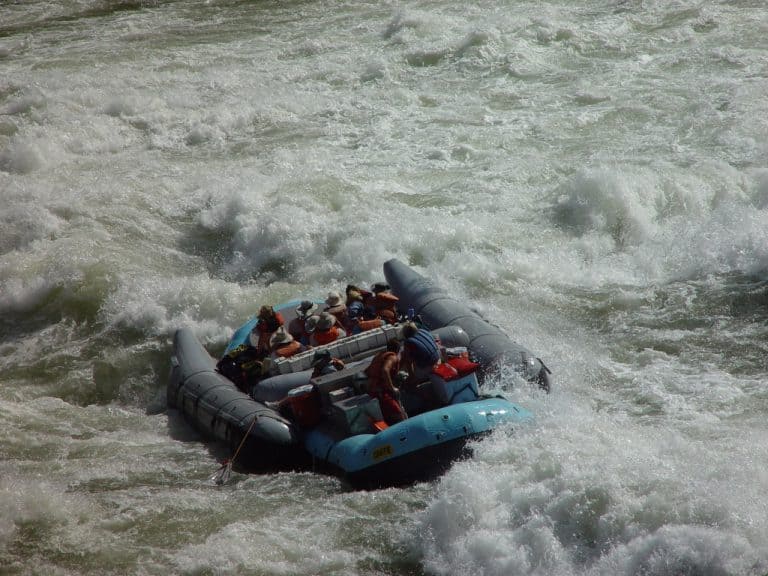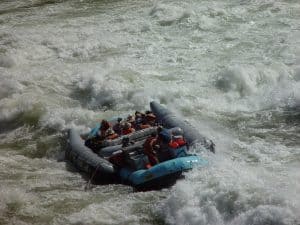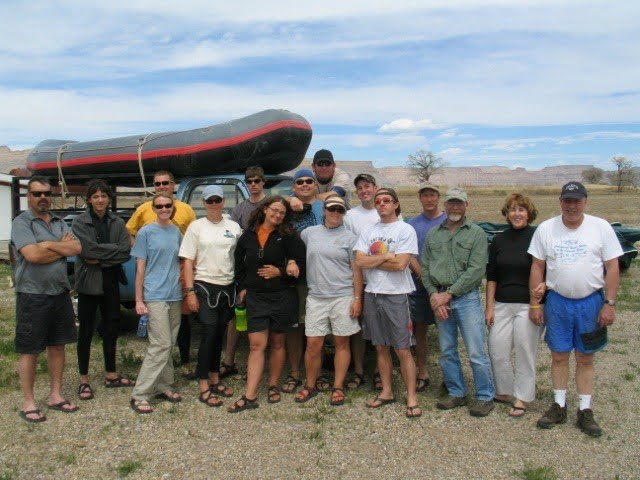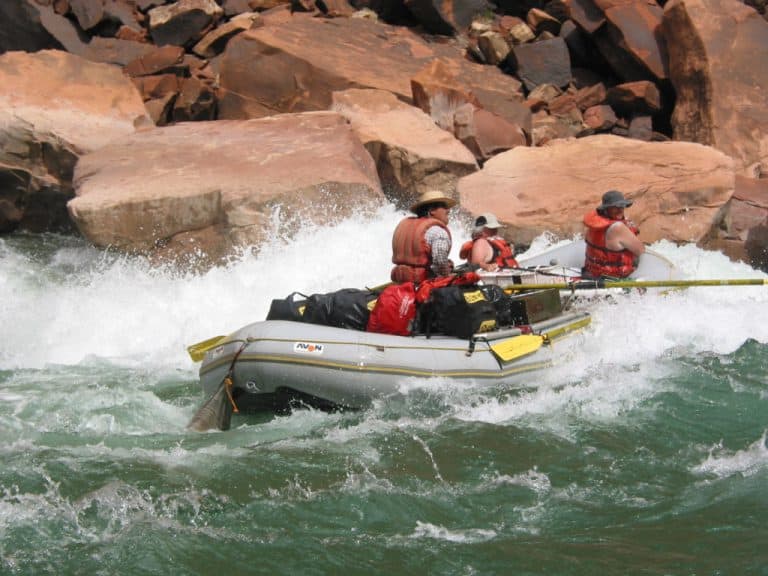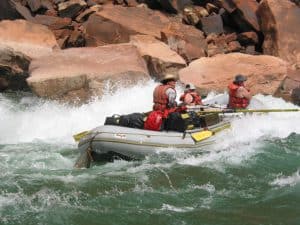 River Guiding–This is what we do!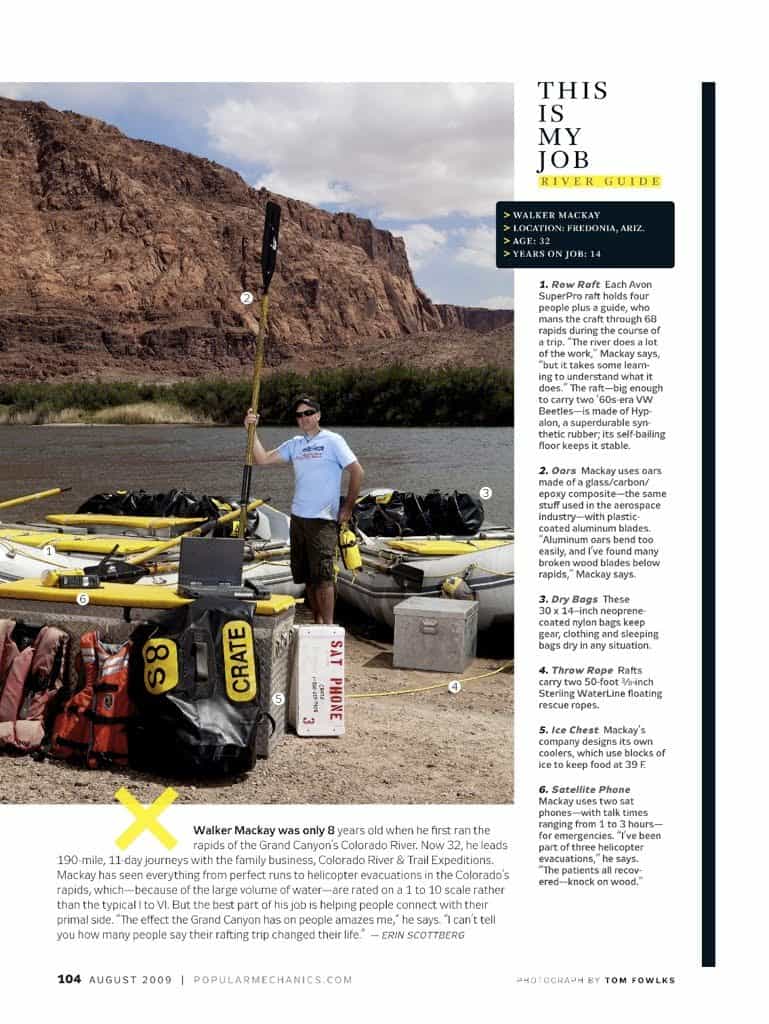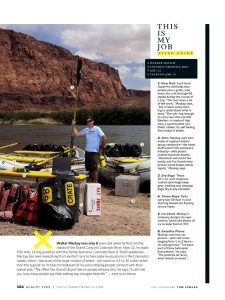 In 2009 Popular Mechanics magazine decided they wanted to highlight the job of river guiding in their "This is my job" section on the inside back cover of the magazine.  They decided to use Walker Mackay for the section because of the family connection to the river and his experience in the Grand Canyon.

2010s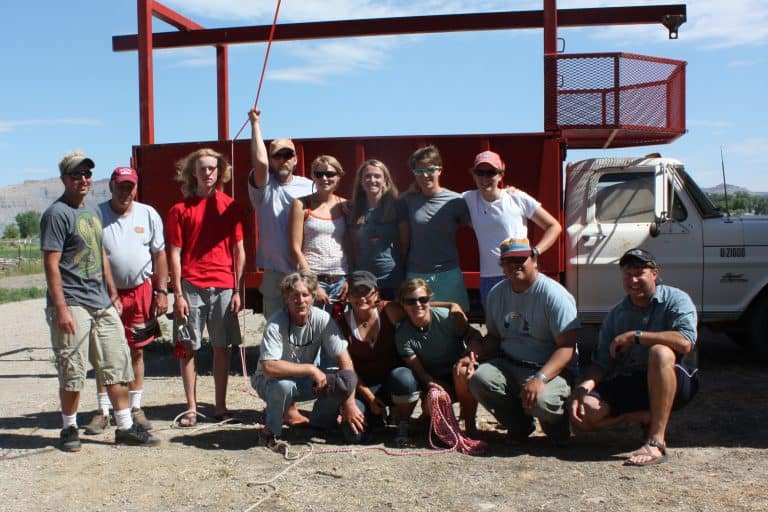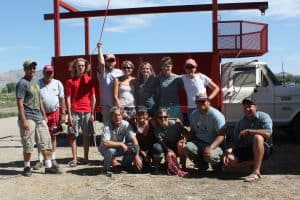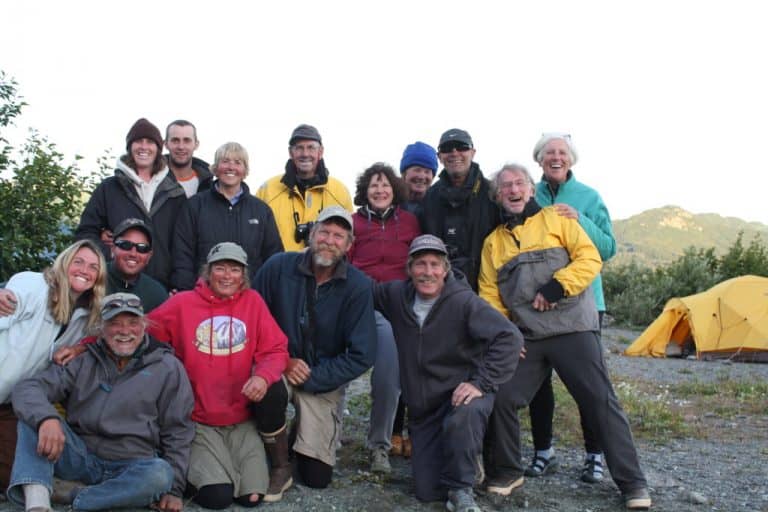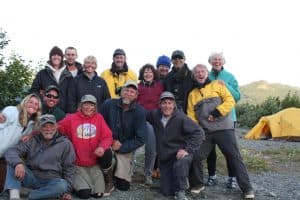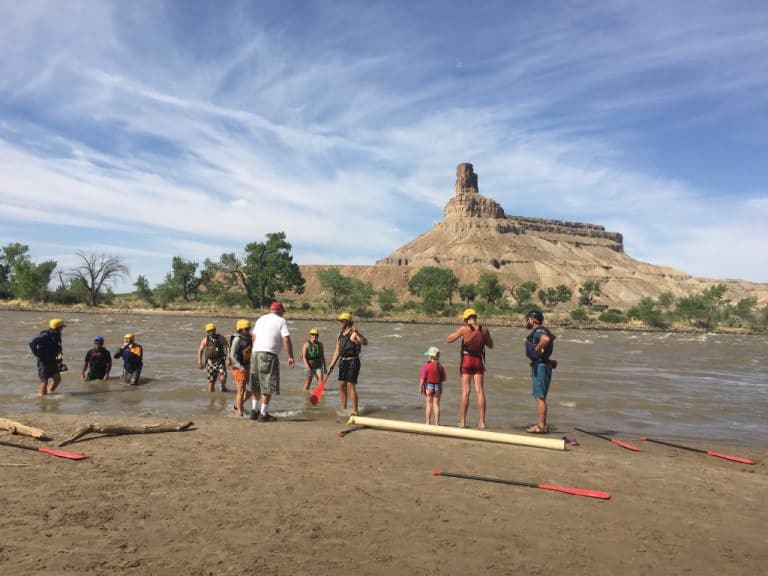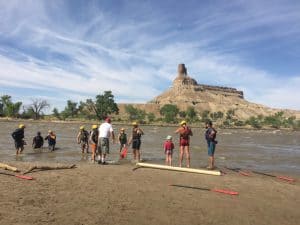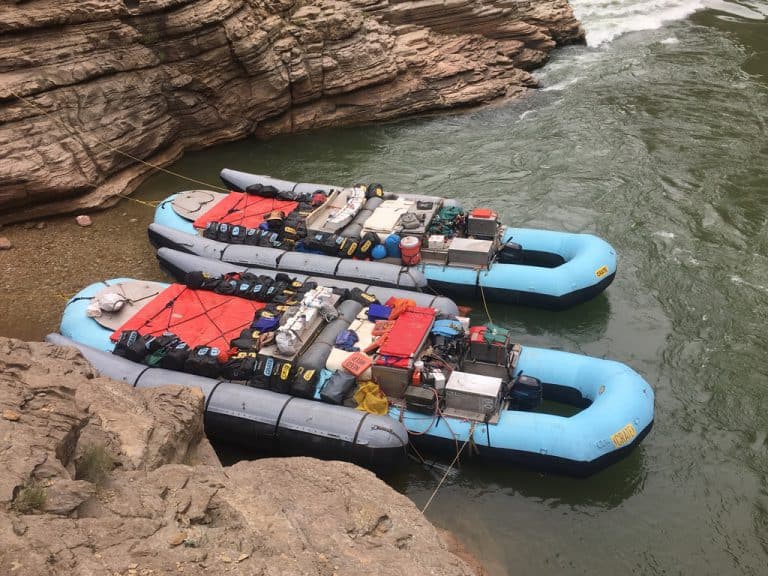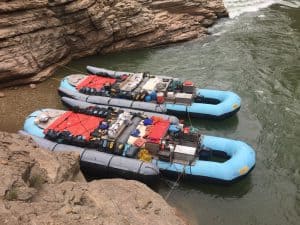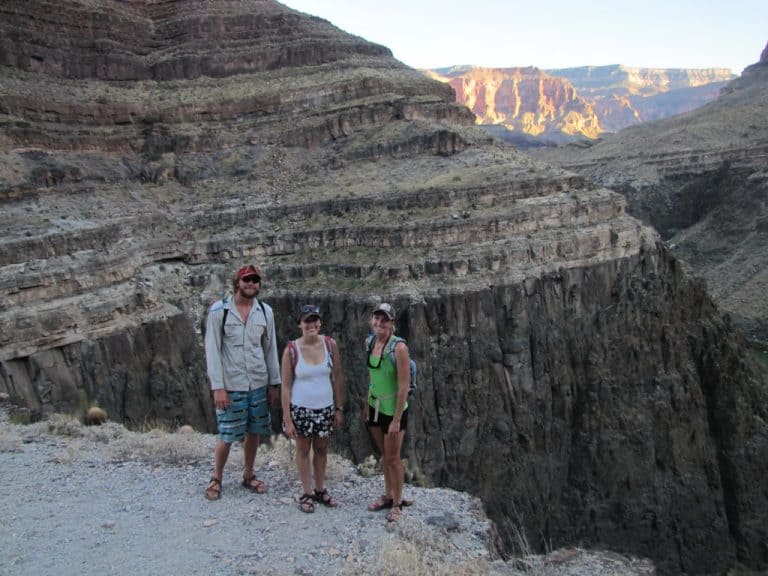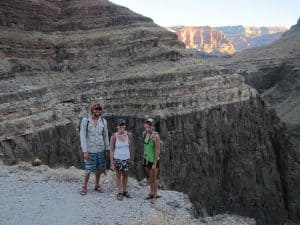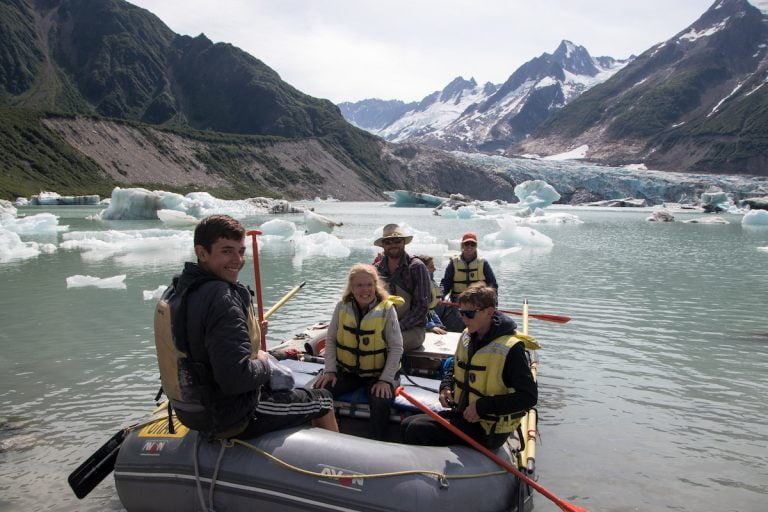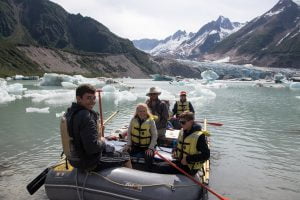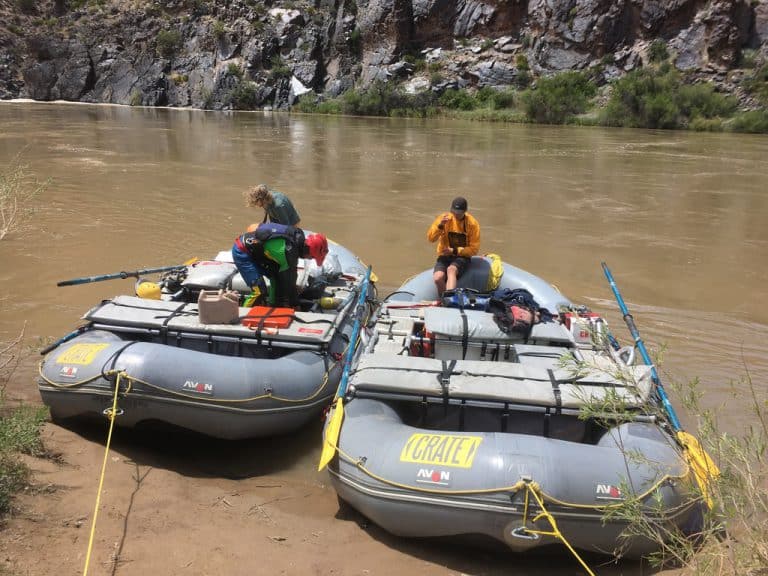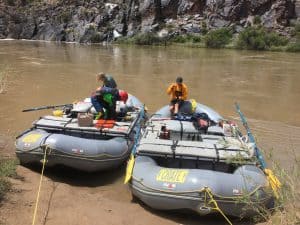 2020 and the Grand Canyon Shutdown due to  COVID-19
2020 was a challenging year for Colorado River & Trail Expeditions.  The world was turned on end by the COVID-19 pandemic.  Every river we operated on was shutdown in an attempt to control the spread of Covid-19. 
Green River, Utah Rafting 2020
On May 20 Westwater Canyon and Desolation Canyon re-opened to commercial and private use.  Canyonlands National Park re-opened on May 29.  Both areas required limited group sizes and other restrictions.  We decided to cancel our 2020 Green River season.  We took the pandemic serious and we were not sure if we should run trips at all.  Many of our trips had already been cancelled by the shutdowns.
Alaska Rafting 2020
We did not operate any of our Alaska rafting trips in 2020.  The USA/Canada border was closed.
Grand Canyon Rafting 2020
In an effort to salvage some of our season we decided to operate a limited number of Grand Canyon trips with smaller group sizes in 2020.  Due to scheduling, we were able to launch the first rafting trip in Grand Canyon after an 81 day shutdown of the river corridor due to Covid-19.  Grand Canyon reopened on June 14 to river corridor use.  Fortunately, our river trips had no problems with Covid-19.  We wrote a COVID-19 Mitigation Plan, and updated policies and procedures to make our trips as safe as possible.  We were able to give our guides work and training during a trying year emotionally and fiscally.
If you have any questions or to book an adventure today please call us at (800) 253-7328. 
CRATE Rafting Trips Since 1971
Free PDF copy of our Rafting Brochure!