Why Colorado River & Trail Expeditions?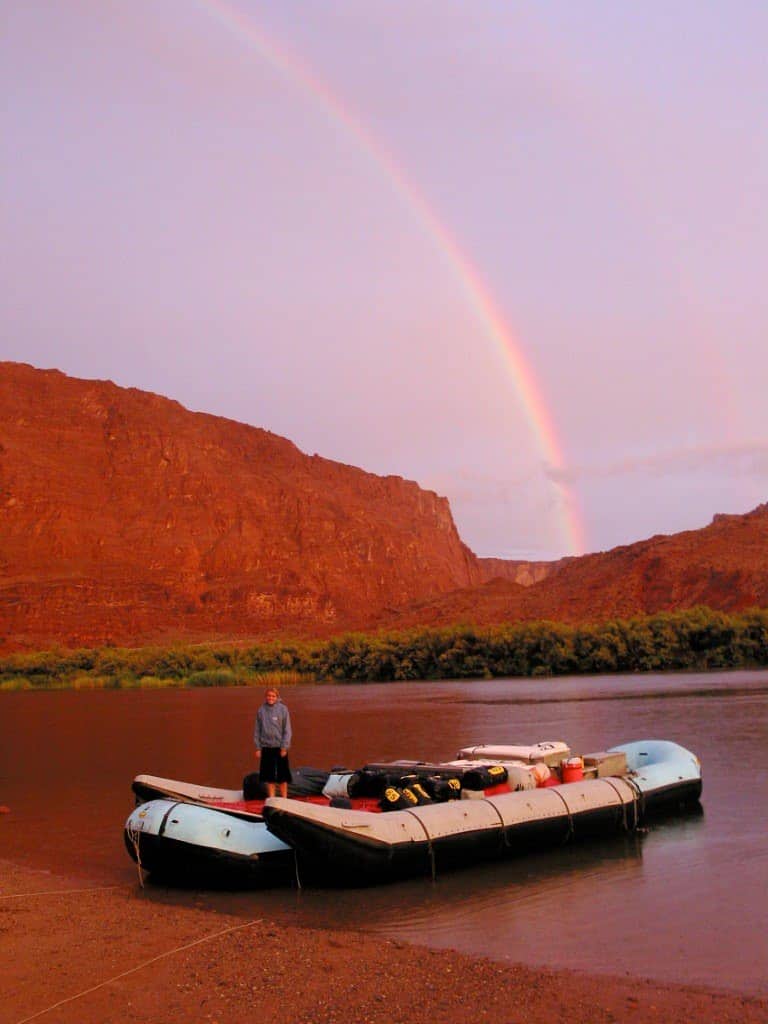 An Incredible Experience!

PangeaWayfaring - New York, NY
AMAZING!
I've been on 3 of these rafting trips and CRATE is the best. You won't get more committed folks who are passionate about both 1) the Grand Canyon and nature, and 2) making sure your experience is the best. These folks are the most wonderful people and no one knows how to navigate the wonders of the Grand Canyon better. Do yourself the favor of a wilderness expedition with CRATE.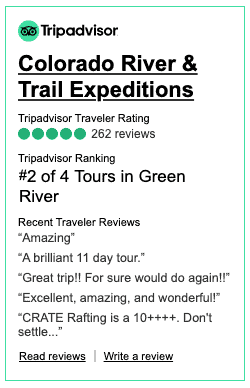 Book Your Adventure Today!
#1. Experience
Colorado River and Trail Expeditions, or "CRATE," officially became a company in 1971, but our owner, David Mackay, had been working as a rafting guide since 1965. Dave was a pioneer and innovator who developed technical low water backdown and turnaround motorized raft runs still used in the Grand Canyon today. In 1968 David met his future wife Vicki on a Grand Canyon Rafting trip. Together they started CRATE in 1971. The spirit of service and excellence that Vicki and Dave strove for in 1971 continues today, as all members of the CRATE family work together to provide you with an outstanding river trip experience. Colorado River & Trail Expeditions is one of only a handful of rafting companies that is still owned and operated by its original founders.
#2. Staff and Guides
Our employees, from office staff to river guides, are the primary reason that CRATE is your best choice for a rafting adventure. Everyone is fun, friendly, helpful, and sincerely interested in making sure that you have a great time on your river trip. We are fortunate to employ rafting guides who share our commitment to customer service and are excited and proud of the work they do. They are well-versed about the geology, ecology and history of the areas in which we operate, and they enjoy answering your questions and sharing their knowledge with you. Many of them have been with CRATE for ten years or longer, and our senior Trip Leaders have fifteen to thirty-plus years of experience with our company.
#3. Quality Equipment
#4. Dedication to the Environment
Our company motto is "Take care of the Earth. Do what you can to protect wild places and preserve open spaces." We have a comprehensive recycling plan that has significantly reduced the amount of garbage we take to the landfill. Additionally, CRATE is a sustaining member of Leave No Trace, Tread Lightly, and The Utah Society for Environmental Education. We also support the principles and efforts of the "No Child Left Inside" program.
#5. All Inclusive Rafting
Our trips include everything you will need for your trip except your sense of adventure, cash for miscellaneous expenses and gratuities, and your personal clothing and hygiene items.
#6. Repeat Customer Incentives
A big portion of our business is from repeat customers. We give a 10% discount on all of our rafting trips to our repeat customers. Go on a Desolation Canyon or Cataract Canyon trip this year and next year you can receive 10% off of a Grand Canyon Rafting or Alaska rafting adventure.
#7. Personal Attention
CRATE is a relatively small company. We have a small office staff and 15-20 guides. We really can put a personal touch on your trips. When you call us at 1-800-253-7328, a real person will answer the 'phone and you won't have to go through a series of "press a number" instructions in order to be helped. We are always happy to talk with you and discuss any questions or concerns you may have. We're also good at helping plan on-river birthday surprises, anniversary celebrations, and other special occasions or events.
#8. Vacation Packages and Special Group Charters
We love to work with individuals, groups, and travel agents. We will be glad to package other activities with your rafting trip or customize aspects of you river trip.
#9. Great Food
We believe in Healthy People and Healthy National Parks. When it is possible we serve Natural Beef and Pork, Free Range Chicken and Eggs, and Wild Caught sustainable Salmon and Halibut. Our standard menu includes Chicken, Steak, Halibut, Vegetarian and Vegan options, … the list goes on. Delicious, freshly-prepared meals are served throughout the trip. Most of our customers claim to have eaten better on the river than they do at home.
#10. The Right Length Trip
It took nature millions of years to create the unique landscapes and canyons of the Southwest. You should take time to fully immerse yourself in the sights, sounds and sensations that make them such a special destination. After 40 years of river running experience, we know how long a trip should be so that you have time to hike, swim, relax, explore, contemplate, meditate, and appreciate the whole wonderful experience!
If you have any questions or to book an adventure today please call us at (800) 253-7328. 
CRATE Rafting Trips Since 1971
Free PDF copy of our Rafting Brochure!