11 Day Rowing Whitewater Rafting Expedition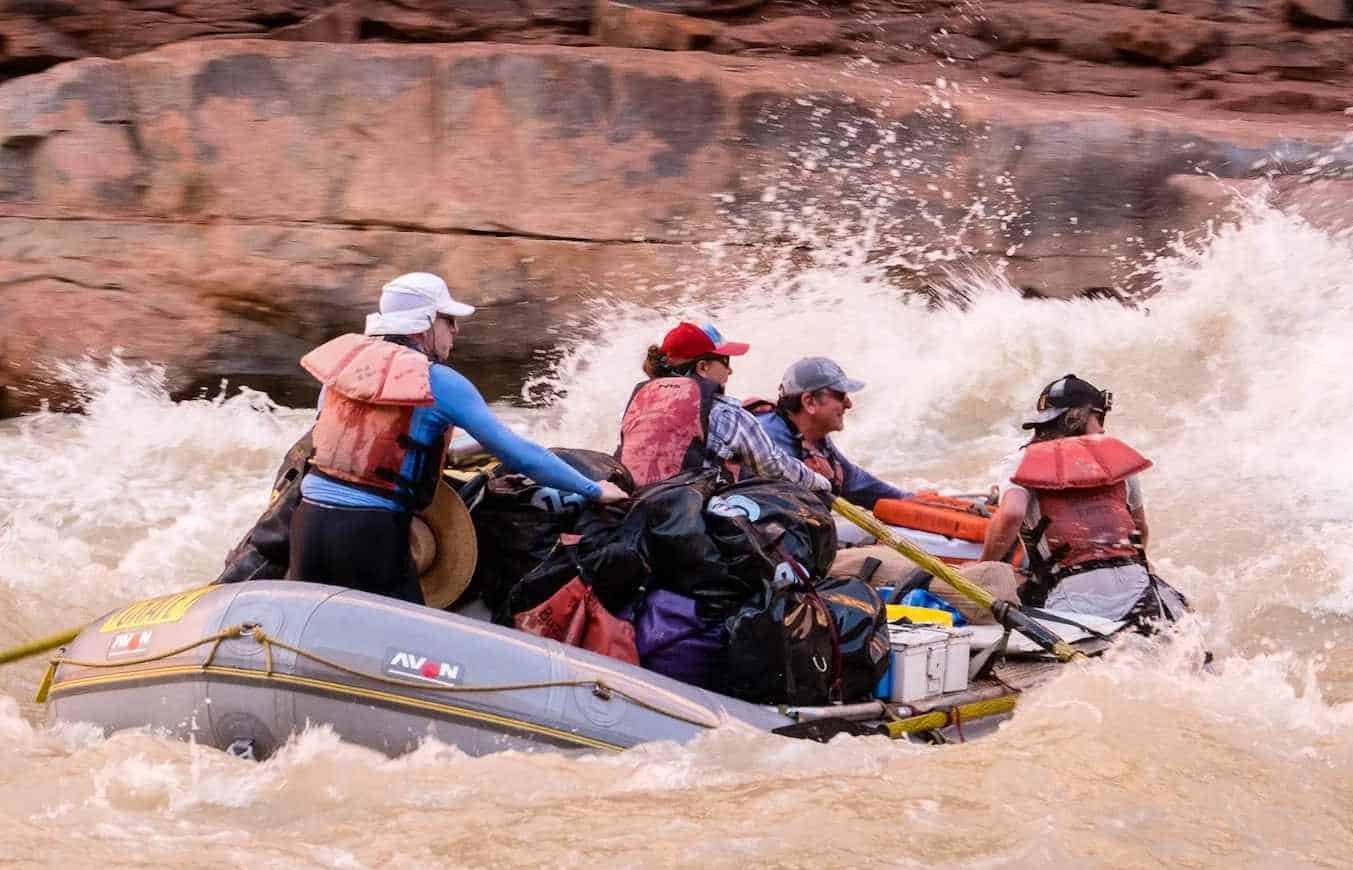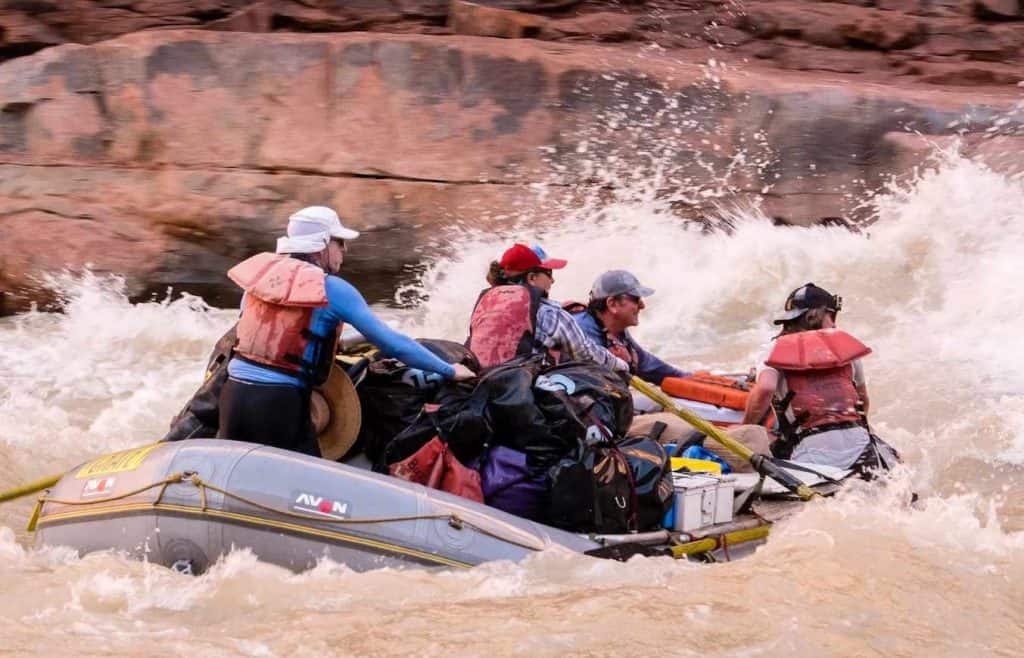 11 Day Rowing Whitewater Rafting Expedition
Book Your Adventure Today!
This 11-day Grand Canyon rowing expedition covers approximately 190 miles on the Colorado River between Lee's Ferry and Whitmore Wash. You'll have the opportunity to hike in many beautiful side canyons with cascading waterfalls, natural swimming pools, and lush vegetation. We will visit interesting historical sites, study unique geological features, and marvel at the ever-changing vistas and panoramas that are revealed at each twist and turn of the river. In addition to the amazing scenery and educational aspects of the trip, there is plenty of whitewater excitement! We'll run the Colorado's biggest rapids, including some of the most famous "drops and falls" in the world, like Horn Creek, Hermit, Crystal and Lava Falls. We'll also enjoy periods of profound peace as the rafts drift quietly through narrow corridors of polished granite.
This is a non-motorized river trip with 18-foot oar rafts rowed by guides. In addition to the oar rafts, a paddle raft is available on a rotational basis.​
Create new memories, experience the excitement, and explore the hidden wonders of the Grand Canyon with Colorado River & Trail Expeditions. We recommend our river rafting expeditions for anyone who wants to see the Grand Canyon. No previous whitewater rafting or camping experience is necessary. Call us now at 1-800-253-7328 to reserve your space or get answers to any questions you may have.
11 Day Rowing Whitewater Rafting Expedition - What's Included
Featured Grand Canyon Rafting Trips

18-Foot rafts are rowed by guides. A paddle raft is available on a rotation basis.
All participants paddle full-time in 6-8 person paddle rafts. A motor support raft carries all of the gear and supplies.  Previous paddling experience recommended.


Spring Hiking & Rafting Special
The focus is on off-river hiking and exploration.


About the raft​ used for the 11 Day Rowing Whitewater Rafting Expedition

We use 18′ self-bailing rafts on our Grand Canyon rowing trips. Each raft accommodates 4-5 passengers and is rowed by a licensed guide. Depending on group size, there are 4-6 oar boats per-trip.
We also take one paddle boat, which holds 6-8 paddlers and a licensed guide who instructs participants on how to navigate the currents and paddle through the rapids.
Guests are encouraged to rotate between rafts so they get acquainted with other passengers and the entire crew.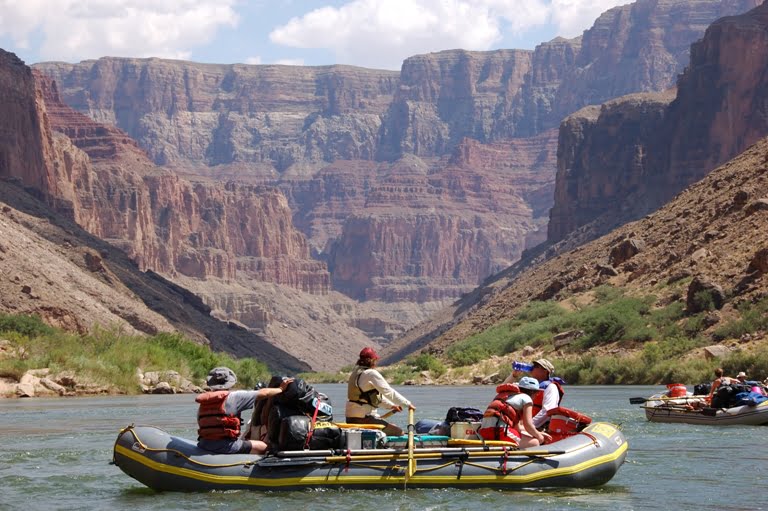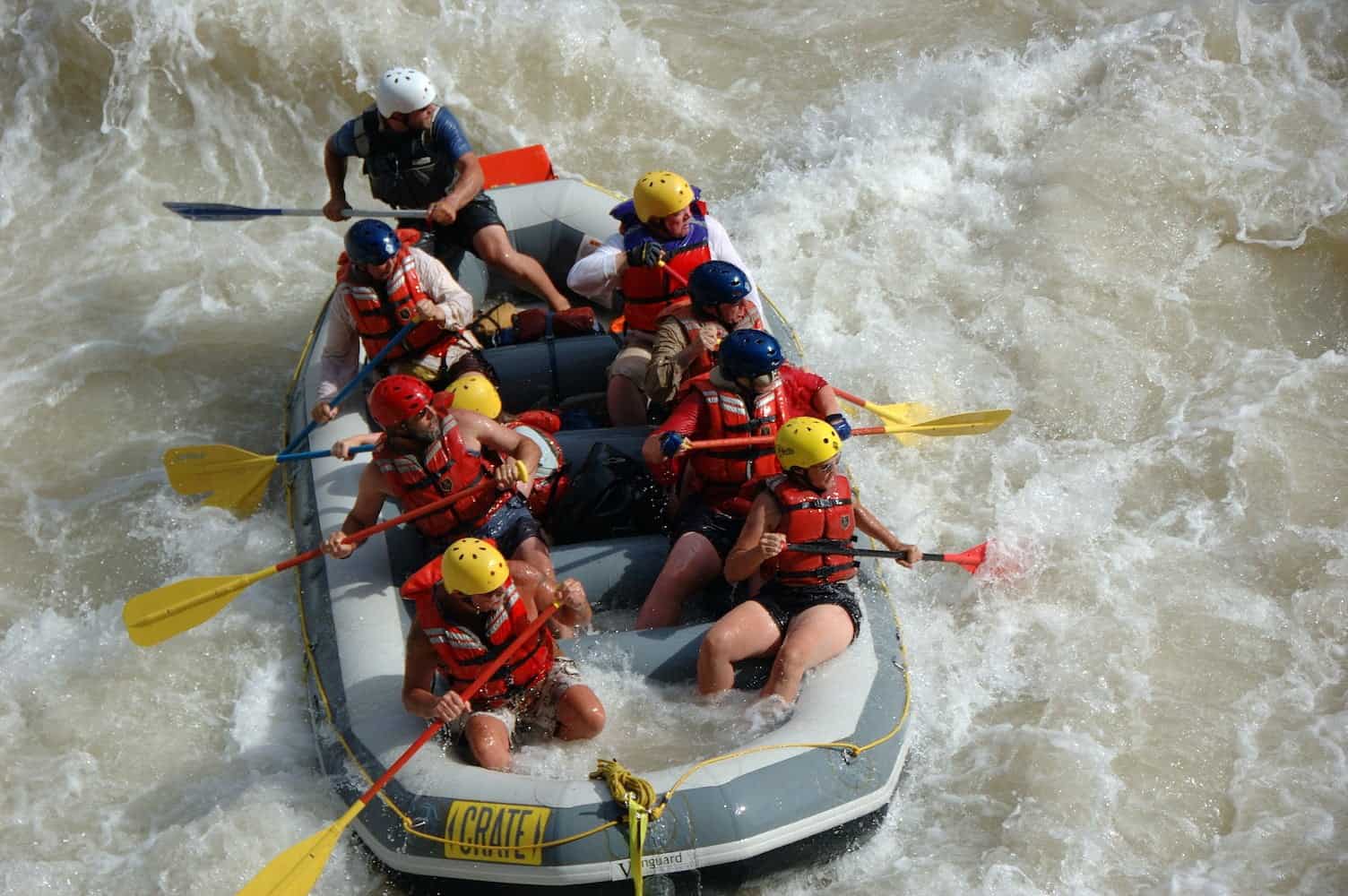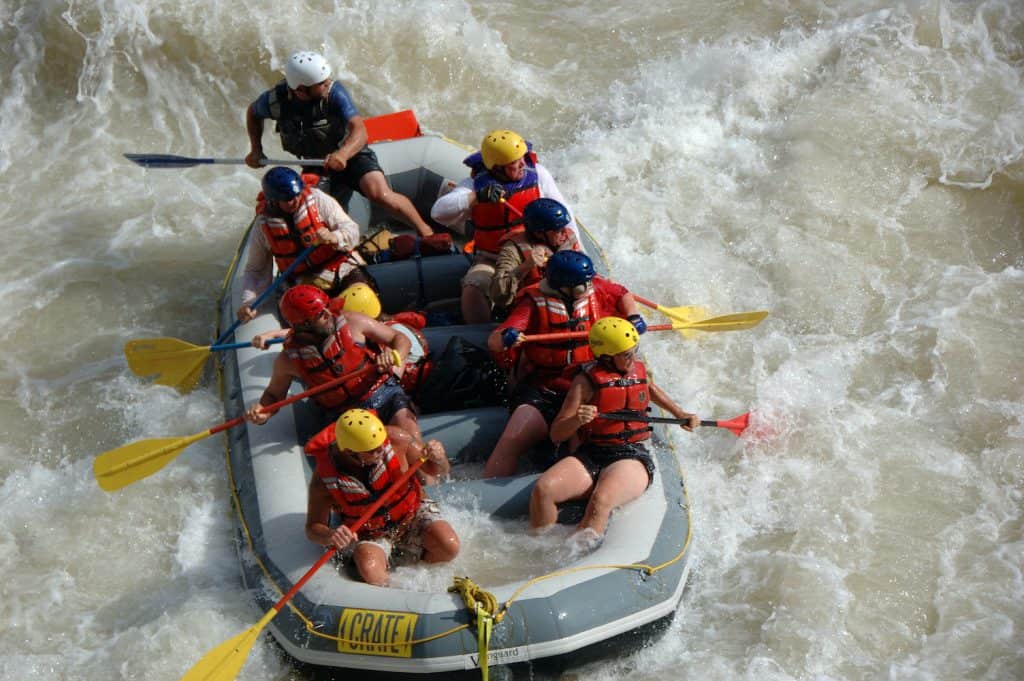 Camping and Dining on the 11 Day Rowing Whitewater Rafting Expedition
Our meals consist of a variety of fresh fruits, vegetables, meats, and dairy products. They are nutritious and delicious. Although we do not serve a "vegetarian" menu, we do provide enough fresh produce and non-meat items that most vegetarian dieters get along fine for the week they are on the river.
We are willing to try and help with special diet requests, but if your food options are very restrictive or require extra time or preparations we may not be able to accommodate you. Please give us a call to discuss your particular diet needs. We may suggest that you bring some of your own food items to supplement our menu.
More About Rafting the Grand Canyon
Additional Information for the 11 Day Rowing Whitewater Rafting Expedition

Area Maps for Grand Canyon Rafting trips
37′ Motorized Rafts, Rowing Rafts, Paddle Rafts and More.
Enjoy great meals and camping on the river!
We provide most things you need. Check here for what to bring on your Grand Canyon adventure.
Incredible vacations and experiences with CRATE in the Grand Canyon. View gallery of some of our trip experiences.
Anticipated weather for this year for your Grand Canyon Rafting Vacation
Questions such as getting started, reservations, planning, equipment and more on our FAQ Page.
What others are saying about rafting the Grand Canyon.
Grand Canyon Rafting trip availability or questions about making rafting trip reservations.
Reviews of Grand Canyon Rafting Trips
Reviews including 11 Day Rowing Whitewater Rafting Expedition


lydiah991 - Brainbridge Island
Grand Canyon Rafting Trip Review
Our group rafted the Colorado River through the Grand Canyon. It was such a positive experience from reservation to the take-out. Our rafting adventure was so well-coordinated and we felt confident in our delightful crew from the first rapid to the last. Delicious meals, great conversations, challenging hikes, and yummy desserts. The crew checked in with us regularly to make sure we were comfortable and were accommodating for various levels of abilities. We even had poetry read to us each morning before we started our day. Would I go again? Absolutely! Would there be a few things I would do differently? Absolutely! Less personal items (you won't be shampooing as often as you think), less clothing, and a few more layering pieces. Overall, this was truly a trip of a lifetime.
Eric S.
Grand Canyon Rafting Trip Review
I would just like to let you know how much we enjoyed our rafting trip! It was such a spectacular, once in a lifetime trip. Your staff should be commended. Their knowledge of the river and compassion is exceptional. They made this the most amazing trip that we have ever taken. I cannot possibly thank you entire crew enough.
Susie C.
Grand Canyon Rafting Trip Review
I knew you were an original family run company and I think it showed. It was also part of the reason I chose your group when I started doing the research, as you were always so quick and helpful with your email replies. I figured it was likely to carry through to other parts of your company and it clearly does!
Dave F.
Desolation Canyon Rafting
First to let you know that we had an exceptional trip through Desolation Canyon with Sybrena and her crew. Our guides made everyone so comfortable. From my wife sleeping under the stars, to daughter and grandkids challenging the rapids in the duckies. Could not have asked for more. Once again you (CRATE) exceeding my expectations.
Victoria Dowling | July 2018
Desolation Canyon
You are all terrific professionals and CRATE is a first-class operations. After 3 Grand Canyon, 1 Cataract, and 1 Desolation trip with CRATE over the years, you're clearly my go-to outfitter, and I will continue to talk CRATE and the western rivers and canyons up with all my friends in the northeast.
CRATE Rafting Trips Since 1971
Free PDF copy of our Rafting Brochure!