11 Day Tatshenshini Rafting Expedition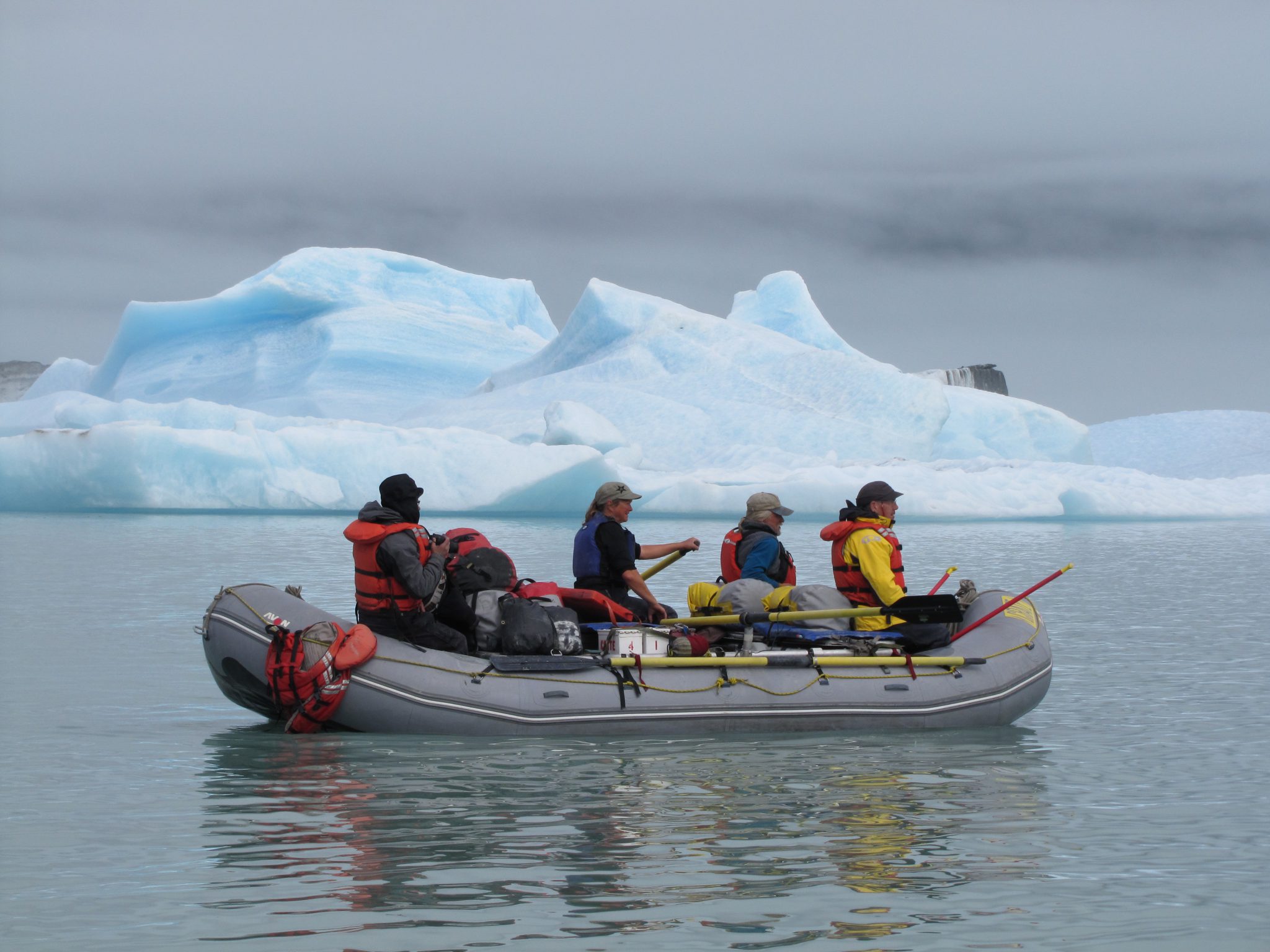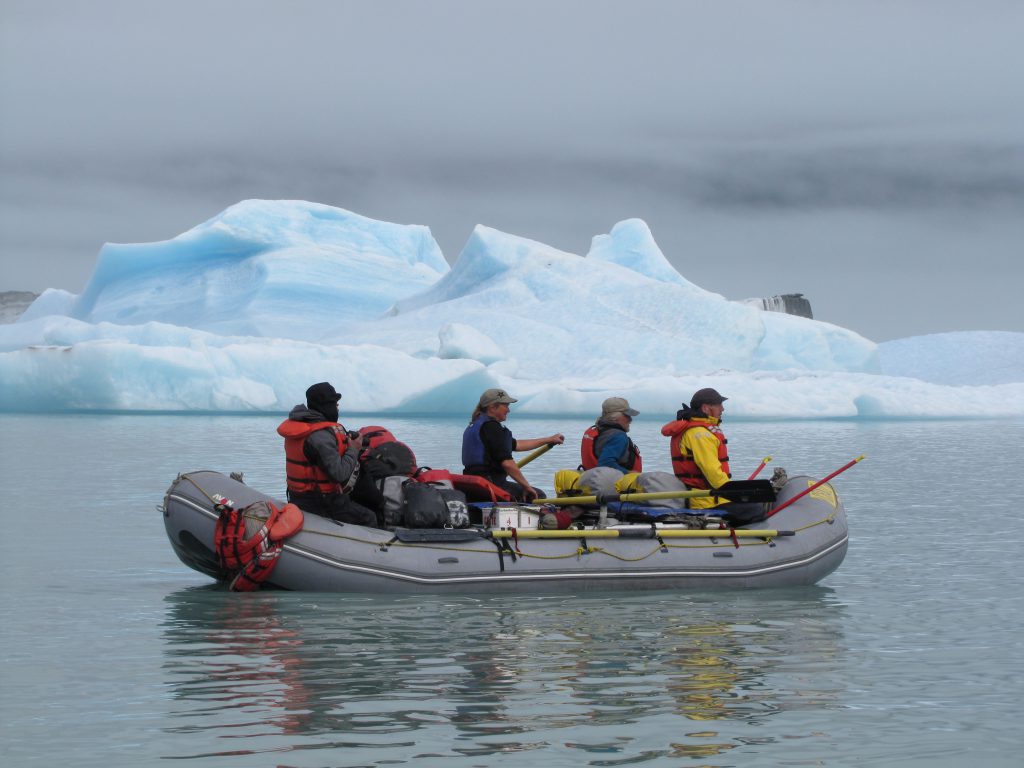 Alaska River Rafting Trips
11 Day Tatshenshini Rafting Expedition
Book Your Adventure Today!
Tatshenshini Rafting Expedition
This world-class Alaska rafting expedition on the Tatshenshini River begins in the alder and aspen forests of the Yukon.   Threads its way through the steep mountain valleys of Tatshenshini-Alsek Provincial Park in British Columbia.  And ends among the spectacular ice-age landscapes of Alaska's Glacier Bay National Park. Throughout the expedition, you will camp on gravel beaches decorated by clusters of flaming fireweed, hike along rushing streams teaming with salmon, explore mountain valleys with magnificent views, and walk upon the surface of a glacier for an up-close look at giant seracs, deep crevasses, and sparkling basins of melted ice. The area is rich in wildlife, including moose, beaver, foxes, bears, mountain goats, wolverines, eagles, and many other small birds and mammals.
Ideal For anyone looking for a true Alaskan wilderness experience.  The trip offers great wildlife viewing opportunities and amazing scenery.  Custom charter trips are available for groups of 12-18 people.  
Tatshenshini River Trip-What is Included
Experience the Tatshenshini River
The trip begins with a scenic van ride from Haines, Alaska to Dalton Post in the Yukon Territory.   Everyone will be required to show their passport when we cross into Canada.  Along the short drive we may see bear, moose, and  fox.  Dalton's Post is the put-in location for our Tatshenshini rafting expeditions.  The location is home to a handful of ruined cabins from the time of the late 1800s goldrush.  It is situated on one of the two historic routes from the Alaska Coast to the Klondike gold fields.
Before launching on the river, everyone will don drysuits.  River excitement begins almost immediately with the Class III-IV Canyon Whitewater Section of the Tatshenshini River.  Though the river stays fast throughout the entire trip, the biggest rapids are the first day. 
Before its confluence with the Alsek River, the Tatshenshini has an intimate feel.  The river banks are often covered with trees, small glacial streams increase the volume of the river as we move downstream.  Many of these glacial streams have large flood plains to walk amongst the fireweed and look for wildlife.  The small glacial streams are fast and steep, and you can hear the boulders being tumbled down them.  A hiking opportunity at Sediments Creek leads to scenic views from Goat Ridge.  Goat Ridge is fittingly  named after the hairy white Mountain Goats often seen there.
After the confluence of the Tatshenshini River with the Alsek, the river becomes huge and braided.  Large gravel bars are crisscrossed by the great river and the scenery becomes glaciers, and high coastal peaks.  Glaciers come down to the river's edge and give a peak into the last ice age.  Grizzly Bears are often seen traversing the gravel bars searching for their next Salmon meal.
The trip concludes at Dry Bay, a small fishing community near the Pacific Ocean.  Guests are flown out to Yakutat, Alaska and then via commercial airliner to Juneau, Alaska.
One of the central pieces of the largest internationally protected areas in the world.
Flows through the Tatshenshini-Alsek Provincial Park.  
Part of the Kluane / Wrangell-St. Elias / Glacier Bay / Tatshenshini-Alsek World Heritage Site.
This river trip joins the Alsek River before continuing through Glacier Bay National Park
Abundance of wildlife viewing including bears, wolverines, lynx, fox, porcupines, mountain goats, and eagles.
A chance to experience true Alaskan Wilderness.
An exciting section of rapids on the first day.
Some layover days along the river.
Beautiful campsites adorned with Fireweed, Indian Paintbrush, and Scenic Views
The possibility of walking on a Glacier.
A scenic flight at the end of the trip.
Sometime around 1990 a big flash flood created a new rapid at the site where a bridge was going to be placed to access the proposed Windy Craggy Mine.  This new rapid was named Monkey Wrench rapid in reference to Edward Abbey's Monkey Wrench Gang, and as an outcry to stop the small copper mound called the Windy Craggy Mine from being developed.  
Why is the Tatshenshini World Renowned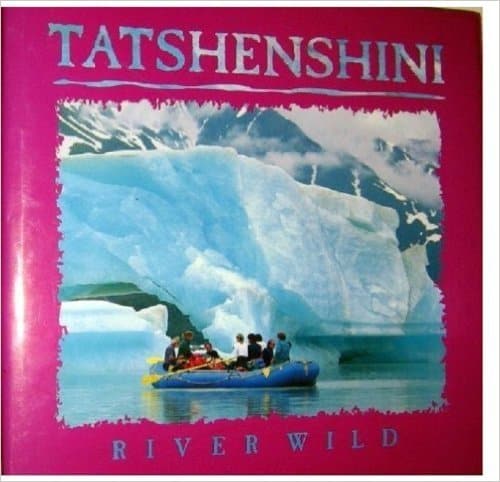 The Tatshenshini River is the definition of untrammeled wildness.  The wildlife, tall peaks, glaciers, and powerful river are unmatched.  When Colorado River & Trail Expedition first ran the Tatshenshini in 1979 only a handful of people knew about it.  The area gained a lot of press in the early to mid-1990s in an effort to stop the Windy Crag Mine project.
In 1992 the Wilderness Committee and Tatshenshini Wild co-published a campaign to protect the area from the open pit copper mine.  The campaign proved successful with the creation of the Tatshenshini-Alsek Provinicial Park in 1994.
Colorado River & Trail Expeditions and Our History on the Tatshenshini River
Colorado River & Trail Expeditions history began on the Colorado River in the Grand Canyon.  Our first rafting trip on the Tatshenshini was in the fall of 1979.  CRATE owner Dave Mackay led the trip and instantly fell in love with the unbelievable river.  For the last 40+ years we have consistently ran 1-2 rafting trips per season on this wild river.  The Tatshenshini River is dear to all of us at CRATE.
 We are one of the original commercial outfitters on the Tatshenshini River, and bring our expertise from the Colorado River to all of our trips.  We have top notch gear, and great guides.  If you have more questions please call our office at 1-800-253-7328.  We look forward to sharing this incredible river and landscape with you.     
Featured Alaska River Rafting Trips

About the Raft​ used for the 11 Day Tatshenshini Rafting Expedition

We use 18′ rafts on our rowing trips. Each raft accommodates 4 passengers and is rowed by a licensed guide.
Guests are encouraged to rotate between rafts so they get acquainted with other passengers and the entire crew. The guides will give instructions for when the boats go through the rapids.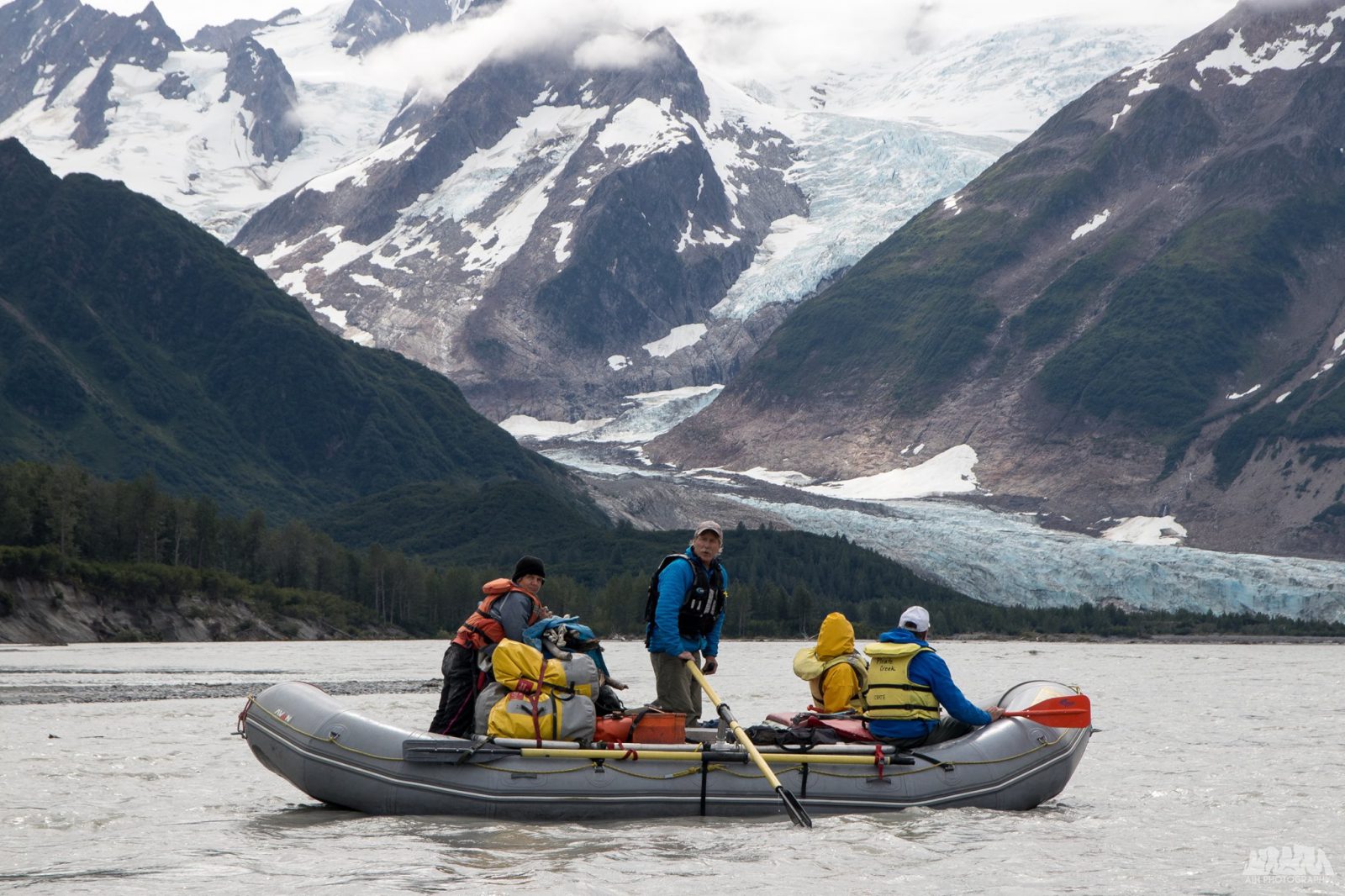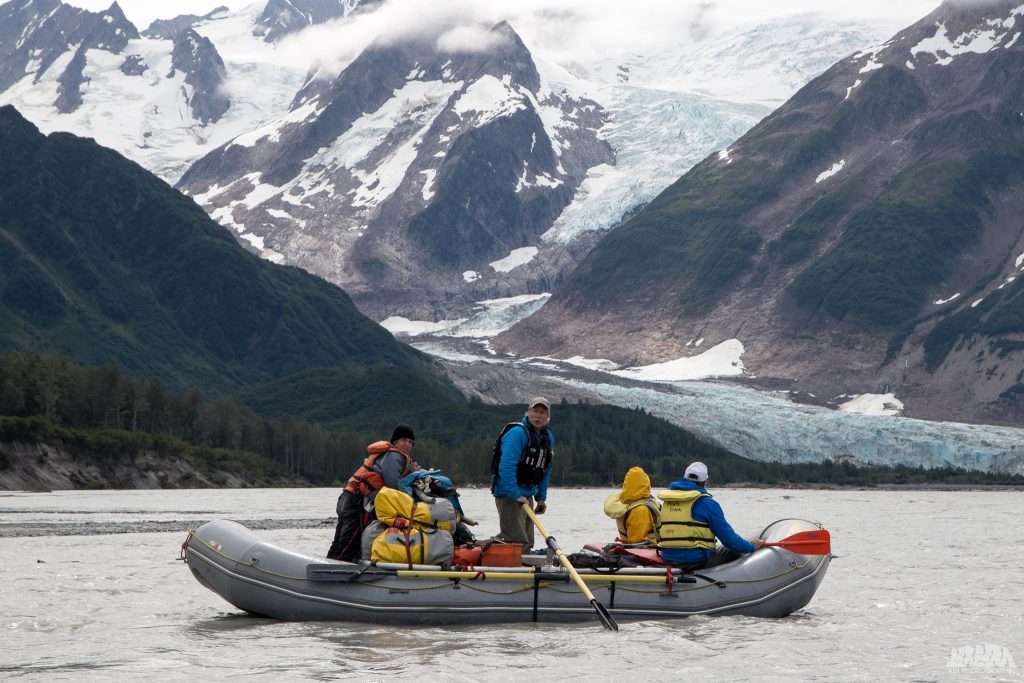 Camping and Dining on the 11 Day Tatshenshini Rafting Expedition
Our meals consist of a variety of fresh fruits, vegetables, meats, and dairy products. They are nutritious and delicious. Although we do not serve a "vegetarian" menu, we do provide enough fresh produce and non-meat items that most vegetarian dieters get along fine for the week they are on the river.
We are willing to try and help with special diet requests, but if your food options are very restrictive or require extra time or preparations we may not be able to accommodate you. Please give us a call to discuss your particular diet needs. We may suggest that you bring some of your own food items to supplement our menu.
More About Rafting The Tatshenshini
Additional Information for the 11 Day Tatshenshini Rafting Expedition

Area Maps for Tatshenshini and Alsek River Rafting Expeditions
37′ Motorized Rafts, Rowing Rafts, Paddle Rafts and More.
Enjoy great meals and camping on the river!
We provide most things you need. Check here for what to bring on your Alaska Rafting adventure.
Incredible vacations and experiences with CRATE. View gallery of some of our trip experiences from our Alaska River Rafting Expeditions.
Anticipated weather for this year for your Alaska Rafting Trip
Questions such as getting started, reservations, planning, equipment and more on our FAQ Page.
What others are saying about rafting with CRATE.
Alaska Rafting trip availability or questions about making rafting trip reservations.
Reviews of Alaska River Rafting Trips
Reviews including 11 Day Tatshenshini Rafting Expedition


lydiah991 - Brainbridge Island
Grand Canyon Rafting Trip Review
Our group rafted the Colorado River through the Grand Canyon. It was such a positive experience from reservation to the take-out. Our rafting adventure was so well-coordinated and we felt confident in our delightful crew from the first rapid to the last. Delicious meals, great conversations, challenging hikes, and yummy desserts. The crew checked in with us regularly to make sure we were comfortable and were accommodating for various levels of abilities. We even had poetry read to us each morning before we started our day. Would I go again? Absolutely! Would there be a few things I would do differently? Absolutely! Less personal items (you won't be shampooing as often as you think), less clothing, and a few more layering pieces. Overall, this was truly a trip of a lifetime.
Eric S.
Grand Canyon Rafting Trip Review
I would just like to let you know how much we enjoyed our rafting trip! It was such a spectacular, once in a lifetime trip. Your staff should be commended. Their knowledge of the river and compassion is exceptional. They made this the most amazing trip that we have ever taken. I cannot possibly thank you entire crew enough.
Susie C.
Grand Canyon Rafting Trip Review
I knew you were an original family run company and I think it showed. It was also part of the reason I chose your group when I started doing the research, as you were always so quick and helpful with your email replies. I figured it was likely to carry through to other parts of your company and it clearly does!
Dave F.
Desolation Canyon Rafting
First to let you know that we had an exceptional trip through Desolation Canyon with Sybrena and her crew. Our guides made everyone so comfortable. From my wife sleeping under the stars, to daughter and grandkids challenging the rapids in the duckies. Could not have asked for more. Once again you (CRATE) exceeding my expectations.
Victoria Dowling | July 2018
Desolation Canyon
You are all terrific professionals and CRATE is a first-class operations. After 3 Grand Canyon, 1 Cataract, and 1 Desolation trip with CRATE over the years, you're clearly my go-to outfitter, and I will continue to talk CRATE and the western rivers and canyons up with all my friends in the northeast.
CRATE Rafting Trips Since 1971
Free PDF copy of our Rafting Brochure!