First Time Whitewater Rafting?
An Incredible Experience!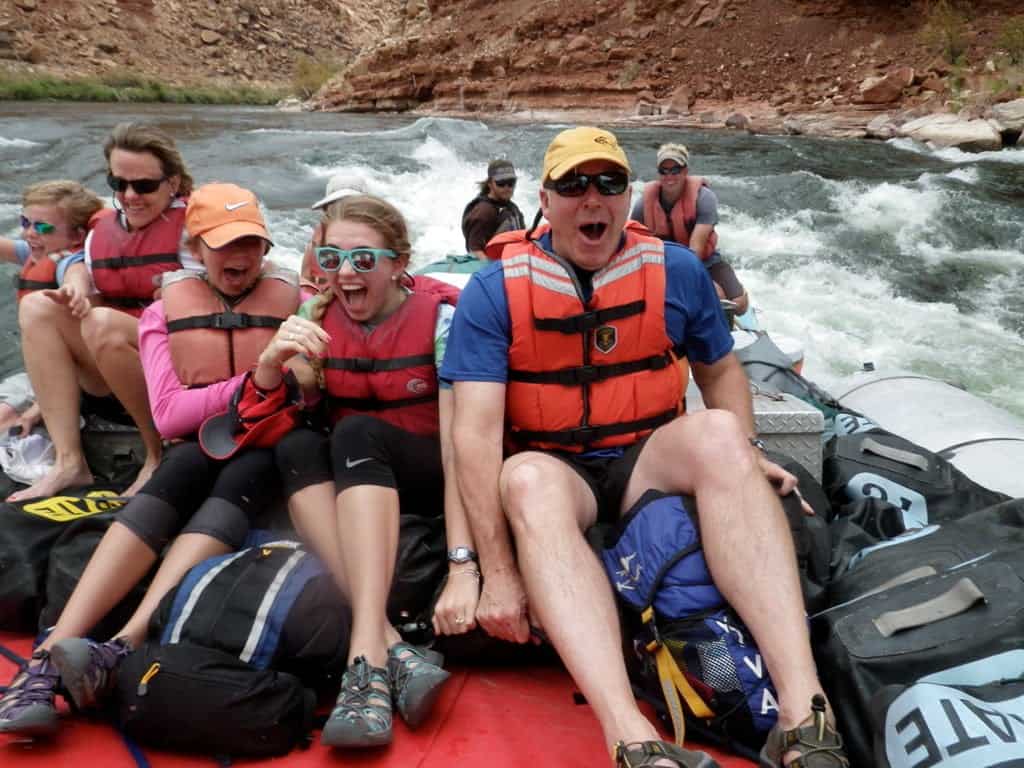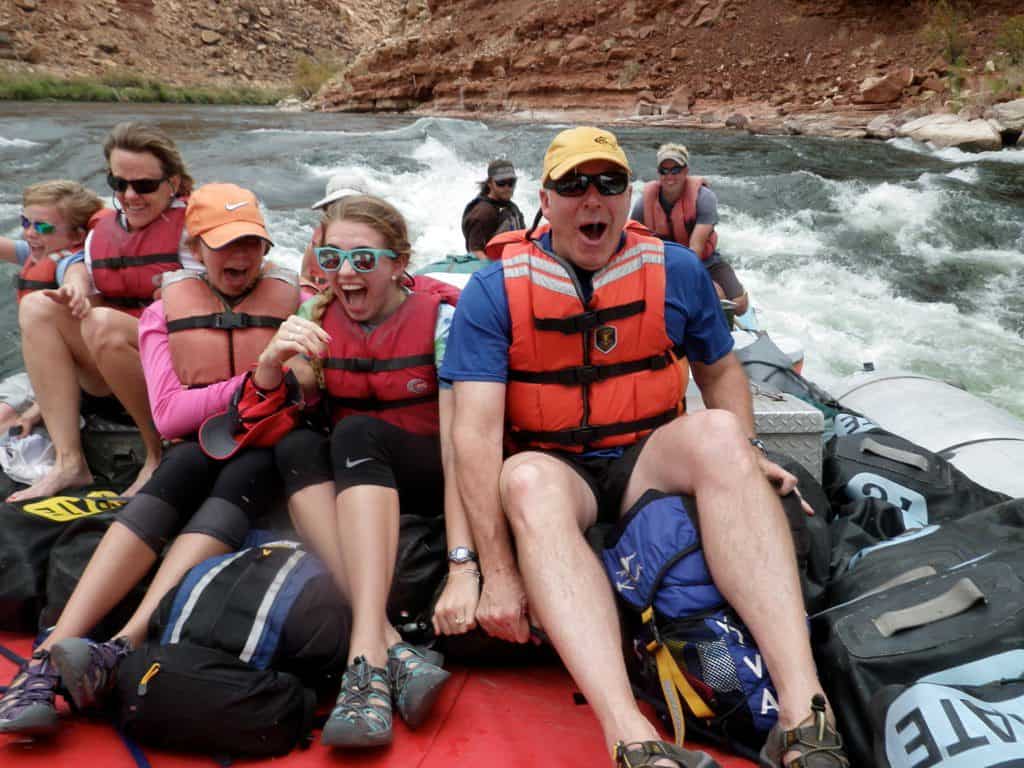 First Time Whitewater Rafting
An Incredible Experience!

Megan H.
The trip of a lifetime
Words escape me when trying to describe my most recent (and first) run through the Canyon. The guides from CRATE truly made this experience beyond anything I could have imagined. The food was exceptional and our guides were amazingly professional, yet down to earth. I have rarely made lifelong friends in such a short period of time. CRATE, you should be commended for the everyday memories you create.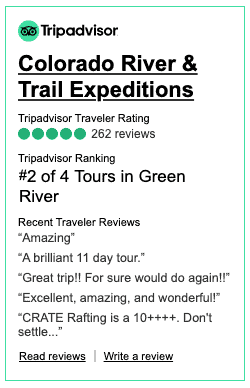 Book Your Adventure Today!
Is Rafting Experience Required?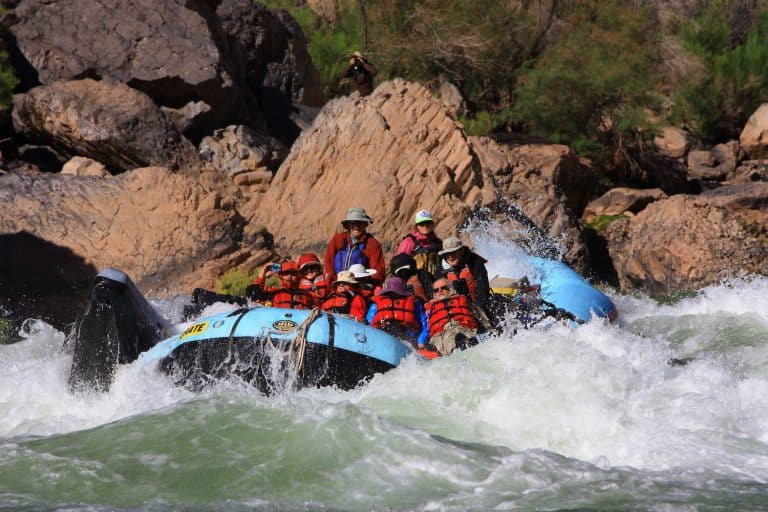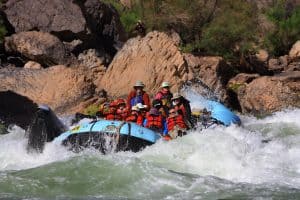 No prior rafting or camping experience is required for our rafting trips. We have guests who join us with little to no rafting or camping experience, who really enjoy their trips and some of them even have a life changing experience.  Our guides will give you an orientation and camping talk once you are at the river. They are very experienced and will be happy to help you with any of your equipment or setting up your camp. They also are happy to answer any questions you might have.
There are a few things you can do to better prepare yourself for a rafting trip. It is important to thoroughly read your trip-planning handbook so you are familiar with the trip you have chosen. If you still have questions after reading through the materials, our office staff is happy to answer them or clarify anything for you. Reading our Frequently Asked Questions can also help prepare you for your trip.
Whitewater River Rafting Classifications, Ratings, and Levels
How are Grand Canyon rapids rated?
The rapids of Grand Canyon were rated on a 1-10 scale prior to the invention of the (Class I-Class VI) International Scale of Difficulty. Les Jones started this trend by rating rapids from 1-10 in his scroll maps of the 1950s and 60s. Later Bill Belknap rated the rapids on this scale for his original waterproof guides. Therefore all of Grand Canyon's rapids were rated on the 1-10 scale before the 1-6 scale was invented. The 1-10 scale continues to be used in Grand Canyon. The Colorado River is a large volume river with big features and usually nice recovery zones. A Grand Canyon rapid rated at a 10 would be similar to a Class IV or V on the International Scale of Difficulty. Rapids change at different water levels and their ratings do too.  Included below is the International Scale of River Difficulty to compare and contrast with the 1-10 Grand Canyon Scale.
Explaining the International Scale of River Difficulty
 International Scale of River Difficulty
The six difficulty classes as described on the American Whitewater website.
Class I Rapids
Fast moving water with riffles and small waves. Few obstructions, all obvious and easily missed with little training. Risk to swimmers is slight; self-rescue is easy.
Class II Rapids: Novice
Straightforward rapids with wide, clear channels which are evident without scouting. Occasional maneuvering may be required, but rocks and medium-sized waves are easily missed by trained paddlers. Swimmers are seldom injured and group assistance, while helpful, is seldom needed. Rapids that are at the upper end of this difficulty range are designated "Class II+".
Class III: Intermediate
Rapids with moderate, irregular waves which may be difficult to avoid and which can swamp an open canoe. Complex maneuvers in fast current and good boat control in tight passages or around ledges are often required; large waves or strainers may be present but are easily avoided. Strong eddies and powerful current effects can be found, particularly on large-volume rivers. scouting is advisable for inexperienced parties. Injuries while swimming are rare; self-rescue is usually easy but group assistance may be required to avoid long swims. Rapids that are at the lower or upper end of this difficulty range are designated "Class III-" or "Class III+" respectively.
Class IV: Advanced
Intense, powerful but predictable rapids requiring precise boat handling in turbulent water. Depending on the character of the river, it may feature large, unavoidable waves and holes or constricted passages demanding fast maneuvers under pressure. A fast, reliable eddy turn may be needed to initiate maneuvers, scout rapids, or rest. Rapids may require "must" moves above dangerous hazards. Scouting may be necessary the first time down. Risk of injury to swimmers is moderate to high, and water conditions may make self-rescue difficult. Group assistance for rescue is often essential but requires practiced skills. A strong eskimo roll is highly recommended. Rapids that are at the lower or upper end of this difficulty range are designated "Class IV-" or "Class IV+" respectively.
Class V: Expert
Extremely long, obstructed, or very violent rapids which expose a paddler to added risk. Drops may contain large, unavoidable waves and holes or steep, congested chutes with complex, demanding routes. Rapids may continue for long distances between pools, demanding a high level of fitness. What eddies exist may be small, turbulent, or difficult to reach. At the high end of the scale, several of these factors may be combined. Scouting is recommended but may be difficult. Swims are dangerous, and rescue is often difficult even for experts. A very reliable eskimo roll, proper equipment, extensive experience, and practiced rescue skills are essential. Because of the large range of difficulty that exists beyond Class IV, Class 5 is an open-ended, multiple-level scale designated by class 5.0, 5.1, 5.2, etc… each of these levels is an order of magnitude more difficult than the last. Example: increasing difficulty from Class 5.0 to Class 5.1 is a similar order of magnitude as increasing from Class IV to Class 5.0.
Class VI: Extreme and Exploratory Rapids
These runs have almost never been attempted and often exemplify the extremes of difficulty, unpredictability and danger. The consequences of errors are very severe and rescue may be impossible. For teams of experts only, at favorable water levels, after close personal inspection and taking all precautions. After a Class VI rapids has been run many times, its rating may be changed to an apppropriate Class 5.x rating.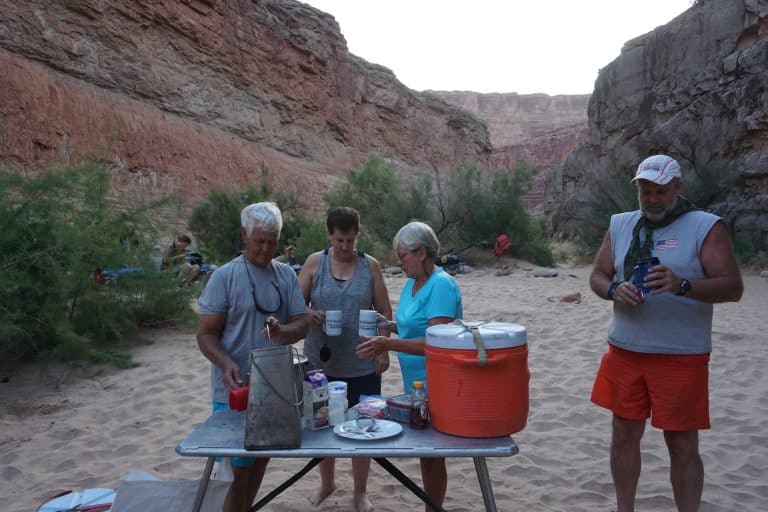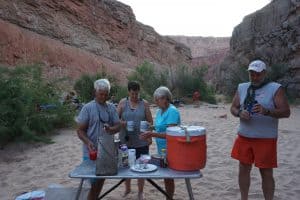 With 50 years of experience of rafting the Colorado River, we know how to take care of our guests and make them comfortable.   A lot of our guests we take down the river have never camped before.  Camping on the river can be one of the best parts of the trip.  We camp along the banks of the river on our rafting trips.  Most of the time the camps are set up along sandy beaches.  Sometimes the camps are in groves of cottonwood or tamarisk trees, or along rocky ledges. There are no pre-determined campsites, other than through Cataract Canyon's rapid section.
All campsites are completely primitive with no bathrooms or picnic tables.  We supply the entire kitchen and the bathrooms.  Each night, anyone who is willing can help us to unload the rafts and set up the kitchen.  Handwash stations are set up by the bathroom and kitchen.  Everyone is required to wash their hands after using the bathroom and before coffee and meals.  
We supply all of the camping gear necessary on our rafting trips.  The camping gear provided will vary depending on the specific trip you decide on.  Guests are always welcome to bring their own camping gear if they desire. Just let us know ahead of time if you plan to bring your own gear.
If you have any questions or to book an adventure today please call us at (800) 253-7328. 
First Time Rafting Recommendations

Spring Hiking & Rafting Special
The focus is on off-river hiking and exploration.


Grand Canyon Natural History Special
Emphasis on geology and off-river hiking to unique eco-zones and archaeological sites with professional naturalists.


Our classic Grand Canyon rafting expedition.
It offers ample time to see the sites and side canyons.
CRATE Rafting Trips Since 1971
Free PDF copy of our Rafting Brochure!