Desolation Canyon Rafting Trip Reviews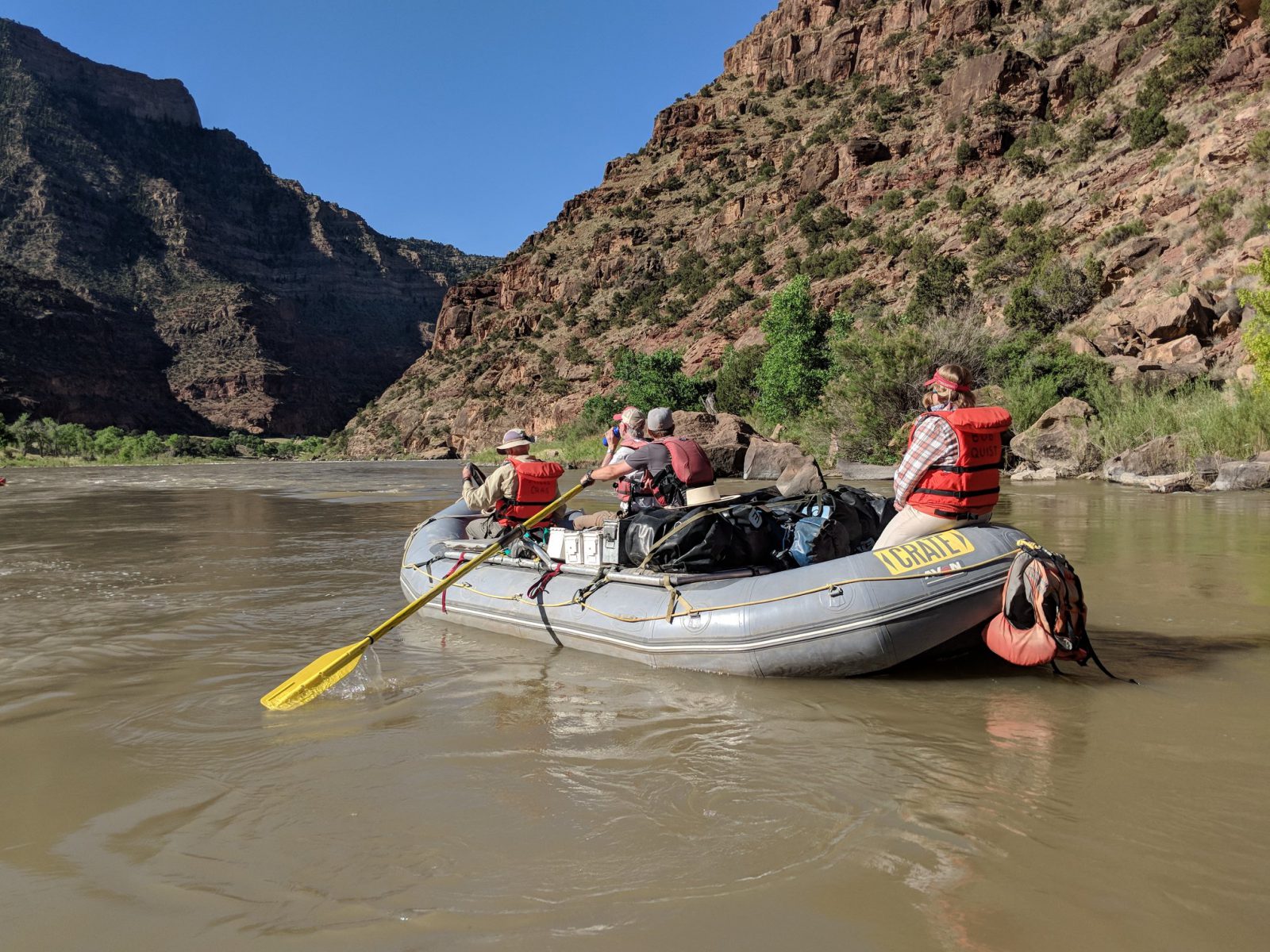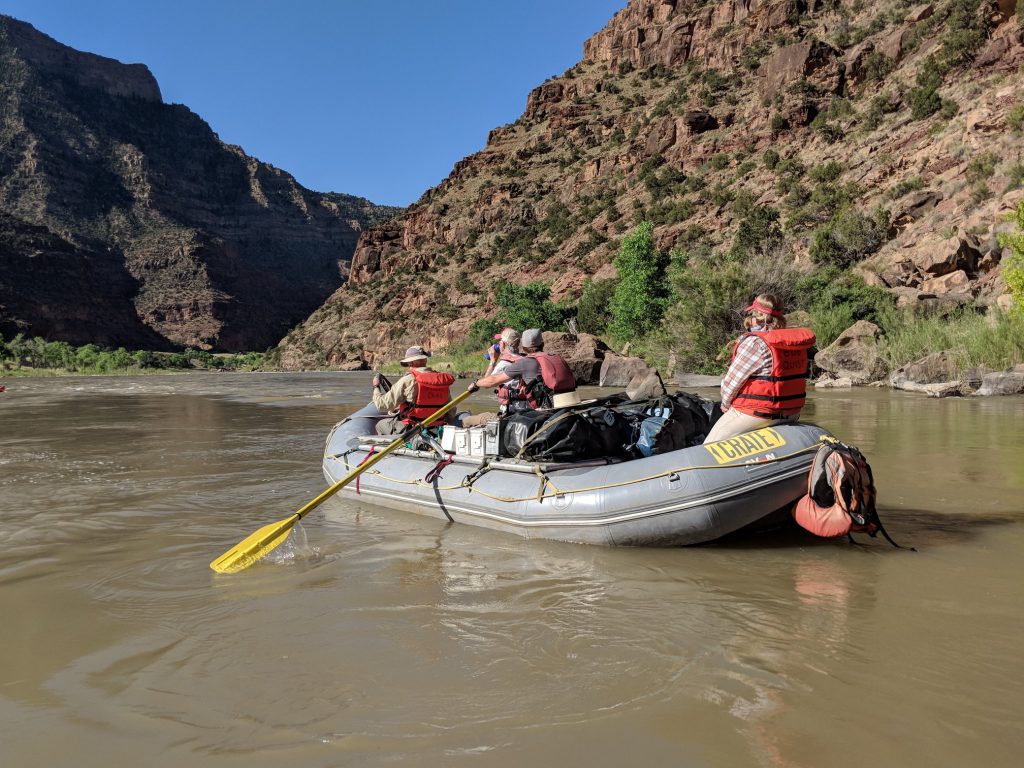 Desolation Canyon Rafting Trips
Book Your Adventure Today!
Desolation Canyon Rafting Trip Reviews
Three generations tackle the Green River through Desolation Canyon.
After experiencing the Colorado in 2011 and the Alsek in 2015 with the experienced crew from Colorado River and Trails Expeditions (CRATE) I knew a family adventure with wife (not a keen camper) daughter, son in law and granddaughters age 8 and 10 was a must. The 5 day trip through Desolation Canyon exceeded everyones
…
expectations. From the 30 minute flight to the Green River in single engine planes (awesome views from 6,000 ft) to our take out on day 5, you could not have experienced a better adventure. 5 star accommodation on cots under the stars (tents were available, but even my wife was comfortable on a cot), 5 star culinary delights (the scales tipped a little higher after the trip), outstanding concierge service from our CRATE team lead by the Queen of the Green – Sabrina. And as for the time on the river – we always felt safe and well taken care of. By the end of the trip, everyone had experienced time in the Duckies (inflatable kayaks that we had for alternate transportation) and granddaughters were running the rapids on their own. The CRATE team provided not only an outstanding time on the river but lots of history and information about the area. Time on the river was broken up with hikes to abandon homesteads and up into the canyons to experience vistas that were out of this world. And if you are a star gazer – more stars than I have ever experienced. CRATE – you are amazing. Thanks for another trip of a life time.
Read more "Three generations tackle the Green River through Desolation Canyon."
djfraser13
Desolation and Gray Canyons
Four friends from green New England came west for this trip down Desolation and Gray. The flight from Moab to Sand Wash airstrip gave us spectacular views of the Tavaputs Plateau and the Green River below. (Yea, pilot Desi!) As on previous CRATE trips (Grand Canyon, Cataract), the guides–trip leader Johnny kept things on track,
…
while the other guides Ryann, Casey, and Isaac–were professional in every respect: handling the oars, cooking up great meals in the "kitchen," and keeping us safe and comfortable without over-coddling. (A special shout-out to the engaging, hardworking, and knowledgeable Ryann, whose boat I was on most of the time.) The weather was hot! And yet we could cool off by jumping in or dipping hat, shirt, or sarong into the water. (Sarongs are a must-have on river trips.) We slept on cots or inside tents, and settled into chairs at camp dinners–all fine equipment and easy to set up. The scenery around us and stars above were gorgeous. CRATE has never disappointed.
VADMA
Green River raft trip 2018 (trip six, with CRATE) excellent
So many great memories come to mind when I think about my 6 trips with CRATE. Yesterday, while driving back to Salt Lake from a Green River rafting trip, I was thinking of how I might approach another review about Colorado River and Trail Expeditions. What comes to mind and what I think makes CRATE
…
a very special company is their outstanding personnel. To a person they project, and genuinely are your friend, your cook, your guide, your oarsmen and will even bake you a cake on your birthday! After that, they are strong, smart, friendly and they work their collective butts off. If you are doing what I do and looking to tripadvisor try to find a good company to raft with, you need not look any further. These are epic trips with an epic company still run by the original owners. Tips: One of the cool things about the Green River trip is the opportunity to kayak. For the most part it's a tame experience, but if you dare, there are some big drops, relatively speaking, that do have a pucker factor. (Really fun stuff)
Read more "Green River raft trip 2018 (trip six, with CRATE) excellent"
Chris S.
Perfect family trip!
Went on a Desolation Canyon/Green River trip (6/13-6/17) with my wife and three kids, 13, 11, and 8 years old. Our entire experience was wonderful, and one we will always cherish. Our guides, Jonny, Jen, Ryann, and KC, were topnotch and went above and beyond to ensure all the little details that make a family
…
vacation positive and memorable were met. Their professionalism, friendliness, and expertise were on full display throughout the trip. Their cooking skills were also first-class! I can't say enough about the outstanding experience with CRATE, from booking the trip with the office staff, to breaking down our gear at the warehouse, and everything in between. The Desolation Canyon trip was the perfect family camping/rafting/hiking/unplugging experience for us. We look forward to our next adventure with CRATE.
Ryan Y.
River Rafting Trip Outfitters Extraordinaire !
Just got back from a 6 day trip down Desolation Canyon (affectionately called Deso by CRATE personnel) with a great crew of river guides led by Sabrina w/ Jen, and Ryan (our trip was an all women crew). They took us on a journey which was beyond all expectations. These are real Wonder Women!!!!!!! The
…
guides were committed to making sure all the folks on the trip wanted for nothing! Food – how they did it – fresh vegetables and fruits every day- desert one night was chocolate fondue! They baked a cake without an oven! Eggs cooked to order ! Ahhhh the avocados!!! If you wanted to sleep under the stars you had a cot to go with company provided thick sleeping pad and sleeping bag. If you wanted to stay in a tent instead you could. There were folding chairs for all. They also provided a water bottle and mug for everyone (you get to take them home!). The guides have great stories about their Deso adventures and there were easy side hikes on our trips to fascinating places. If you spot something on the shore, unless in the middle of a rapid, the guides give you time to watch/see what is so special about the canyon. The entire operation was friendly professional helpful and just down right nice. Even the warehouse crews that helped load and unload us – thanks for getting my hiking stick to collapse back to packable length!. Feeling a little grungy after 6 days on the river they let me take a shower at the warehouse before having to jump on the train to Salt Lake City. You want to ride various rivers with a standout company. GO CRATE!
PALsIMHO
Now 19 trips with Colorado River & Trail Expeditions since 1976.
Took back to back trips this May & June in Desolation Canyon and Cataract Canyon. These were the trips with professional photographer Tom Till from Moab. Could not have been better. Mikenna, one of my favorite guides, was the tip leader for both segments. Dave one of owners of the company and his son Walker
…
met us at the take out point to assure that all was well. Thanks again to all the hard working folks at CRATE. Already thinking about next year … maybe Alaska?
Read more "Now 19 trips with Colorado River & Trail Expeditions since 1976."
JWT1943
White Water Rafting with a Personal Touch
Jane and I are still coming down from our white water rafting trip, which ended two weeks ago. We were on the Green River for 96 miles and six days, and for the first 80 miles or so there was no access to the river from the outside world at all. Okay, the trip leader
…
did have a satellite phone and theoretically could have called in a helicopter evacuation in case of some serious problem, but for all practical purposes we were of necessity completely self sufficient. The psychological effect of this was ultimately liberating. After a period of adjustment we settled into a routine reminiscent of a wagon train of pioneers venturing across the wilderness. (Our group consisted of 14 'guests' and 4 guides) Each day at a place chosen by our leader we would make camp adjacent to the river. Guests would help unload the rafts, then set up personal campsites. Guides would set up the 'kitchen' and begin food preparation. Leave-no-trace camping is a good idea anywhere, and it was a requirement of our BLM use permit. Because our trip traversed a designated Wilderness Study Area we were required to dispose of all liquid waste into the river and carry out all solid waste. We urinated, expectorated, and discarded liquid foodstuffs into the river, relying on the 18,000 cubic feet per second flow (yes; look it up) and we carried all of our trash, compost, and even excrement with us to the take out. Once we learned the routine it was not onerous. So when we set up camp the first task of the staff was to set up the two camp toilets (I use the word loosely) – one under its own privacy tent, and the other situated behind some shrubbery usually with a spectacular view over the river. Similarly the final announcement before camp was broken in the morning was "last call for the pooper!" The constraints on elimination added to the fact that we did not have tents to sleep or change in depressed our group modesty significantly. Also not much washing, since the only option was in the river, whose temperature was in the mid 40s. I feel a real sense of accomplishment. We set out to descend some 600 feet through several dozen rapids over 90+ miles – and did so. We got rained on (not too much) on two days, and got wet traversing the rapids every day. We ate well, slept well, and saw starrier skies than I remember since my youth. I am profoundly grateful to our guides and to the small family-owned outfitter they work for. A trip to remember. – – – – – – – – – – CRATE is a smaller, family owned company, that has been in business for decades. Over half the clients on our trip were repeat customers, which speaks volumes. A trip like this depends for its success on planning (from the top) and personalities (on the ground). Our guides were experienced and knowledgable about local history, and geology. As well as safety, campcraft, and the skills essential for a successful outing of this kind. Their boundless energy, consistently positive attitude, and care for the each one of the guests was remarkable. Jane is a "foodie," very concerned with healthy food. She was pleased with our menus, which included lots of vegetables, and whole grains – quinoa, oatmeal, and rice – and whole grain bread choices. Foods were locally sourced as well. Dinners included salmon, shrimp, and steaks. Snacks on he river were consistently healthy choices. We are seniors, in pretty good shape. This trip would be good for any age willing to try something new and have a real adventure.
Todd B.
The BEST – 17 trips and counting
My first CRATE trip was in 1976. Have taken at least 16 additional trips with them, including both Alaska trips. Took my daughter when she was 10 and took my grandson when he turned 10. Have observed many other outfitters, CRATE is unquestionably the best … quality of gear, safety, sanitation, food variety and preparation.
…
Most importantly the guides are the absolute best, knowledgeable, compassionate, professional. I have entrusted them with my daughter and grandson time and again. Have not met a CRATE guide in 17 trips that I would not go on another trip with! Have already planned my 2017 trip.
JWT1943
Desolation Canyon rafting trip
Desolation Canyon could be a great family trip. River was nice but not like Grand Canyon. It is very enjoyable ride. As higher elevations weather is mild too. Guides are very professional and also friendly. They made my trip very memorable. This Canyon is highly recommended for family trip.
Atsuko K.
Efficient, knowledgeable, thoughtful river guides
We went down the Green River through Desolation Canyon, and it was fantastic. The trip leader was excellent–she knew the river, kept everyone organized and on time, and safety was always first. All of the guides knew the geology and botany as well as a lot of great stories as we (okay, they!) rowed down
…
the river. The food was great, and I was shocked to find that I gained weight! This was our first river trip and they encouraged us to swim, paddle, explore, etc. Spectacular and beautiful; thank you CRATE for showing us this wonderful landscape.
Read more "Efficient, knowledgeable, thoughtful river guides"
looksformuseums
Green river rafting
I just got back from seven days on the Green River with a tremendous crew from CRATE. They are all professionals and know the canyon well. This is a very first class operation put on by first class people. I will be sending an email to create management commending the entire staff
jeffhB6882CC
Crate – Colorado River & Trail Expeditions the best rafting company !
I came back a week ago from 2 rafting trips with CRATE. This time I went for 5 days of rafting in Desolation Canyon which were followed by 3 days of motor trip to Cataract Canyon. They have the best Crew/Guides, with so much knowledge, so nice and very helpful. Their equipment, food, safety, hikes,
…
geological and other explanations are top of the line, They are highly recommended ! I would go rafting with them anywhere in the world.
Read more "Crate – Colorado River & Trail Expeditions the best rafting company !"
Lina B.
CRATE is the best rafting/hiking experience you can have–and at the BEST PRICE!
Just finished 9 days of hiking and rafting the Green River with Colo. River and Trail Expeditions. This follows my trip of May 2010 down the Grand Canyon.
CRATE continues to be the best hiking/rafting/camping experience imaginable. DEFINITELY try to use this company if you're rafting Alaska, the Colorado, the Green River, etc. Family
…
run business for 40 years–good people who care and who hire only those who care. I can't say enough about how great the experience was. Equipment, food, safety, hikes, activities(guitar, singing, etc.), geological and other explanations, etc., etc. ! Highly recommend! ***************
Read more "CRATE is the best rafting/hiking experience you can have–and at the BEST PRICE!"
JJJRS5
Family Trip on Desolation Canyon
About 10 years ago I bid at an environmental auction on a 5 day Desolation Canyon trip, thinking to take my mother. She developed Alzheimer's Disease and I was never able to take her. I called CRATE and they voided the expiration date and there it sat past the year's end. It was 10 years
…
later when I could take my nephew's family down the river and CRATE still honored the voucher for two adults! We were 11 and so had our own private trip along with another couple and their grandson. Our ages ranged from 10-75! That is not an easy age range to plan for or please, but our 3 WOMEN guides were perfect and flexible, to mention nothing of their cooking and fashion show attire in the evening. This was not my first trip. That was in 1954 with Hatch, yes Buzz Hatch, down the Yampa when Reclamation wanted to put a dam at Split Mountain. I had done Desolation two other times, once with the Wasatch Mountain Club, so it was good to see this section of the Green River again. The planning and execution was everything I expected from a first rate outfitter and we had a memorable time, especially using the rubber ducky inflatable kayaks. Plan a family trip with CRATE. It is a real vacation because you don't have to DO anything except enjoy the experience. I was inspired to log in and write this review 6 months later by the gorgeous calendar they sent me for 2011 with different artists interpretation of Grand Canyon scenes done primarily by river runners. The calendar brought back memories of my two trips down the Grand with Ken Sleight and Dee Holladay almost 40 years ago. If you have never done a family river trip, this is a good place to start.
SSS39
Awesome – the best
What more can I say – I have taken 17 trips with Colorado River & Trail over the past 31 years. Every trip they offer including both Alaska trips. Planing another Grand Canyon trip summer 2011 (my 7th). Their equipment is the best! The guides are outstanding! I would not consider any other outfitter.
JWT1943
You'll become part of the CRATE family on these adventures….!
We've gone with CRATE on three occasions: twice on the Colorado through Grand Canyon and once with a group of women on the Desolation Canyon trip. Absolutely world class, professional company. The organization of the trips, the food, the knowledgeable (and personable!) guides; they make it a family affair. Vicki and Dave MacKay have a
…
great approach to your trip: fun and adventurous, and relaxed. Go with CRATE!
Read more "You'll become part of the CRATE family on these adventures….!"
Capital10k
Explore Desolation Canyon Rafting Trips:
We provide most things you need. Check here for what to bring on your Desolation Canyon adventure.
Incredible vacations and experiences with CRATE in Desolation Canyon. View gallery of some of our trip experiences.
Questions such as getting started, reservations, planning, equipment and more on our FAQ Page.
Desolation Canyon Rafting trip availability or questions about making rafting trip reservations.
CRATE Rafting Trips Since 1971
Free PDF copy of our Rafting Brochure!