Grand Canyon Rafting Trips
Experience the Grand Canyon up Close and Personal with the best, Grand Canyon Whitewater Rafting Vacations from
COLORADO RIVER & TRAIL EXPEDITIONS
Book Your Adventure Today!
Incredible Grand Canyon Whitewater Rafting Trips
Since 1971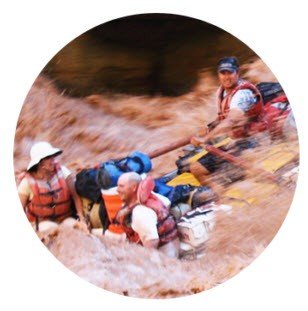 Click Here Take a Look at our 2023 Grand Canyon Rafting Trip Availability
Colorado River & Trail Expeditions (CRATE) has been a licensed white water rafting concessionaire in the Grand Canyon since 1971. We began rafting other stretches of the Green River and Colorado Rivers shortly thereafter, including Cataract Canyon, Desolation Canyon, and Westwater Canyon. In 1978, we explored the Tatshenshini and Alsek Rivers in Alaska and soon added those wild and remote rivers to our catalog of rafting adventures. For nearly 50 years, we have consistently provided high quality, fully outfitted rafting adventures through some of the most beautiful landscapes in the west.
Off-river hiking and side canyon exploration are emphasized on all of our river trips. Our guests have unique opportunities to see and experience the remote back country beauty, as well as the grandeur of the river corridors and the thrill of white water rafting!
If you are looking for a fun, exciting, and unforgettable outdoor adventure, contact us today for more information about the Grand Canyon, Cataract Canyon, Desolation Canyon, Alaska, and our other river rafting trips.
Find Your Rafting Experience
There are many different rafting trip adventures and experiences to choose from. Find the one thats right for you!

Starting at $3350 per person
Grand Canyon Natural History Special
Emphasis on geology and off-river hiking to unique eco-zones and archaeological sites with professional naturalists.
Starting at $3650 per person
Spring Hiking & Rafting Special
The focus is on off-river hiking and exploration.
Starting at $3800 per person
Cataract Canyon
Starting at $1395 per person + Flight
Starting at $1495 per adult + Flight
$995 Ages 12-18 + Flight
TATSHENSHINI RAFTING EXPEDITION
Named the #1 River Trip in the World in National Geographic
Starting at $4400 per person
Reviews of CRATE Rafting Trips

lydiah991 - Brainbridge Island
Grand Canyon Rafting Trip Review
Our group rafted the Colorado River through the Grand Canyon. It was such a positive experience from reservation to the take-out. Our rafting adventure was so well-coordinated and we felt confident in our delightful crew from the first rapid to the last. Delicious meals, great conversations, challenging hikes, and yummy desserts. The crew checked in with us regularly to make sure we were comfortable and were accommodating for various levels of abilities. We even had poetry read to us each morning before we started our day. Would I go again? Absolutely! Would there be a few things I would do differently? Absolutely! Less personal items (you won't be shampooing as often as you think), less clothing, and a few more layering pieces. Overall, this was truly a trip of a lifetime.
Eric S.
Grand Canyon Rafting Trip Review
I would just like to let you know how much we enjoyed our rafting trip! It was such a spectacular, once in a lifetime trip. Your staff should be commended. Their knowledge of the river and compassion is exceptional. They made this the most amazing trip that we have ever taken. I cannot possibly thank you entire crew enough.
Susie C.
Grand Canyon Rafting Trip Review
I knew you were an original family run company and I think it showed. It was also part of the reason I chose your group when I started doing the research, as you were always so quick and helpful with your email replies. I figured it was likely to carry through to other parts of your company and it clearly does!
Dave F.
Desolation Canyon Rafting
First to let you know that we had an exceptional trip through Desolation Canyon with Sybrena and her crew. Our guides made everyone so comfortable. From my wife sleeping under the stars, to daughter and grandkids challenging the rapids in the duckies. Could not have asked for more. Once again you CRATE exceeding my expectations.
Victoria Dowling | July 2018
Desolation Canyon
You are all terrific professionals and CRATE is a first-class operations. After 3 Grand Canyon, 1 Cataract, and 1 Desolation trip with CRATE over the years, you're clearly my go-to outfitter, and I will continue to talk CRATE and the western rivers and canyons up with all my friends in the northeast.

Phone:
(800) 253-7328
(801) 261-1789
Fax: (801) 268-1193
Main Office:
5058 S. Commerce Drive
Salt Lake City, UT 84107
Click for Directions

Mailing Address
PO Box 57575
Salt Lake City Utah 84157-0575
MON-FRI 9:00 AM - 5:00 PM (MT)
Recent Whitewater Rafting Adventure News

Ultimate Gift Guide for Rafting Enthusiasts Whether they are conquering roaring rapids or peacefully floating down a gentle river, rafting lovers are a unique breed of adventurers who thrive on the thrill of the water. If you're searching for the perfect gift for the paddler in your life, look no
Read More »
During river trips there are variety of problems that can arise from being subjected to, working in, and playing in hot temperatures.  These include Heat Cramps, Heat Exhaustion, Heat Syncope, Heat Stroke, and Hyponatremia. What is Heat Acclimatization? In simple terms heat acclimatization is what happens when our bodies become
Read More »
We just got in a new shipment of Gecko Brand waterproof backpacks! They look great and come in four different colors:  Grey, Orange, White, and Mahi Geckoflage.  They are 30 L in size and are a nice accessory for river trips.  These packs are highly recommended on our Alaska rafting
Read More »
CRATE Rafting Trips Since 1971
Free PDF copy of our Rafting Brochure!