The idea of starting a river rafting business was born in the hearts of Vicki Woodruff and Dave Mackay after they met on a Grand Canyon river trip in 1968. Vicki and her friend, Lucy, hiked down the Kaibab Trail on the morning of August 10, 1968, to join a rafting expedition down the Colorado River. It was something totally new and adventurous for the two LA girls who worked together at Los Angeles International Airport. When they arrived at the boat beach near Phantom Ranch, they were met by the Trip Leader, Dave Mackay, and were soon on their way down the river!
Vicki's life was never the same again. She fell in love with the Grand Canyon and the Colorado River. Her journal entries tell about "the brightness of the stars at night," and the "breathtaking scenery." It was a "magical, mystical experience." Each new day was an "exciting adventure of discovering beautiful places hidden away in narrow canyons" and "secret grottoes." She and Dave got to know each other casually during the course of the trip, and she learned that he lived in Salt Lake City when he wasn't running rivers, and that he was a student at the University of Utah. She told him she would give him a call when she was in Utah over the upcoming Christmas holidays and maybe they could get together for lunch or something.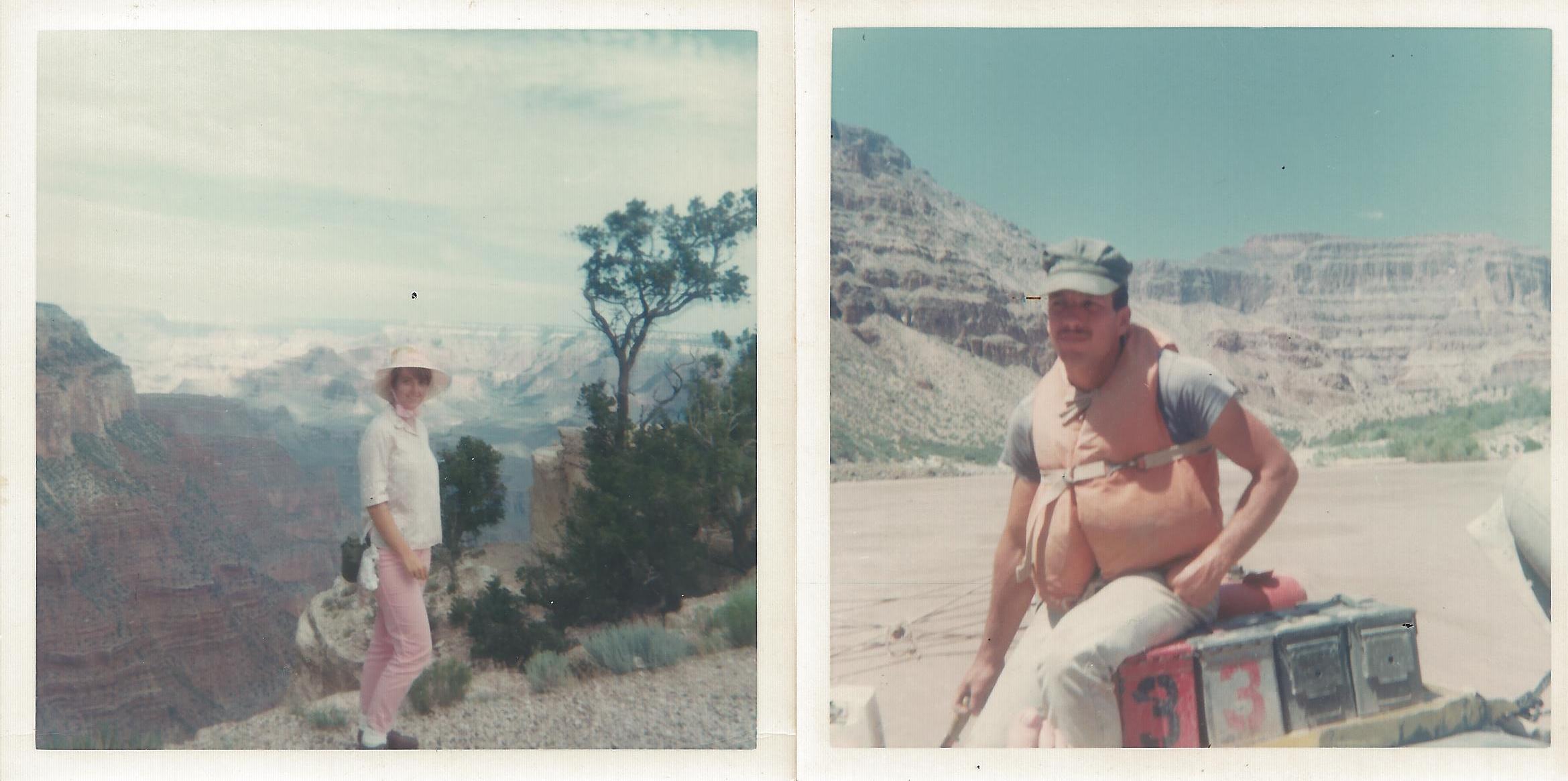 The Christmas get-together led to a long-distance"affair of the heart," and Dave seemed to appreciate Vicki's interest in all things Grand Canyon and Colorado River. He sent articles, suggestions of books to read, and told her river stories when they talked on the telephone. The following summer, Dave invited Vicki to go on a Grand Canyon trip and help out. Happily, she agreed and got the time off work so she could go early and help get the trip ready and then stay after to help clean up. To tell the truth, she was clueless in every way. She packed ALL of the canned goods in one big box so it weighed about a thousand pounds! The other guides who worked with Dave probably thought, "oh boy, here we go, can't expect much from this girl!" But, they put up with her and she did better as the trip went on. Dave started telling her of his dream to start his own company. By the end of the trip, they were pretty sure they were met to run rivers together forever! And, it's almost been that long! Forty-plus years since they ran the first Colorado River & Trail Expeditions trip in 1971. Vicki and Dave still run the company and show up for work every day. According to Vicki, "there's never been a boring day! We still love what we do, and we still dream of our days and nights on the river."
On one of CRATE's early trips, Vicki's sister, Iris, came along with her four kids. Daughter Holly, then 17, met Russell Reeder, who was a crew member on the trip. It was "love at first sight," and it wasn't long before they got married. They recently celebrated their 41st wedding anniversary, so they are almost as "old" as CRATE! Holly and Russell's son, Zak Reeder, became a CRATE guide right out of high school and worked 15 years. Even though he now has a "real" job, Zak comes back to run trips for us every now and then.
Over the years, running rivers and canyoneering have also played an important roll in the lives of CRATE guides. Even when they "retire" or "grow up" and get "real" jobs, they can't seem to get the river water out of their veins. Take for instance, former guide Abel Nelson, who met his wife, Erin, on a Grand Canyon trip in 1990.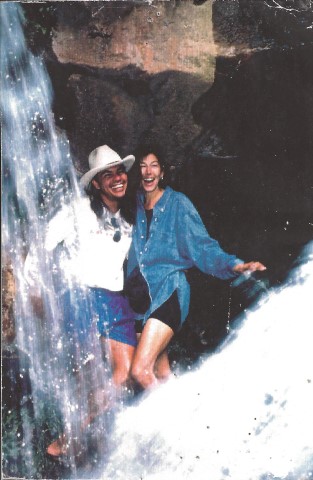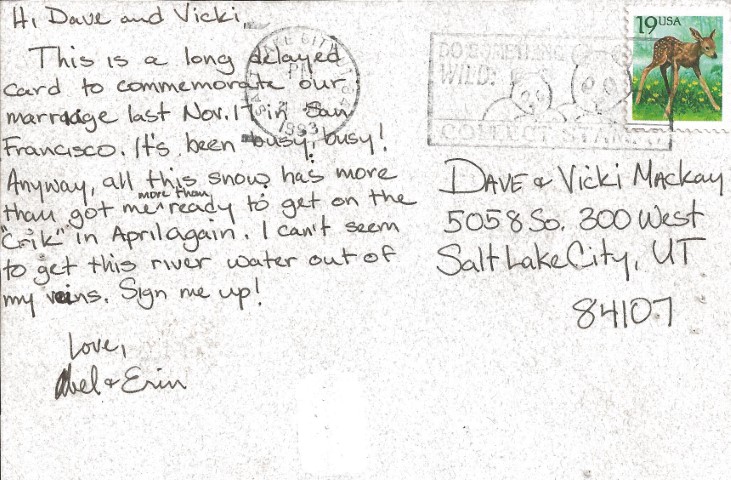 And then, there's Laurel Worden and Shawn Rohlf who worked a good many years at CRATE before settling down and starting a family. As a committed couple, they didn't see a reason to "formalize" their marriage until this past summer, when they "got hitched in the ditch."  (The bottom of the Grand Canyon on a river trip.) They couldn't have chosen a more beautiful or romantic cathedral for their ceremony. Their "vehicle" was appropriately decorated, labeling them "Just Married."  And the whole thing was sealed with a kiss at sunset.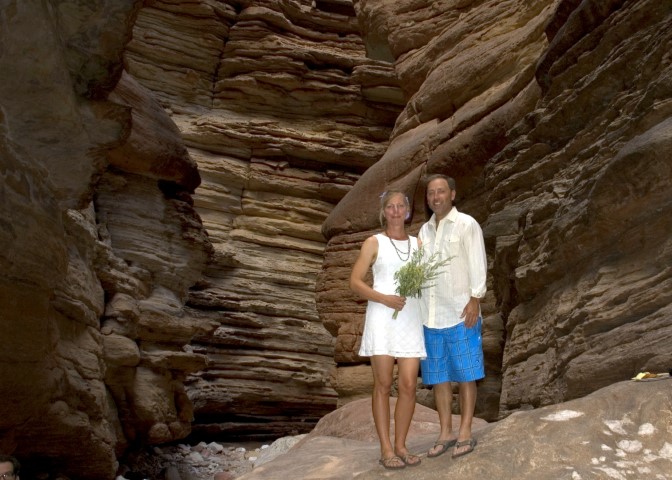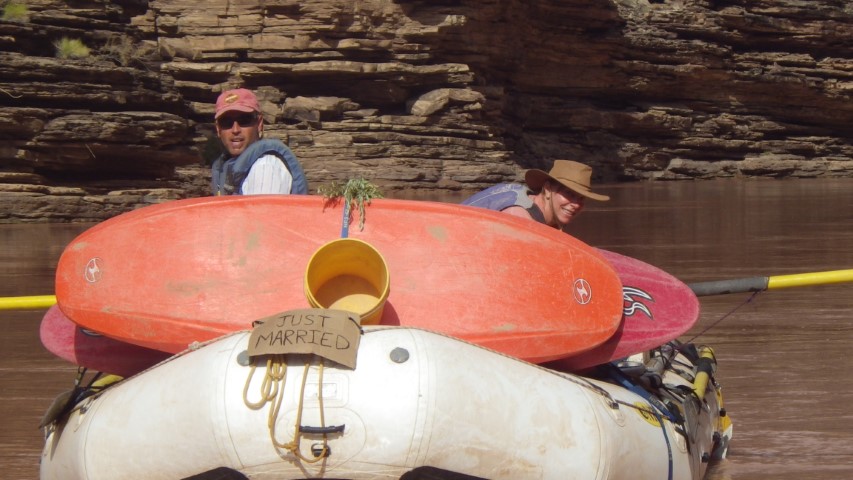 .Some CRATE "couples" actually met each other while working at CRATE. According to the gossip of the day, when Ashley Knight showed up at the Green River warehouse to start her guiding career, all of the young and single boatmen were "smitten." Jeff Cole was the lucky guide who stole her heart. After their marriage, they settled down to "normal" life in Oregon and are now the proud parents of baby Ruby (could she be named after Ruby Rapid in the Grand Canyon??)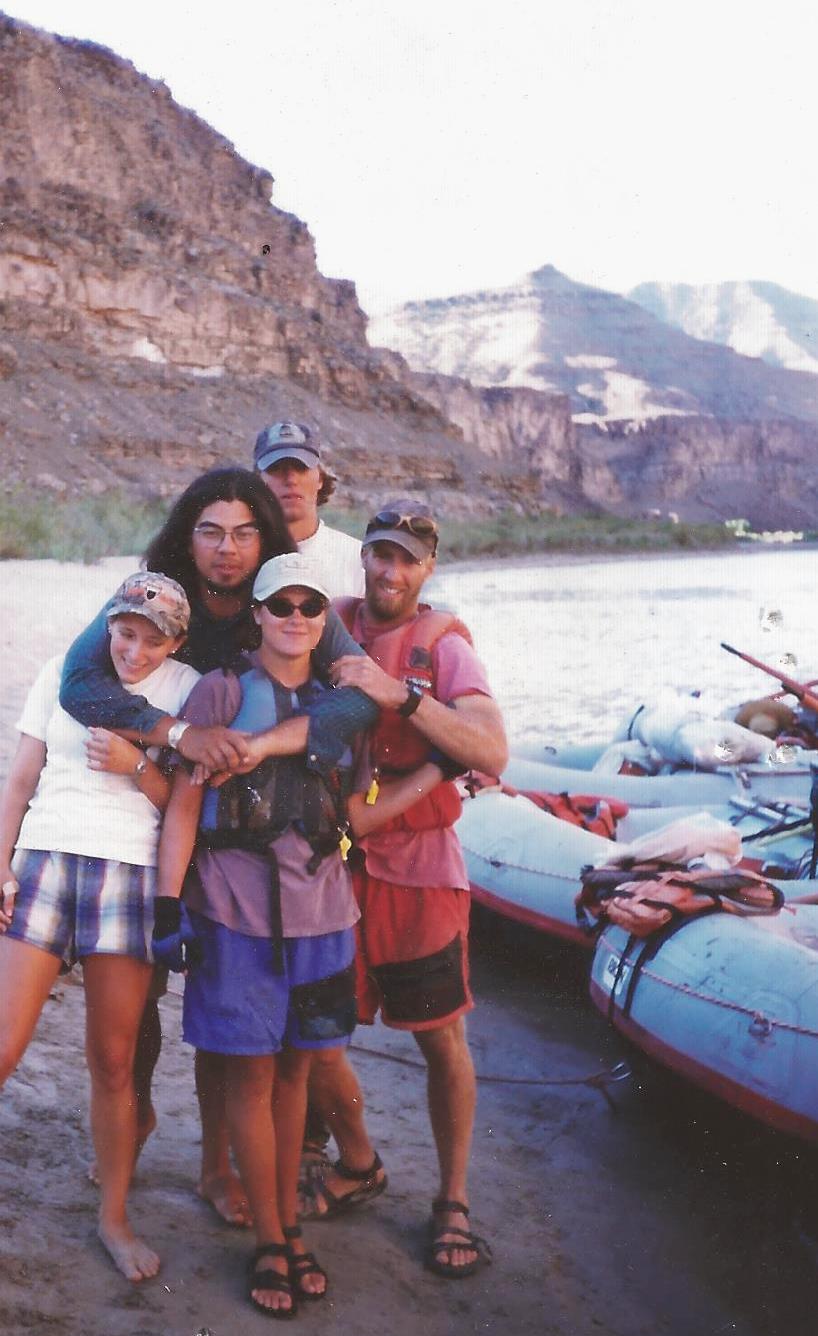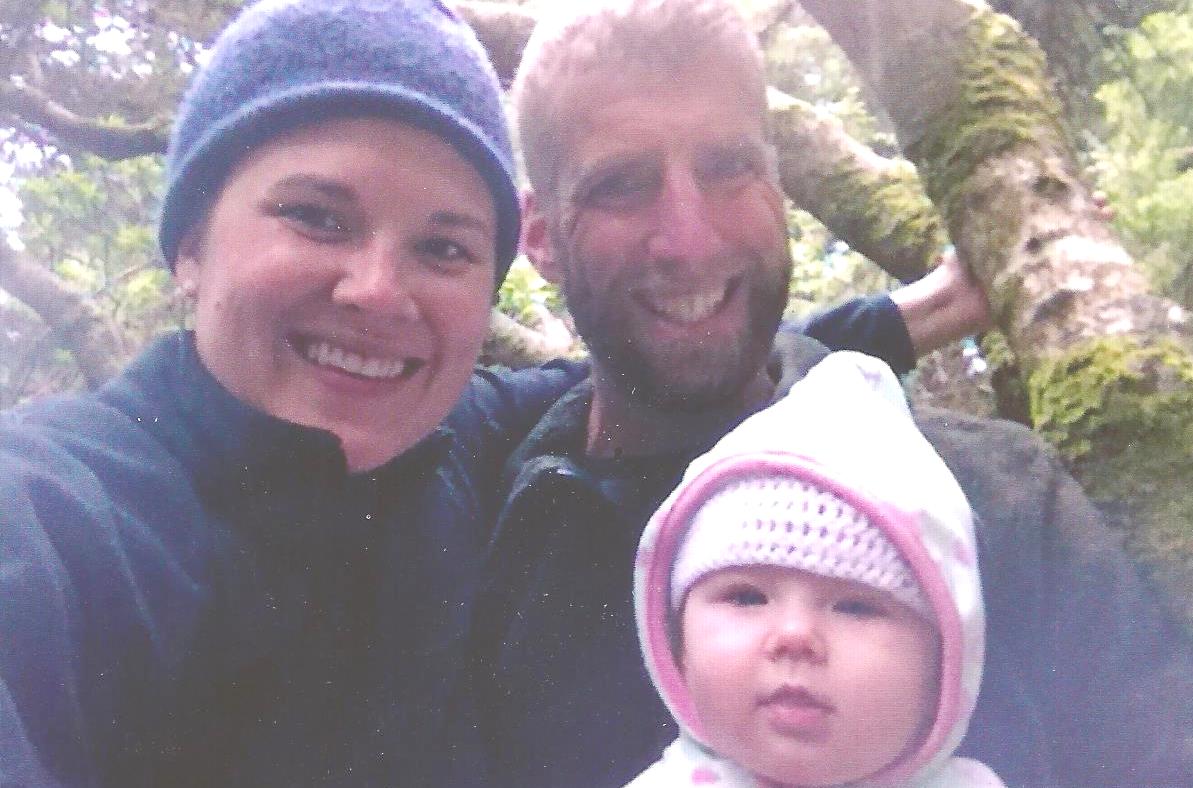 John Toner and Kristen Sorenson met each other while working at CRATE. Kristen is the CRATE office manager and John is our senior-most guide. When John realized she was the best swamper he'd ever had, he started sending her flowers. That will melt a girl's heart, for sure. They were married in Fredonia, Arizona, "the center of the universe" (according to John) and the location of of CRATE's Grand Canyon headquarters.  John knew Kristen was a keeper when she suggested they celebrate their wedding night in his sheepcamp cabin.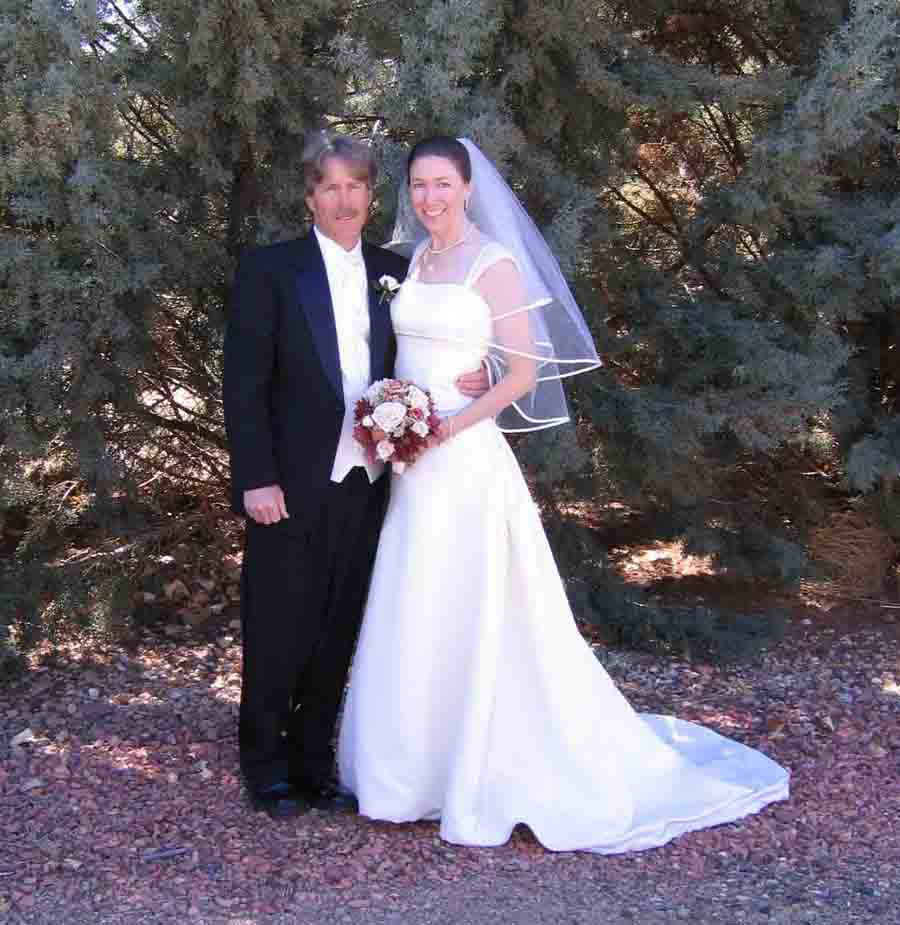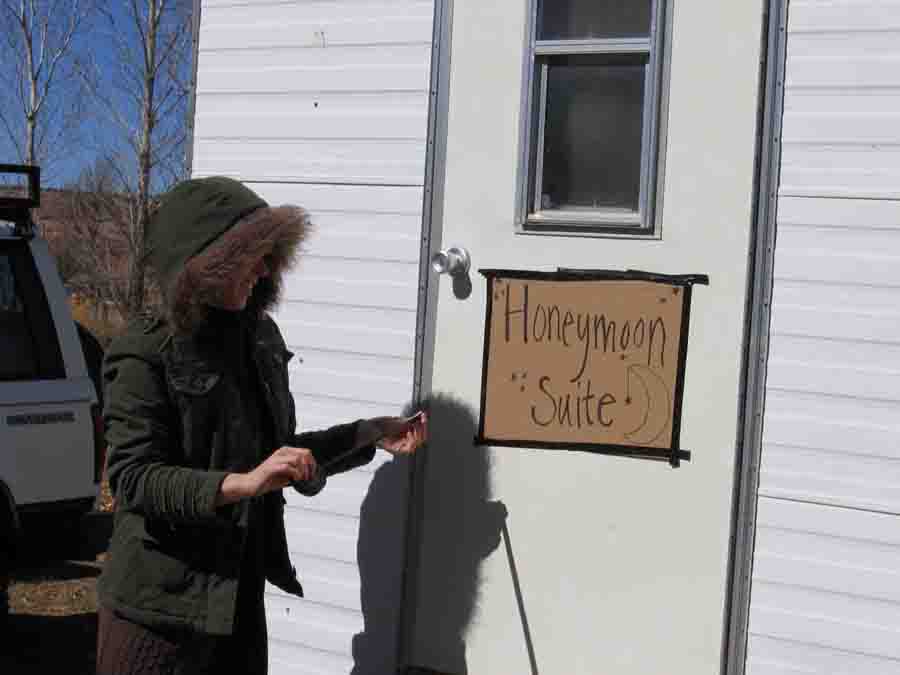 Although Annie and Chris Parks didn't exactly meet while working at CRATE, they did meet on the river when Annie Kester was working for another outfitter. We were all happy when she joined the CRATE Crew the next summer. Annie and Chris logged a lot of hardworking years at CRATE while they both finished college and Chris finally got a "real" job as a mechanical engineer. They were married among fields of wildflowers in a remote area near Haines, Alaska, home of Chris' parents and headquarters of CRATE North.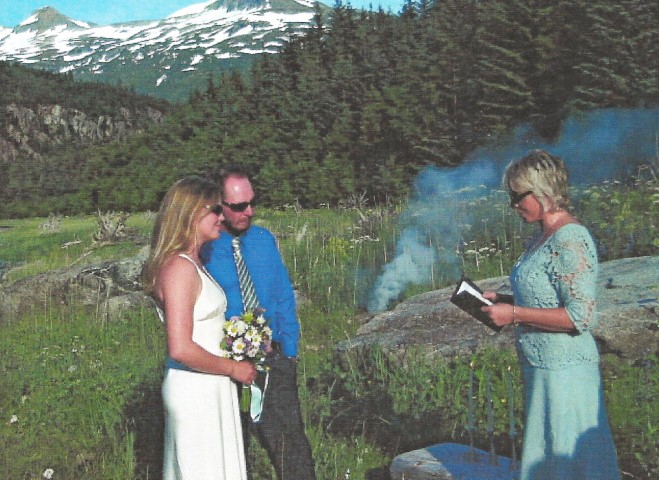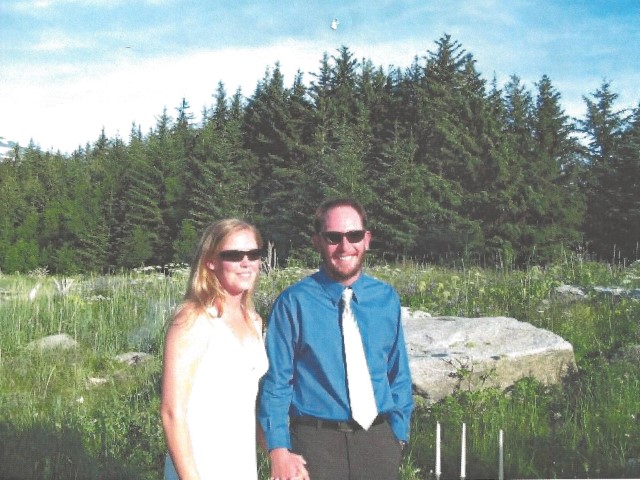 Bill Trevithick was one of the "initial" guides at CRATE when the company was starting out. He taught several generations of CRATE youngsters how to work hard and run a boat safely down the river. Along the way,he met Sue on the river and they began a long-term friendship that grew into a serious relationship and finally (!) to a happy marriage.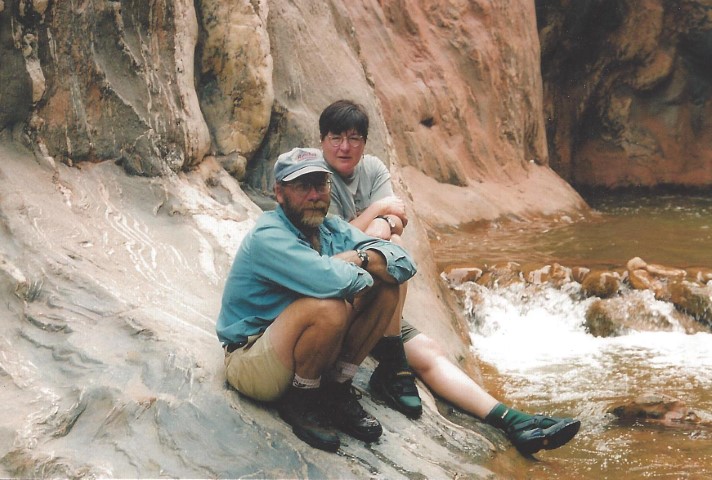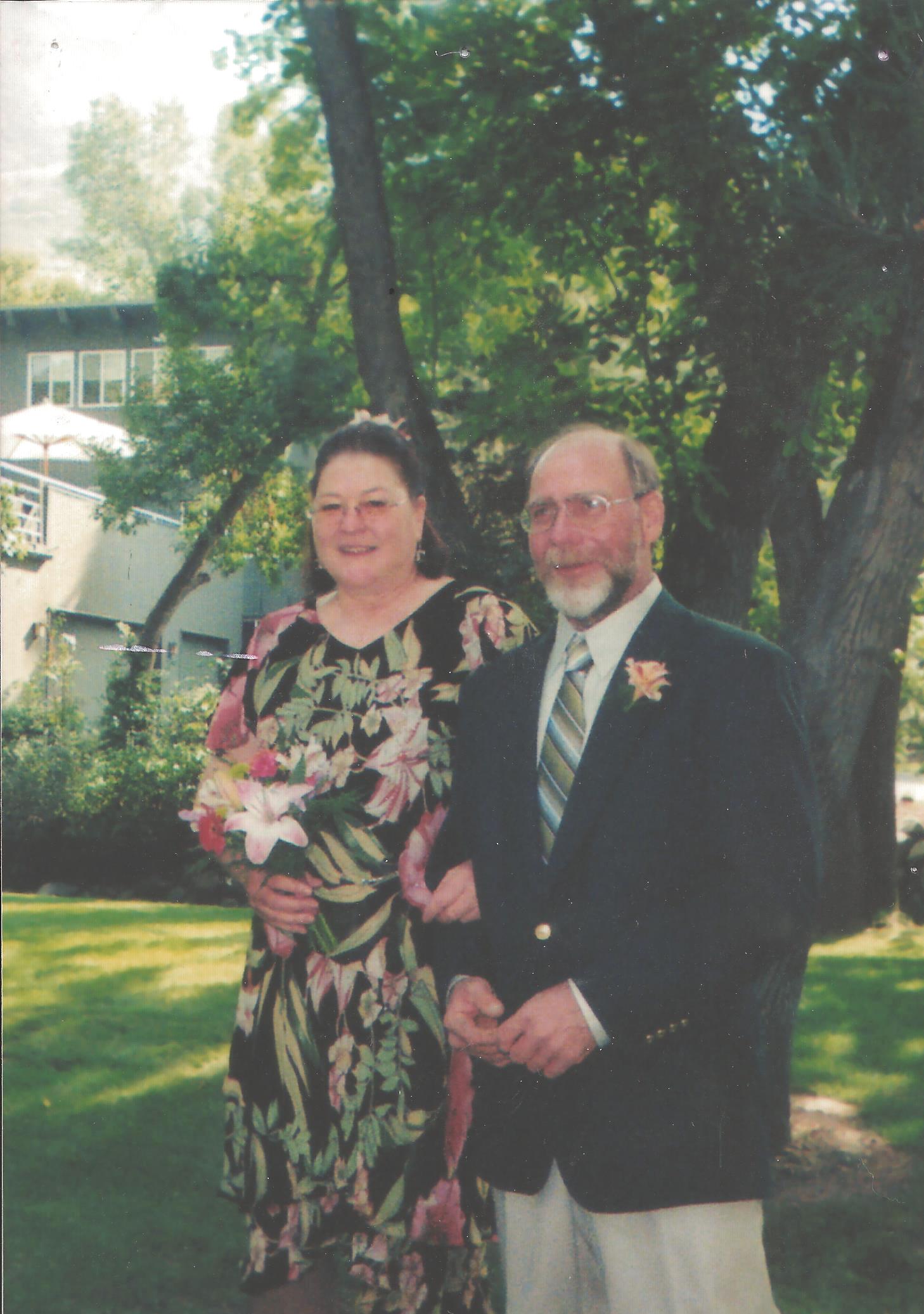 Running the river is a big thing in the life a guide. It becomes a part of his or her identity, and most guides never quite give it up. Mike Sneed wanted to share the river trip experience with his fiance, Leslie, before they tied the knot. It's always a good idea to let a girl or guy know before they marry you, that they will have to share you with the river.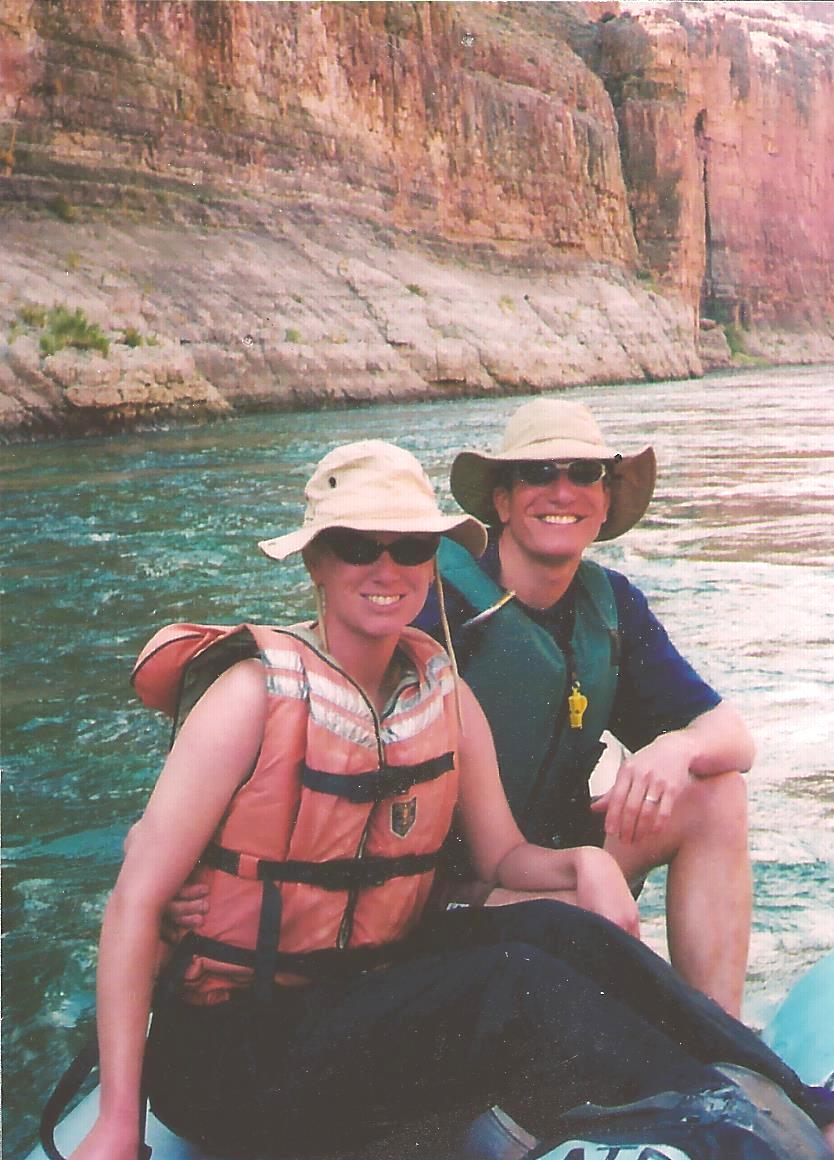 Emile Eckart worked as a CRATE guide until he decided upon a career in the United States Air Force. He came back to swamp trips when he was on leave, and when he met Meredith, he wanted to show her the Colorado River and the Grand Canyon before they formally wed. While on the river trip in August 2013, they were "married" at Deer Creek Falls by the trip leader, "Captain Mackay." In December, Emile and Meredith followed up with a more formal ceremony at the El Tovar Hotel on the South Rim of the Grand Canyon.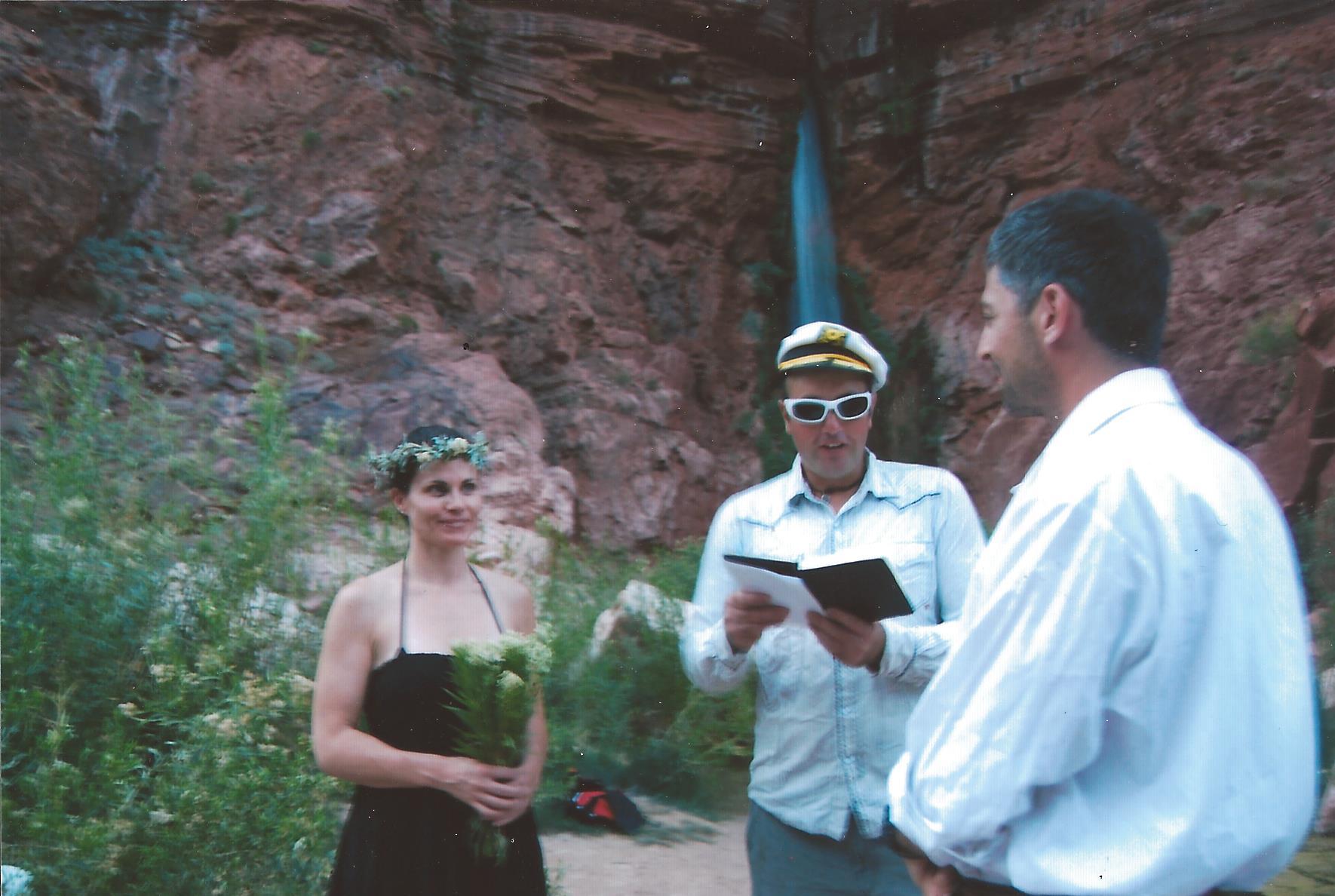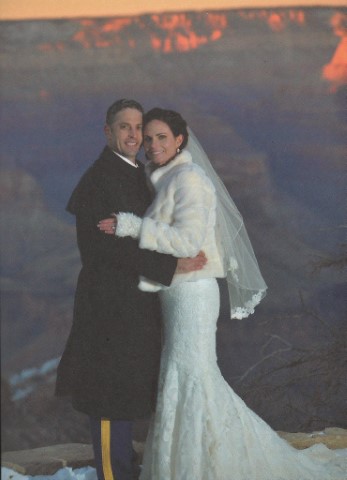 Walker Mackay didn't meet Mindy on the river, but he knew she was the girl for him when he took her down the Colorado as his swamper in May 2003. They were married a short time later in November 2003 and chose a place on the North Rim of the Grand Canyon to say their vows. Friends, family, and the Crate Crew gathered on the rim above Buck Farm Canyon, where the Colorado River could be seen far below. The marriage was blessed by a California Condor (#22) that came sweeping up from the depths of the canyon and flew over the gathering.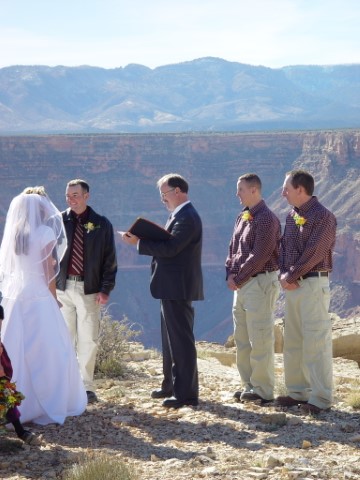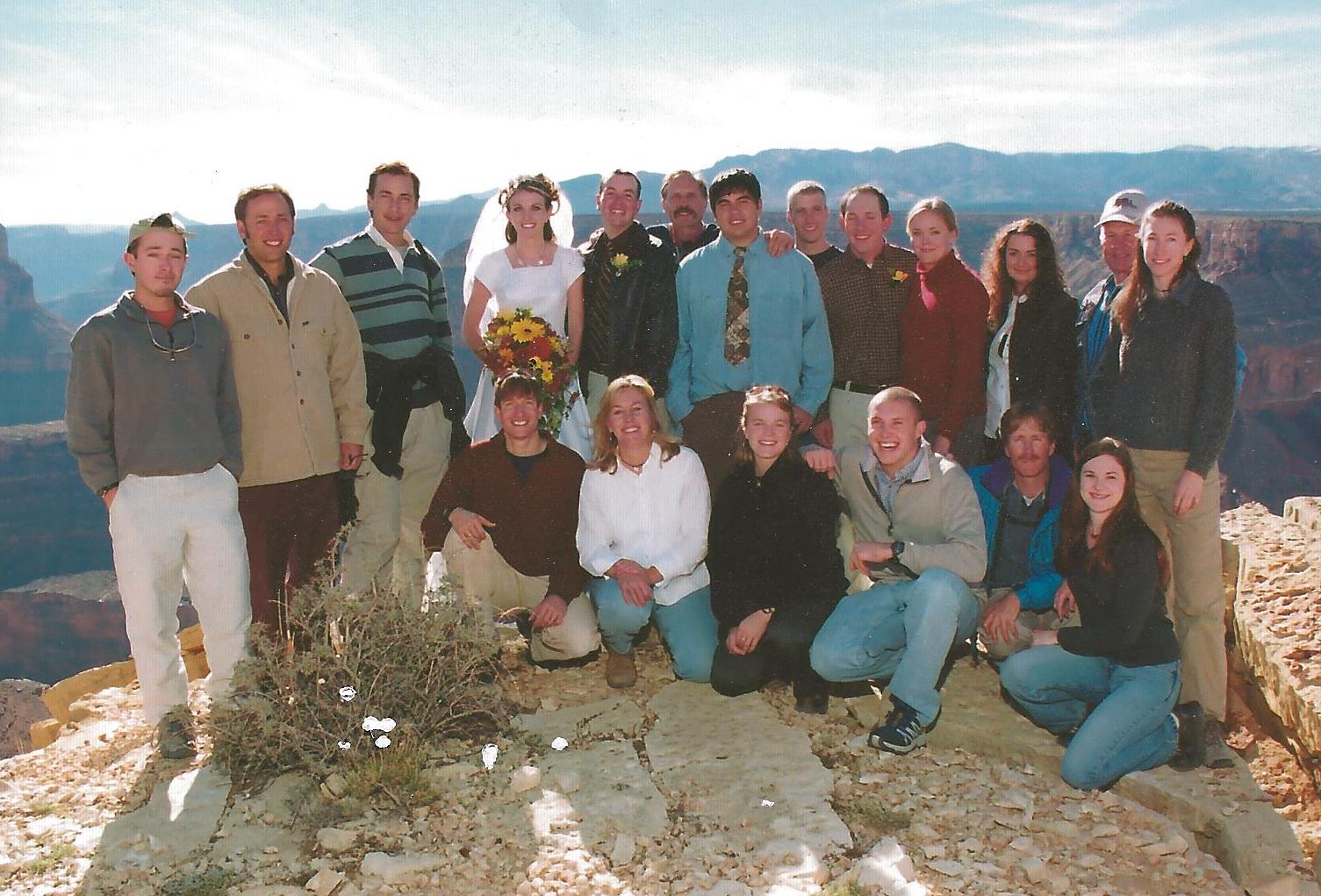 It's fitting that we conclude this blog post with a note about the most recent CRATE Romance.  Bonnie Mackay, daughter of Vicki and Dave and sister to Walker, is also a river running gal who met her fiance, Adam Hiscock, in a chance encounter at Deer Creek Falls while on a Grand Canyon rafting trip. Bonnie was working a CRATE trip and Adam was swamping on a trip with Grand Canyon Expeditions. There must be magic at Deer Creek to bring them together at that particular place and time. Now they are engaged to be married in October!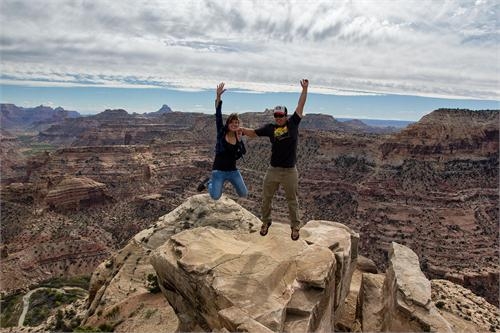 As long as there are rivers to run and people who love rivers, the romance will continue. Thirty years after his adventurous journey down the Green and Colorado Rivers with Major John Wesley Powell in 1871 (Powell's second trip), Frederick Dellenbaugh wrote a book titled "The Romance of the Colorado River."  In the preface he wrote, "I shall never cease to feel grateful. It gave me one of the unique experiences of my life. Now, these thirty years after, I review that experience with satisfaction and pleasure, recalling, with deep affection the kind and generous companions of that wild and memorable journey."