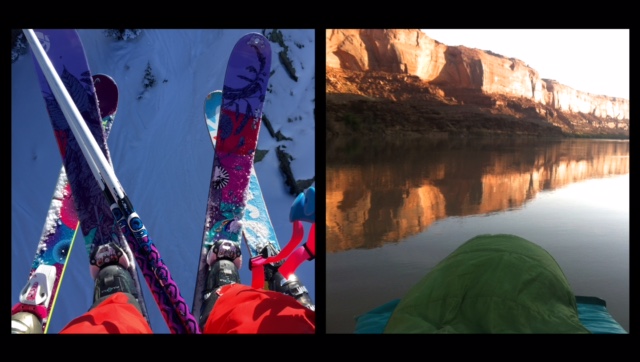 I'm learning to ski this winter, and it is a lot harder than I thought it was going to be. It seems like my legs are always on fire as I struggle to hook the edges of my skis into the side of the mountain. They're on fire when I'm standing in my boots in the parking lot. They're on fire the next morning when I limp out of bed. Everything about learning to ski is awkward. Just when I think I've got it, I wobble and end up spinning like a starfish on my belly. I feel one confident turn for every ten I take. It's annoying, exciting and humbling to learn something so foreign as an adult.
But learning to ski has given this desert girl a gift I have never fully realized before. Learning to ski in the Wasatch Mountains this season has opened my mind and my heart to of the beauty and wonder of snow. As a river guide, I've always known conceptually that snow feeds everything else I love to do, but this winter I'm turning that concept into a connection that I appreciate more than ever.
I have been lucky enough to experience precisely two "powder days" this winter, where the expanses of bottomless new-fallen snow look almost too pristine to play in. But I am beginning to understand how nothing could keep me out of them either – not fog, not cold, not work. I am able to understand an obsession I have only observed until now. I haven't fully cultivated my personal relationship with the snow just yet, but I know that my love lies partly in standing at the top of a sparkling slope, high above the populace in the valley. It has to do with feeling a cold breeze brush my face at the same time my warm, worked heart is beating beneath all my layers. And yes, it has to do with the one good turn in ten, which is shockingly but certainly worth the effort of all the others.
Still, I think my obsession is shaping up to be a little different from that of the die-hard powder seekers. My bond with the snow is less about adrenaline and more about appreciation. It's about perspective. Never has it been so clear that this precious powder is the direct lifeline for the other obsessions in my life: deserts and the rivers that course through them.
The headwaters of the Colorado River lie in Northeastern Colorado in the Rocky Mountains where the entire river is a stream running through a meadow. I've hopped across it. The Green River's water comes from the remote Wind River Mountains in Wyoming. I'm aware that not much of the water in either hail from the Wasatch Range where I've been skiing, but I feel the connection nonetheless.
When I'm falling and flailing through deep powder I know that this moisture is infinitely precious to my way of life and the places I love. With any luck the white stuff I've been wallowing in on skis will continue to accumulate this winter and then slowly begin to melt come spring. Then I'll get to experience it all over again it runs from the high country to the lowlands, through my favorite rapids and past my dearest hiking spots. I'll get to sleep on a raft gently tugged by the current as the melt rushes by, and wake up each morning to the sound of the river bouncing off the banks.
As of yesterday the National Water and Climate Center's snow reporting sites for the Colorado River Basin above Lake Powell were reporting snowpack at 87% of average. The Green River Basin was reporting 100% of average. That may sound pretty good, but compare those numbers to the snowpack in 2011, the most recent high water year for the Green and Colorado Rivers. At this time in 2011 the Green River basin was reporting 137% of average snowfall and the Colorado basin was at 149%. Considering how low lakes Powell and Mead have become over the last decade, we can always use more of the magic white stuff.
Luckily, we still have time left in this winter – time for snow to fall and for me to fall into it. Many of the things I do and the places I love hinge on how much snow is gifted to our highlands each winter. As it continues to fall, at least here in Utah, I am thankful today but always wishing for more.