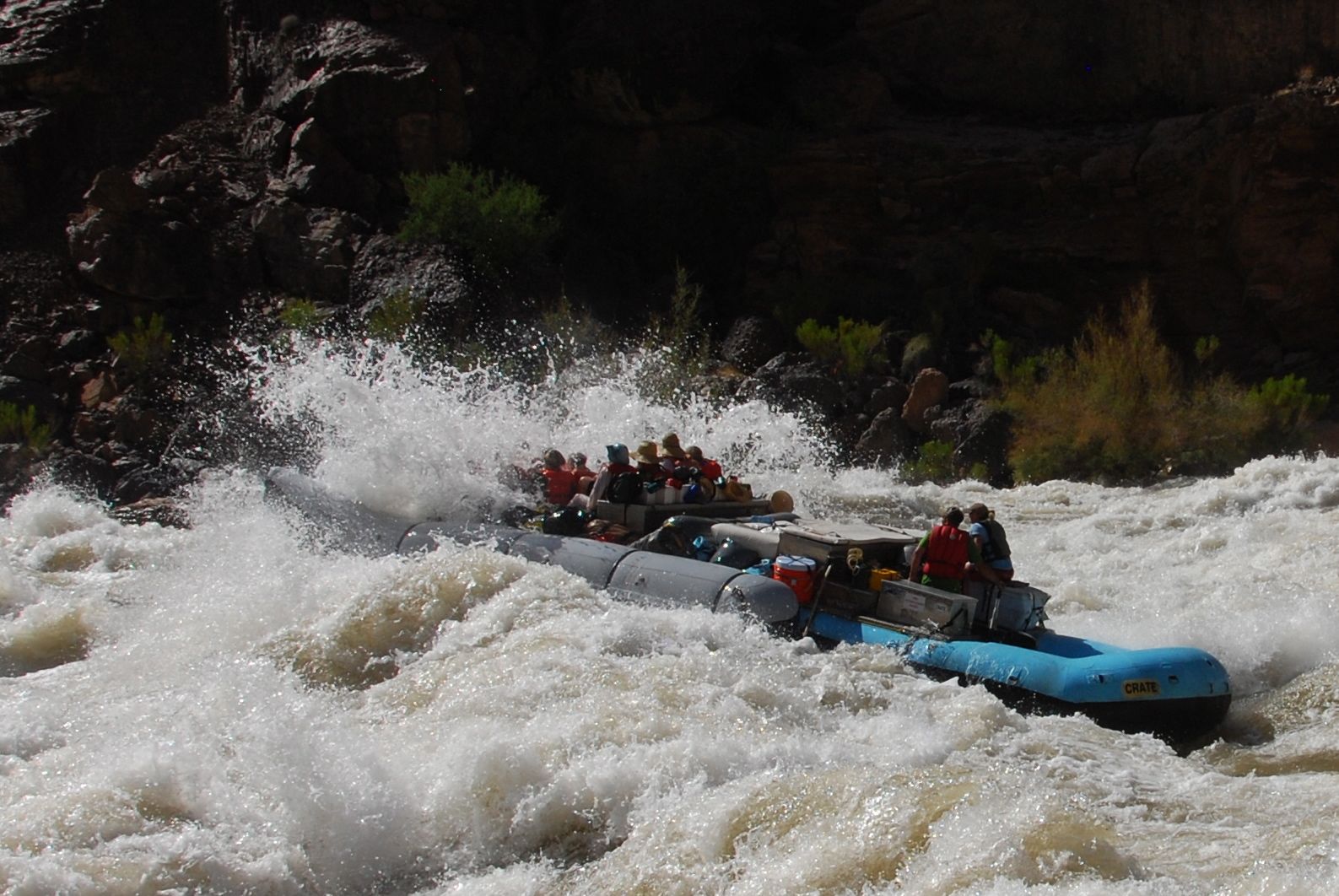 #1.  When is the best time to experience the Grand Canyon?
If the focus of ones trip is the rapids and the side canyons with waterfalls then go in June, July and August.   If hiking is important opt for May or April.  Honestly anytime of the year is fabulous.  Many people choose to go in September or October when it is a little cooler and it gets dark earlier.
#2.  Rowing, Paddle, Kayak, or Motor?
Some people prefer the larger motorized rafts while other prefer to be right next to the action in a paddle raft.  With the quiet modern motors used in the Grand Canyon the noise of the motor is not really a bother, but some folks prefer to here the silence and sounds of the canyon on a rowing trip.
#3.  How much time do you have?
If general to travel through the entire Grand Canyon one needs at least 8 days.  A rowing or paddle trip through the entire canyon will take 13 days or more.  There are also shorter trips available that only travel through parts of the canyon.
#4.  What are the different trip options available?
There are a lot of different trip options available.  The best thing to do is see the entire 278 miles of Grand Canyon National Park.  Another popular Grand Canyon rafting trip takes out at river mile 187 via helicopter take-out.  Other options available include hiking in or out at Phantom Ranch, and coming in via helicopter at Whitmore Wash.  These partial trips can be as little as a couple of days on the river.
#5.   How fit do I need to be?
Although living in the elements of the natural world can be tiring, it is not essential to be in great shape to participate in a rafting expedition.  If one has any questions about their ability it may be a good idea to try the Ranch and Raft trip and see if you like it before committing to a long period of time.
#6.  Do you want to do a trip with all of your friends?
It is popular in Grand Canyon to charter a commercial trip for ones friends and relatives.  If this is the direction you are thinking about it is important to plan at least a year ahead.  This is because one can not only organize and customize their trip, but also get a date that will work for them.  Charter trips require a minimum of 24 participants.
#7.   Is there a minimum age requirement?
Commercial companies have different requirements on this.  It seems that twelve years old is a universal age.   Twelve year olds can interact well with adults and are usually old enough to take care of themselves if they end up swimming in one of the many Grand Canyon rapids.
#8.   What is the camping like?
Colorado River & Trail Expeditions is a licensed concessionaire in Grand Canyon National Park.  They supply cots, sleeping bags, tents, and paco pads.  Their bathrooms are clean, hand washing before meals is required, and the meals are incredible .  Common meals include free-range chicken and eggs, natural beef and pork, wild caught fish and vegetarian options.  In other words the camping is deluxe if you are comfortable using a non-flush toilet and washing and bathing in the Colorado River.
#9.  Where do I want to hike?
Lets start by saying that the off-river hiking on a Grand Canyon rafting trip is as incredible as the river portion of the trip.  Hiking and exploring is a must.  Some of the best spots include the Nankoweep Granaries, swimming in the Little Colorado, the waterfalls at Elves Chasm, the geology of Blacktail Canyon, and Deer Creek falls.  One of the hikes intentionally left off the list is Havasu Canyon.  This is because it is overcrowded and dirtier than the rest of the Grand Canyon.  The place would be incredible if it was not so dirty.
#10.  What about the Whitewater?
When someone thinks about Grand Canyon rafting the first thing that comes to mind is the rapids.  Although the Grand Canyon has big rapids full of waves, whirlpools, holes, boils and rocks it is also kind with large recovery zones.  That said the river is still a class IV river and boats flip and accidents happen so it is important to feel comfortable swimming in big water and accepting the risks involved.
If you still have questions about rafting the Grand Canyon be sure to check out Colorado River & Trail Expeditions(www.crateinc.com) on the web or call them directly at 1-800-253-7328.