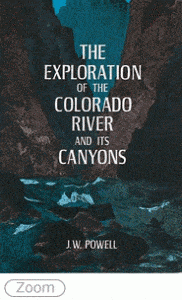 FEATURED BOOK OF THE WEEK:
THE EXPLORATION OF THE COLORADO RIVER AND ITS CANYONS
by J.W. Powell
This book can be purchased at the CRATE BOOKSTORE for $12.95
A complete reprint of "Canyons of the Colorado" 1895 edition, with a supplementary map. This was the first published account in book format of Powell's 1869 discovery journey down the Green and Colorado Rivers. 150 illustrations and photographs. Dover Publications.