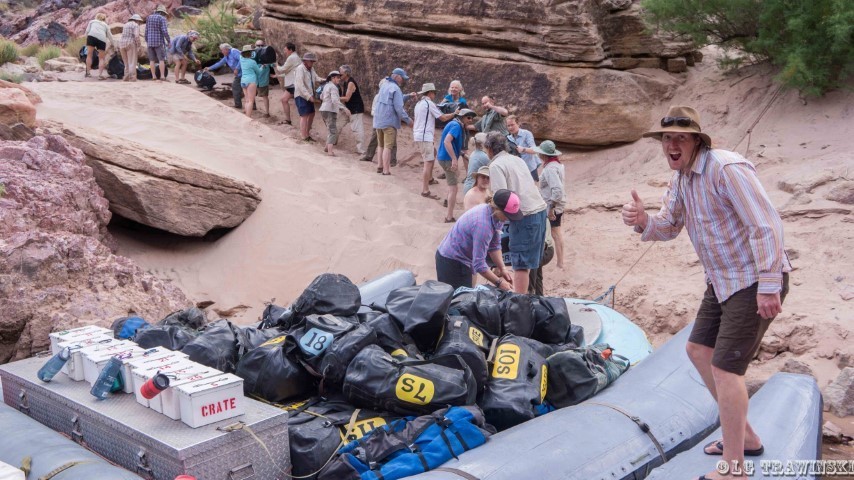 Choosing what to bring on a commercial river trip can be a daunting task. With all the variables to consider – weather, hiking, camp routine, hygiene, photography – it's easy for your dry bag to become a back-breaking, black hole of, as Edward Abbey put it, "all that bloody gear!" If you're planning a river trip in the desert this summer, here are ten tips to help simplify your stuff, streamline your dry bag and leave you with exactly what you'll need.
 #1 Leave Half at Home
Keep in mind that you may have to schlep all your gear up a sandy dune or across a beach. You are going to have to dig through it to find what you need (which is inevitably at the bottom) and pack it all up everyday. Having less in the first place simplifies your routine and allows you more freedom to leisurely sip your morning coffee, quietly listen to the sound of a rapid or chat around the campfire at night.
Before ever leaving your house, lay out all you think you'll need and cull it by half. This principal applies especially to clothing, but is useful for electronics, books, magazines and anything else you can live without while in the canyons. Fabrics that are lightweight, versatile and dry quickly should make the cut, providing you with a clean outfit every other day or so. Transfer toiletries into smaller bottles, pick just one book or make photocopies of articles you'd like to read.
And don't worry; everyone else is going to be dirty, sweaty and smiling in their twice-worn t-shirts too!
#2 Know When to Splurge
It can be tough to decide what to buy new and what to make do with when packing for the wilderness. Outdoor gear is expensive and its hard to know what you will end up using the most once you're on the trip. If you're going to splurge on one new piece of gear for a desert river trip, think about investing in high quality, durable, comfortable water shoes or sandals. You will be wearing them all day everyday. If your footwear is good and comfortable, you won't think twice about jumping on and off the boat and taking a short water hike. If they're uncomfortable or low quality, your shoes might last a day or two before we inevitably have to dig out the duct tape and super glue to limp them through the rest of the trip. Nothing is more annoying than staggering along a trail with the partially-attached sole of your shoe flopping against the ground with each step, threatening to blow out all together at any second.
Check with your local outdoor store, read reviews and contact our office for recommendations about quality footwear.
#3 Plan for the Sun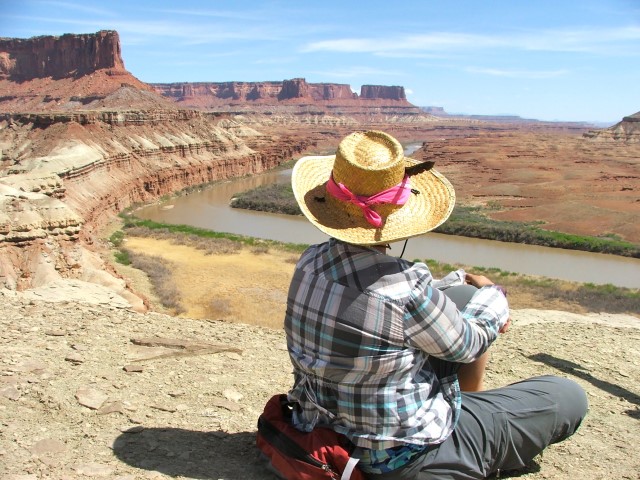 You will likely be in the sun from the time it rises until the time it sets each day. We recommend covering up us as much as possible in addition to wearing high SPF sunscreen. Even if you love the sun, never wear a hat or don't own a pair of sunglasses in your regular life, bring the tools you'll need to escape the sun on your river trip. We suspect there will be a time when you'll use them. You will see your guides wearing long-sleeve shirts, wide-brimmed hats, sunglasses, ample sunblock and using pants or a piece of fabric to cover their legs and feet. We even have a guide who wears socks on especially sunny days!
The desert sun is wonderfully warm and life giving at the same time it is unrelenting and intense. As much as you can, be prepared.
#4 Consider Items that Have Multiple Uses
Can your fleece jacket be used as a pillow? Can your towel double a sun protection? Can you share a piece of gear with your spouse? As mentioned earlier, you are going to be happier with less, so how about pants that zip into shorts, skirts that double as a dress, and, never to be underestimated, a light top-sheet/sarong/ piece of fabric that can be used for just about anything.
I've seen sarongs worn as clothing, used as a towel, sunshade, wind block, dressing room, picnic blanket, nap station, head cover, backpack and lightweight bedding on a hot desert night filled with stars.
#5 Remember Lotions and Potions
I can't tell you how many people underestimate how dry the desert Southwest is. It is really dry! And you will be too. During the day, employ the benefits of a high SPF sunscreen as mentioned above. River guides don't splurge on much but we get the good stuff when it comes to sunscreen. Anything less than SPF 30 is not going be much help to you. In addition, bring a small container of thick moisturizing cream or lotion for the inevitable drying out of lips, heels, chin – yes chin! – backs of hands and other exposed places. You'll certainly notice the desert's toll after a long day on the river and you'll wish for some relief.
Sunscreen and plenty of water are your best friends to combat dryness during the day. Reparative cream and more water are your arsenal at camp.
#6 Be Prepared for Wet Weather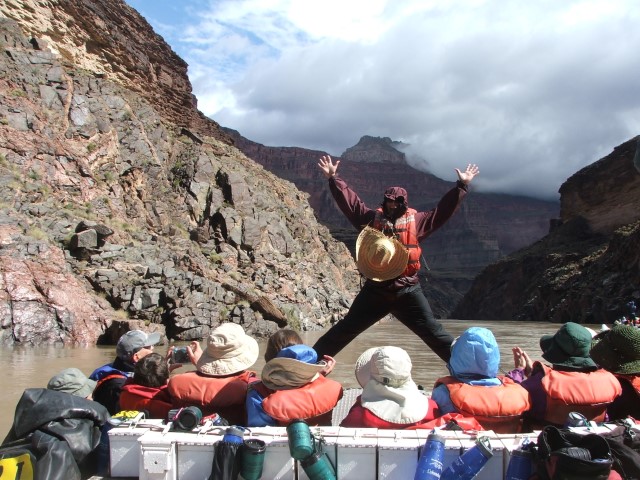 There's no need to bring your ski coat, but when culling your gear make sure a rain jacket and one warm layer make the final cut. Packing for the weather depends a lot on when you'll be river tripping, but it's always a good idea to have basic protection with you. After all, we are heading into wild country here! I have seen snow in Desolation Canyon in June, worn my raincoat against blowing sand in the Grand Canyon in July and been caught in many-a-drenching monsoon. The good news is that most of this crazy weather does not last long, but it does come up, so please bring the gear needed to combat it.
Even in July, a raincoat can be a much-appreciated splashguard for running early-morning rapids.
#7 Nothing Sacred
It is a good idea to leave your brand new smart phone – the one that holds all of your business contacts and photos of your children, that you've really been meaning to back up for months but haven't quite gotten around to – at home or safely locked up at your hotel. We can tell you from experience that a lot can possibly happen to your expensive electronics and irreplaceables on a river tip: like sand, just to mention just one nuisance. Try not to wear your grandmother's antique diamond stud earrings. It is a real downer to find one missing after a blissful afternoon of play in the Little Colorado River.
It happens, and it's sad when it does.
#8 How Long is your Battery Life?
Almost universally we hear our guests lament the life of their camera batteries, saying they don't last nearly as long as they'd expected, likely because they didn't anticipate taking SO MANY photographs. This might be one area of packing where overestimation is slightly, and only slightly, encouraged. How much storage space do you have for photos? How many fresh batteries are you planning to bring?
There is no recharging once we're off and floating, so make sure you plan accordingly. Batteries and memory cards are small and pack easily into the bottom of your dry bag. If you are a passionate shutterbug and would be devastated not to capture the canyons through your lens each day, bring ample power and storage to do so.
At the same time, don't forget how relaxing it can be to put your camera down and solidify the memories of your trip the old fashioned way.
#9 Treat Yourself
Bring one set of clothing to keep clean-ish. Maybe you put your special clean shirt on at camp at night or just before you're headed back to civilization at the end of the trip? If you've packed sparingly, a clean set of clothing feels like a real luxury. I wear my sweaty clothes all day and change into something cool and clean just before dinner each night. Some guides I know clean up just before they hop into their sleeping bag. Many of our guests reserve one t-shirt for the shuttle ride back to Las Vegas or Moab. It feels, good – really good – and is a simple treat you'll want to give yourself at some point during your trip.
#10 Don't Forget the Flare!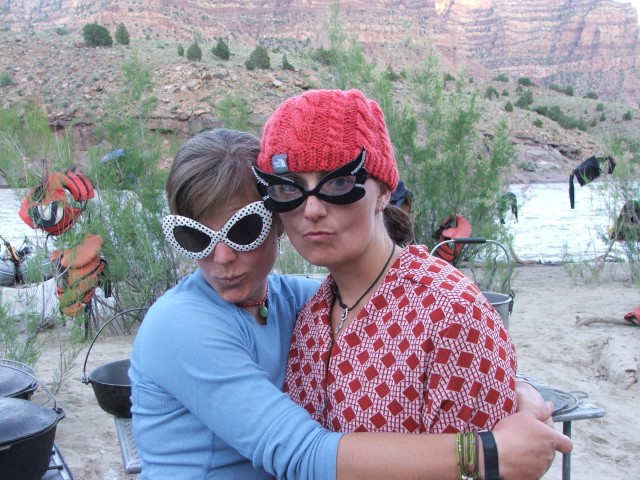 River runners, guides and guests alike, are a jovial bunch. We're not sure if it is our nature or a mild form of heatstroke, but we like to dress up and goof around. And, as always, all are welcome to join us. If that sounds like something you might be interested in, stash something small that denotes celebration or makes you feel good – a piece of flare – in your dry bag. When you waltz into the chair circle wearing a tuxedo t-shirt or a feather boa, the echoing sound of camp-wide applause will make you glad you did.
CRATE passengers receive an itemized packing list specific to their trip, with details about exactly what they'll need to bring. Use our list, call our office and keep these ten tips in mind while gathering your gear, and you're sure to get the most out of your desert river expedition!
We want to hear from you! In the comments below, tell us what gear you wish you'd had on your river trip? What didn't you need? What tips do you have for those taking a trip in the future?