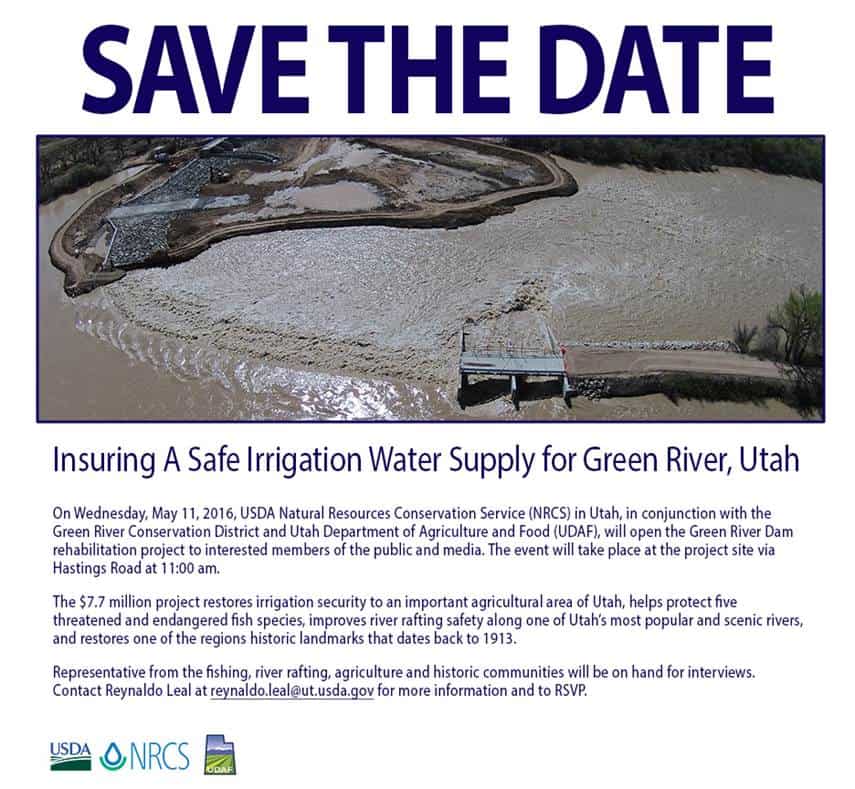 USDA Natural Resources Conservation Service (NRCS) in Utah, in conjunction with the Green River Conservation District and Utah Department of Agriculture and Food (UDAF), will open the Green River Dam rehabilitation project to interested members of the public and media on Wednesday, May 11, 2016 in Emery County. The event will take place at the project site via Hastings Road at 11:00 am.
Colorado River & Trail Expeditions president David Mackay, along with Herm Hoops(Utah River Runner), Brodie Young(UT-Division of Natural Resources), and Nate Fey(American Whitewater) worked hard to secure safe boat passage at the dam site-this was the last major barrier on the Green River between Flaming Gorge and Glen Canyon Dam.  This is a project that everyone REALLY worked together toward common goals–in providing water for the Green River Power Plant and irrigation, a safe boat passage, fish passage, preserving history and explaining the purpose of the diversion.
Directions to site here: https://goo.gl/maps/wTzkff7n9J62.
The Emergency Watershed Protection(EWP) project to restore the Green River Diversion Dam stemmed from the flood events of 2010 and 2011 which caused the foundation to be undercut, the chipping of concrete, and some cracks associated with structural failure.  In addition the old diversion dam, known as a curved ogee weir, had been a very dangerous impediment to downstream boat travel.   Longtime river guide Richard Quist recalled rescuing some fishermen who upset their boat going over the dam and became stranded on an island downstream. He won't name names, but he knows of many river runners who have gotten boats stuck on it in foolish attempts to run the dam in low water.
"I've run the dam three times, and each time there was some trouble or near-disaster," said author and river runner Roy Webb.
The new Dam includes a safe boat passage, and should eliminate the dangers that the old curved ogee weir presented.  "Installing the Boat chute makes navigating the Green River safer," Fey said.  "It should enhance the boating experience for clients of commercial outfitters and the general public, especially during low flows."
The fish protection and passage components were included to meet Endangered Species Act(ESA) requirements for listed fish species in the Green River.  The Boat Passage was a navigability requirement is the state of Utah.  With a cost of $7.7 million, and about a half year of construction work, NRCS Utah and UDAF restored existing functions of the diversion for water delivery to irrigation canals and a modern diversion structure to current standards.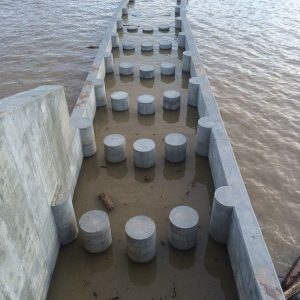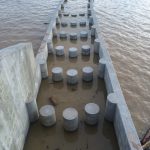 "This dam will provide a secure supply of irrigation water for the many farmers, ranchers and secondary water users in this area well into the future," said Utah Commissioner of Agriculture and Food, LuAnn Adams.  "Water in the West can make or break a community, and this dam literally keeps the green in Green River, Utah."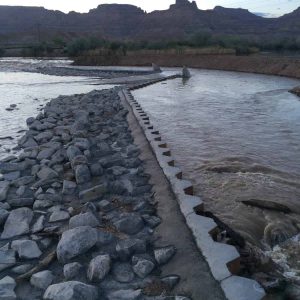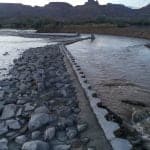 GREEN RIVER EWP BY THE NUMBERS:
Geotextile Filter Fabric  22,000 square yards
Sheet Piling Installed  870 linear feet
Rip Rap Installed  11,000 cubic yards
Grout Placed 2,000 cubic yards
Structural Concrete 1,600 cubic yards
Overshot Gates 5
Fish Screens 3
Fish Passages 3
Boat Passages 1