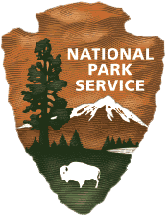 Today marks the 95th Birthday of the National Park Service.  The National Park Service Organic Act was signed on August 25, 1916 by Woodrow Wilson establishing the National Park Service as an agency of the United States Department of the Interior.  The act was sponsored by Representative William Kent (I) of California and Senator Reed Smoot (R) of Utah. The first appointed NPS director was Stephen Mather, who took on the responsibility of supervising and maintaining all designated national parks, battlefields, historic places, and monuments.  Prior to the signing of the NPS Organic Act National Parks and Monuments were managed locally, or by the US Army with varying degrees of success.  The act gave us the eloquent and famous passage on the duty of the newly formed NPS:
"… to conserve the scenery and the natural and historic objects and the wildlife therein and to provide for the enjoyment of the same in such manner and by such means as will leave them unimpaired for the enjoyment of future generations."
Colorado River and Trail Expeditions is very thankful for the foresight of the individuals and organizations that fought to protect wild places and preserve open spaces.  We operate in three National Parks in the United States.  We offer whitewater rafting tours in Grand Canyon, Canyonlands, and Glacier Bay.  We also operate in Kluane National Park and Tatshenshini-Alsek Provincial Park in Canada.
Our Grand Canyon whitewater rafting trips travel all 278 miles along the Colorado River through the heart of Grand Canyon National Park.  The Grand Canyon did not become a National Park until 1919 after a long fight to protect it.
Our Cataract Canyon rafting trips travel through the heart of Canyonlands National Park where the mighty Green and Colorado Rivers come together, separating Canyonlands into three distinct areas: The Maze, The Needles, and The Island in the Sky.  Whitewater bigger than the Grand Canyon abounds in the spring.  When the water drops and the temperatures cool down in the fall we do incredible fall hiking and rafting tours to see the sights of the hard to get to "martian landscape."
Our Alaska rafting trips are the best way to see Kluane, Tatshenshini-Alsek, and Glacier Bay National Parks.  The land is true wilderness where wolverines, bears, moose, and wolves rule the landscape.  These rafting tours give plenty of time to see the sites and enjoy the experience of hiking on Walker Glacier and watching icebergs break off into Alsek Lake.
The National Parks were the United State's best idea, and we are proud and lucky to operate our business in them.  We wish the National Park Service a happy 95th birthday.