Grand Canyon Rafting Trip Reviews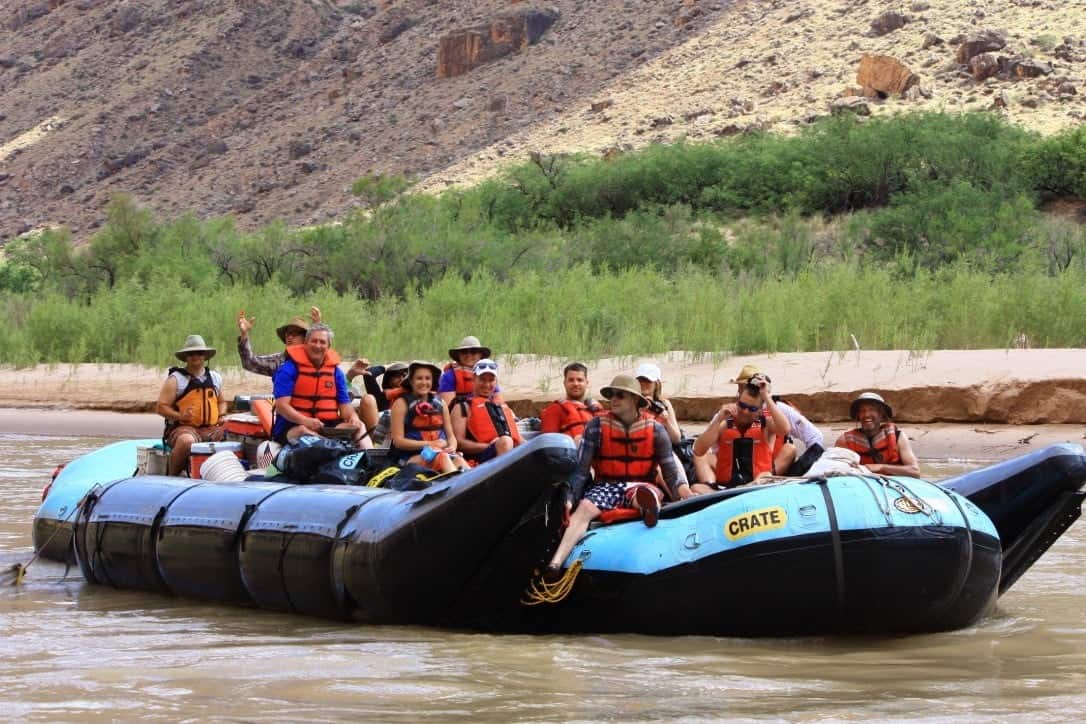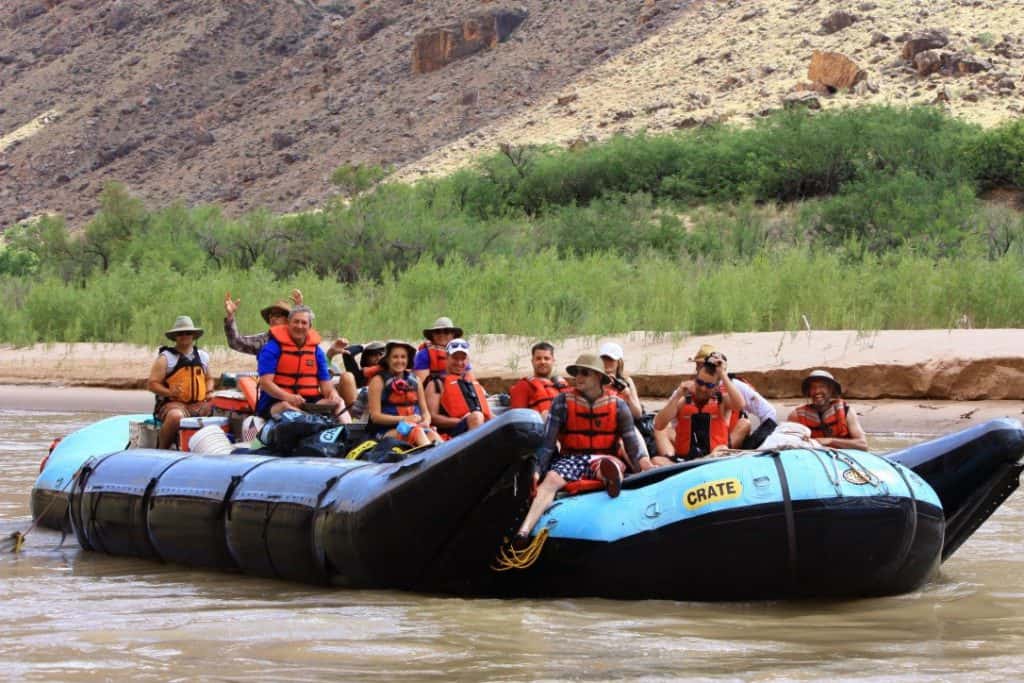 Book Your Adventure Today!
A REAL VACATION IN THE BOTTOM OF THE GRAND CANYON
If you like morning coffee, you might like to try a cup that the crew of Colorado River and Trails Expeditions brews every morning at the bottom of the Grand Canyon. It's good coffee and there is not a chance you'll sleep through it. If you're thinking about going on a river trip down Arizona's
…
Grand Canyon, sign up with Colorado River and Trails Expeditions. I was a passenger on one of their 9 day motorized trips this last summer, 2010. It was a great time, a real vacation for myself, away from a busy work schedule; in the fine company of the other passengers, and of the guides and crew, regular and decent people who truly are good at what they do, on track to make the most of every day. Maybe because the guides and crew "work" in such a magnificent natural setting, they speak as naturalists; they are hikers, cooks, first aid and emergency responders, photographers, boaters reading and 'running' the Canyon's many rapids, story tellers, educators, hale and most certainly they like to have fun. We played in waterfalls, we knew the anticipation and the thrill of going through many rapids, we hiked above the river gorge and looked toward the distant Canyon rims, we hiked to prehistoric ruins, historical inscriptions and we saw Desert Bighorn Sheep and we saw the native flora, some in wildflower display. . . All of us became friends and in conversations that usually led to talk of returning another time. You won't need too much more than a camera, a sturdy pair of sandals, and a good sun hat.
Read more "A REAL VACATION IN THE BOTTOM OF THE GRAND CANYON"
looksattheplants
A Beaut Trip, A Beaut Location and Beaut Hosts !!
This is the third trip I have safely completed with this organization. Did I enjoy these trips? I wouldn't have done the second and third if I didn't. Some of the considerations a chap has to take on board before entrusting his life and well being to others . 1. Safety….. 10/10. Where large rapids
…
were approached and before traversing them, the crew walked along the bank to inspect and determine the safest passage. This is necessary, I am told, as the water levels change from day to day causing a new appraisal to be warranted each trip. 2. Food….10/10. I lived better for the nine days than I do at home ( Divorce proceedings pending). Variety, freshness, ample and delicious supply undeniably more than you could ask for. 3. Accommodation…..10/10. It wasn't the Ritz but six stars under the circumstances. All that was required was provided and greatly appreciated. 4. Sanitation……10/10. Under an uncontrolled situation and with 20 plus travelers all using the same toilet facilities things could have become very unhealthy. After nine days, there was not one incident of an upset stomach, this was due to stringent stipulations on hand washing procedures after using the toilet and again before every meal. Top Marks!! I can't think of anything worse then being sick while traveling through the greatest place on earth. 5. Staff…….12/10. I have done a lot of traveling over the last seven years and have had trips involving group tours. The staff with this company can not be bettered. Nothing is too much of a problem as they are laid back allowing the tourist to relax and thoroughly enjoy the nine days provided.
These folk end up being life long friends whose company I enjoy immensely. 6. Extra Curricular Activities…….Being bored is taboo. A hike up to an Indian Storage site; to canyons with water falls to wash away all thought s of life outside the canyon and a tree lined oasis high up the mountain side. All make for a diverse and exciting trip. 7. Transportation……9/10. An air conditioned bus took us from Las Vegas to the River and then picked us up again to return us safely to Las Vegas. I have deducted a point here as they would not let me drive even though I begged them on several occasions. All and all it was an experience I would do again and probably will as they have promised to build me a ramp to allow me to get on and off the raft in my wheelchair as I am getting near the need for one!! One thing that really stands out are the friends you make on the River. I have had the real pleasure of staying twice with Greg, Nina and their daughter, Erica, since a trip I did with them five years ago. We communicate by phone often. On the trip I did this year (2010) I met a great guy that is going to take me canoeing in Canada next year. We will portage between lakes, eat fish three times a day and hope the bears do the same!! These trips are worth every penny, if for no other reason than you get to meet fantastic fellow travelers. The staff's dedication to our absolute enjoyment is their determination to provide all the essentials combined with a great capacity to laugh. I WOULD NOT CHANGE ONE THING !!!!!! Ramon Forbes
Australia
Read more "A Beaut Trip, A Beaut Location and Beaut Hosts !!"
Ameralia
Awesome – the best
What more can I say – I have taken 17 trips with Colorado River & Trail over the past 31 years. Every trip they offer including both Alaska trips. Planing another Grand Canyon trip summer 2011 (my 7th). Their equipment is the best! The guides are outstanding! I would not consider any other outfitter.
JWT1943
Incomparable!
A Colorado River rafting trip through the Grand Canyon should be on everyone's must-do list. Nine days on the river, with the canyon layers unfolding ahead, with ventures into mini-paradises in the side canyons, with a good dousing by a rapid every few miles to cool us even in the August heat, with a deepening
…
sense of the passage of geologic time–no travel experience I've ever had compares to it. Not even close. Colorado River and Trails Expeditions (CRATE) is a top-notch rafting company. The guides can negotiate a safe and exciting run through Lava Falls and cook a fantastic meal to follow. They are steeped in canyon lore and knowledge of the flora, fauna, and rocks all around. Friendly and sociable themselves, they know how to keep a group running smoothly. The trip leader gave us a brief reading about "deep time" as we lunched in a side canyon, and later we enjoyed a star show on a cloudless night, with a guide using a laser pointer to show the constellations. Don't worry about "roughing it" if you're used to more urban amenities. Being lulled to sleep by a nearby rapid and awakened by a canyon wren beats city noise and alarm clocks. I once watched a full moon rise over the canyon walls, first throwing a ghostly light on the opposite wall. Magical. CRATE even provides optional "furniture" to assure your comfort: camp chairs for evening conversations and cots to keep the sleeper off sometimes uneven ground. I found CRATE's packing list and additional information comprehensive, and the folks in the office were very helpful with questions. The CRATE guides, office staff, and equipment are among the best I've known in my four Grand Canyon river trips over a thirty-five year span.
VADMA
Incredible quality, value, friendliness and HIKING!! * * * * * *
This trip deserves six stars! My three sons and I just finished a lower Grand Canyon trip with Colorado River and Trail Expeditions(CRATE). We hiked down from the south rim and joined a CRATE expedition at Phantom Ranch. There were AMAZING hikes EVERY DAY–to places that you see pictures of (sometimes!) but never knew anyone
…
or any company who went there. The waterfalls, cobalt blue streams,slot canyons, views from above, etc., etc. were far beyond what I expected. I had done an 11 day complete canyon trip years earlier with another company where we were on the boat essentially all the time with very little exploration of the wonderful trails available. What a surprise to see so many wonderful sights over and above the expected. I did not realize what I had missed on my earlier "complete" trip. I would compare the hiking we did with the best of Glacier National Park, the Tetons and even Yosemite! The wonderful guides, including the owner's son and daughter in law made sure everyone got to experience as much of each hike as they wished–often with almost all of the guide on each hike to guide each group at their own pace and their own distance–incredible. The time on the raft was filled with as much history, geology and "tall tales" as you wanted. The quality of the equipment, food, reservation experience, etc. were top notch. Campsites were carefully chosen away from other groups. Everyone was environmentally perfect. I believe we were the only first timers on the entire trip of 20! That tells a lot. Fantastic value–this is one of the less expensive companies and absolutely top quality. To save us a "dull" last day, they helicoptered us out of the canyon–and the cost was included! They literally make you feel like one of the family–from the first reservation call to the goodbyes. Needless to say, I hope to return with CRATE, as many have.
Read more "Incredible quality, value, friendliness and HIKING!! * * * * * *"
JJJRS5
Best adventure of a lifetime!
June 2-6. I am a land lover who finally went river rafting on Colorado River in Cataract Canyon with CRATE. Highly professional team of guides who make you feel like family. Safety a priority. Excellent equipment. They took care of everything: Cooked & served 3 fabulous meals per day; set up & took down camp;
…
offered educational hikes to waterfall, Indian pictographs, grotto (where string concert was performed by some of the guides); the "Dollhouse"; and over the saddleback of "The Loop." Sleeping under the Utah sky was awesome. I never saw so many stars! And the white water rapids . . . take your breath away. FUN! FUN! FUN! Water was cold, but you get used to it. I will do this again. Plus the price was affordable. In fact, I don't know how they provide all they do at this price. Try it – You will love it!
dadFtWorth_Tx
Add "Raft Cataract Canyon" to Your Bucket List!
CRATE knows how to treat river rats! And they will encourage you to be a "mountain goat", too! The total white-water rafting, hiking-to-waterfalls, fine-dining, camping-out-under-the-stars, and making-friends experience has been fine-tuned by the boatmen and boatwomen of CRATE. This was our third trip with CRATE….and it seems to get better and better. Their Cataract Trip
…
guidebook spells out everything you need to know for the trip – it is right on! We strongly recommend CRATE to folks looking for an adventure!
Ed and Suzan G., Mullin, TX
TexSuzan
You'll become part of the CRATE family on these adventures….!
We've gone with CRATE on three occasions: twice on the Colorado through Grand Canyon and once with a group of women on the Desolation Canyon trip. Absolutely world class, professional company. The organization of the trips, the food, the knowledgeable (and personable!) guides; they make it a family affair. Vicki and Dave MacKay have a
…
great approach to your trip: fun and adventurous, and relaxed. Go with CRATE!
Read more "You'll become part of the CRATE family on these adventures….!"
Capital10k
This trip should be on everyones bucket list.
There wasn't a single boring moment to be found in the 10 days of floating down and hiking around the Grand Canyon. Our guides were top notch and quick to adjust to weather conditions, river conditions and guest comfort issues. On top of it all nobody stood a chance of going hungry.
tlstiehr
Five Great Colorado River Trips with CRATE!!
Over the past 18 years, I have taken five trips with CRATE – three Lower Grand Canyon (hiking down, rafting out), one in Cataract Canyon and a eight day full Grand Canyon trip. Each one was a fantastic experience. Each trip had unique highlights and seemed to build on past experience. The Grand Canyon at
…
the river level is a special, almost spiritual experience. I would go back each year if I could. The full GC trip two years ago was a special family trip with the whole family and will be a lifetime memory. There is little to compare to hiking up Deer Creek or running Crystal, Horn Creek, Hance or Lava Falls rapids as well as sleeping under the stars listing to the river. I cannot imagine a better outfitter than CRATE. I feel like Vicki is an old friend even though we have never met, particularly after a trip with her son and daughter in law as our guides. The CRATE crew has a special way of taking great care of their guests while allowing you the freedom to enjoy the canyon in your own way. As an avid wilderness traveler, I found their respect for the land to be strong and sincere. I have traveled with eleven CRATE guides over the years and all have been outstanding. The handle the guests, the river, the food, the hiking and everything else with knowledge and skill. From a safety perspective, my trips have been perfect – no injuries and everyone stayed on the boat through all the rapids. Also the other guests on the trips have been a joy and shared our appreciation for the Canyon and river. I lucked out when I chose CRATE for my first trip and would highly recommend them to all. I thought that our trip two years ago was my last but my daughter and I are thinking that perhaps another CRATE trip might be in the cards some day.
745jacquelinek
We went on a trip through Cataract Canyon that could not have been better.
When you get right down to it, a river trip like this is judged by the beauty (not in the hands of the company or guides- sorry,) the river guide crew, safety, thoroughness of logistics / planning, the food: -the things that are at least, in part, a function of the expedition company. Let me
…
just say- as a person who has taken a lot of people into unknown territory beyond their comfort zone- these people get the absolute highest marks from me. We went on a Cataract Canyon trip and had the experience of a lifetime. Of all the above listed variables at the hands of the guide company- they excelled on all.
Here is the list, our thoughts and praise; The river guide crew:
These people were the nicest, most professional, knowledgeable about not only the equipment they were responsible for, but the natural and cultural history they taught us. Their work is their love and it shows. The guides, swampers, and company should be very, very proud of these folks. Whatever they are doing- they do it right to the 'nth degree. The food:
You are in the middle of freak'n nowhere and these people seem to delight in providing the most nutritious, best prepared meals I've had on any outdoor adventure- hands down. We had a young woman who turned 18 on the trip and out of nowhere appeared a CAKE!!! Good grief!! Safety:
Let's face it- this is a major priority. On the trip we were on, we had people from teens to 70's and all were well prepared and considered in all arrangements. One person had a clumsy accident and required some first aid (again – in the middle of nowhere) and the crew dispensed quality care in no time with better bedside manner than I have seen in expensive private hospitals. Thanks you Jesus! But more to the point when we went through the drops, our guides carefully and correctly scouted out the rapids for the conditions of that day. They were dangerous. As we scouted- we watched another company with 3 boats lose every single boat in ht rapids – we are talking little kids under 10 – heads bobbing down through rapids but not one of our boats went over- not even the smaller row boat we had decided to try out. We even took the family with little kids from the wipe-out company on our boat as extra passengers so they would be safe. These people are professionals at CATE – I saw it in person!!! Thoroughness of logistics / planning.
Again- they told us what we needed to bring and they brought the rest. For those of us who checked our brain along the way- they even covered those. Again – these folks take their jobs seriously, love what they do, and care about the folks they are taking along on the adventure. We are about to trust our 14 yr. old nephew to them on a trip of a lifetime through the Grand Canyon – that is how strongly we feel about their professional skills.
Read more "We went on a trip through Cataract Canyon that could not have been better."
RangerDanS
Trip of a lifetime!!
Top-notch guided expeditions of the entire Grand Canyon and other prominent western rivers and canyon lands. Emphasis on hiking, exploring and natural history. Guides are very knowledgeable and personable; all have extensive (years) experience safely negotiating these formidable rapids. Comfortable rafts, excellent food………..nothing but a first class operation run by the McKay family.
John2H
Best thing I ever did with my money.
We took the 8 day full motor trip. The trip was great from start to finish, mainly because of the incredibly beauty you are surrounded by with a different amazing camp every night. The crew were incredible;, friendly, informative, caring qualified and handsome/beautiful people. The meals were AMAZING, the bathrooms weren't nearly as bad as
…
I had dreaded. The equipment appeared well maintained and the crew seemed to be prepared for any emergency, as one of the people in our party, twisted his ankle they were there with a support bandage. Another twisted his knee, again another support bandage. It was the best thing I ever did and never regretted spending the money not once. I have the most incredible memories thanks to CRATE and their crew and intend to take another trip with them very very soon. Thanks again CRATE, y'all rock! Capt & Mrs. Michael M.
mscapt66
In a place that is amazingly wonderous and spiritual, CRATE made the experience the trip of a lifetime.
I had been down the Colorado through Grand Canyon 20 years ago on a private expedition, and I had always hoped to get back there. At the suggestion of a friend, I organized the trip for a group of friends and family. We decided on the 8-Day Motorized trip so that we could see the
…
entire Canyon, and try to do as much hiking and swimming as possible. I researched various outfitters and I was impressed with CRATE because of their focus on off-river activities. Through the course of planning the trip, I had mentioned some things that I had seen on my previous trip, and wanted our group to be able to experience. CRATE took such care to try to make sure we had the experiences that we were looking for, that even the briefest of remarks made their way onto our itinerary, such as the stop at a deserted mining camp. I really appreciate that. Our guides were extremely competent and we could not feel more welcomed and comfortable.They tried to accommodate every wish and I do not recall a single disappointment. The beauty of the Grand Canyon is profound. Seeing the Canyon from the river up is just amazing. We spent considerable time hiking and at times it was fairly demanding physically. However the rewards are great in terms of incredible sights, waterfalls, creeks and pools to swim in. We may have made fewer stops on the river, but It was great to be able to take the time to really explore the side canyons that we hiked. The food was great and plentiful. There was variety, and some delicious treats that you would not expect when camping for 8 days in extreme heat. The river is awe inspiring. The large rapids are very impressive, and it is a much less stressful experience in the large raft with professionals at the helm. Bring cameras,wet hiking sandals, plenty of sun block, sunglasses, bathing suits. I cannot say enough about the Grand Canyon. It is one of the most beautiful and amazing places on Earth. The river trip is a magical and spiritual journey I cannot say enough about CRATE. The entire team provides a level of service that is not often found. I highly recommend this trip with CRATE. I cannot wait to do it again. Lou
Read more "In a place that is amazingly wonderous and spiritual, CRATE made the experience the trip of a lifetime."
louisla1922
It doesn't get any better!
Twelve of us took an 8-day, 280-mile rafting trip through the Grand Canyon guided by Colorado River & Trail Expeditions (CRATE) in July 2009. I don't even know where to begin describing how absolutely incredible this trip was. The guides were AMAZING: knowledgeable about the canyon geology, history, etc; unbelievably skilled at rafting; and incredibly
…
warm and wonderful people to be with. The food was GREAT, the equipment was top notch, and no corners were cut in giving us the best, most comprehensive experience through the canyon. I feel like I saw it all. What was particularly impressive were the "little" things the guides did for us every day, from catering to everyone's individual hiking tastes, to breaking out an ice-cream maker to use up the left-over ice on the last day (until then, no one even knew the ice-cream maker was on the raft). One of the details our group really loved was that on the last night, our guide read us his favorite quotes from John Wesley Powell's diary. So cool. I had taken this trip many years earlier with another outfit and, although it was a great trip, it didn't compare to the this one. I could have gone on for another 8 days. Thank you CRATE!
PangeaWayfaring
Trip of a lifetime
Myself and a co-worker took an 8-day motorized white water raft trip through the Grand Canyon with CRATE in August, 2007. What a trip it was! Everyday was an adventure. The rafting was exciting and challenging, but hiking to waterfalls, creeks, ancient ruins, etc. really made each day better than the one before. Camping under
…
the stars every night, enjoying gourmet meals, and good company were the order of the day. Walker McKay was our boatman, and his knowledge of the Colorado River made this trip a trip of lifetime. I certainly will do it again sometime (and I'm almost 60).
OlYeller
Rafting with CRATE
I took an 11 days rafting and paddling trip with CRATE this past summer, on the Colorado river along the Grand Canyon, and had an amazing trip.
Their boats are fully equipped, food was great and their guides are fantastic with great knowledge of the history, geology and the surrounding of the river and
…
the Grand Canyon. I totally recommend taking a rafting trip with them !
Lina B.
We provide most things you need. Check here for what to bring on your Grand Canyon adventure.
Incredible vacations and experiences with CRATE in the Grand Canyon. View gallery of some of our trip experiences.
Questions such as getting started, reservations, planning, equipment and more on our FAQ Page.
Grand Canyon Rafting trip availability or questions about making rafting trip reservations.
CRATE Rafting Trips Since 1971
Free PDF copy of our Rafting Brochure!