Grand Canyon Rafting Trip Reviews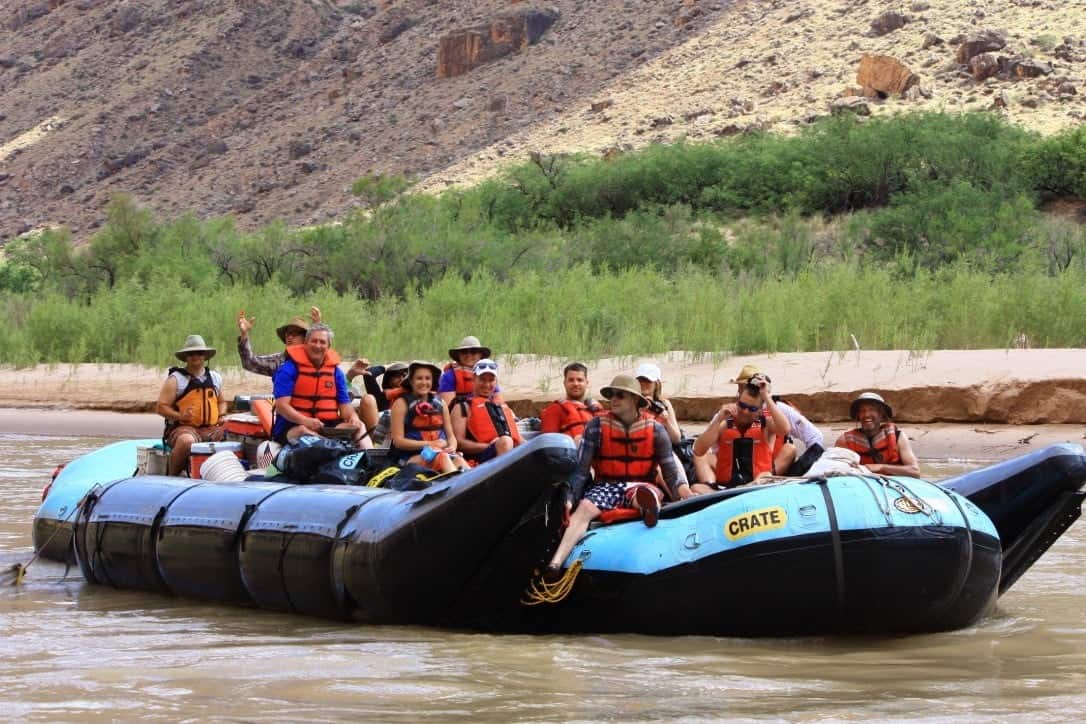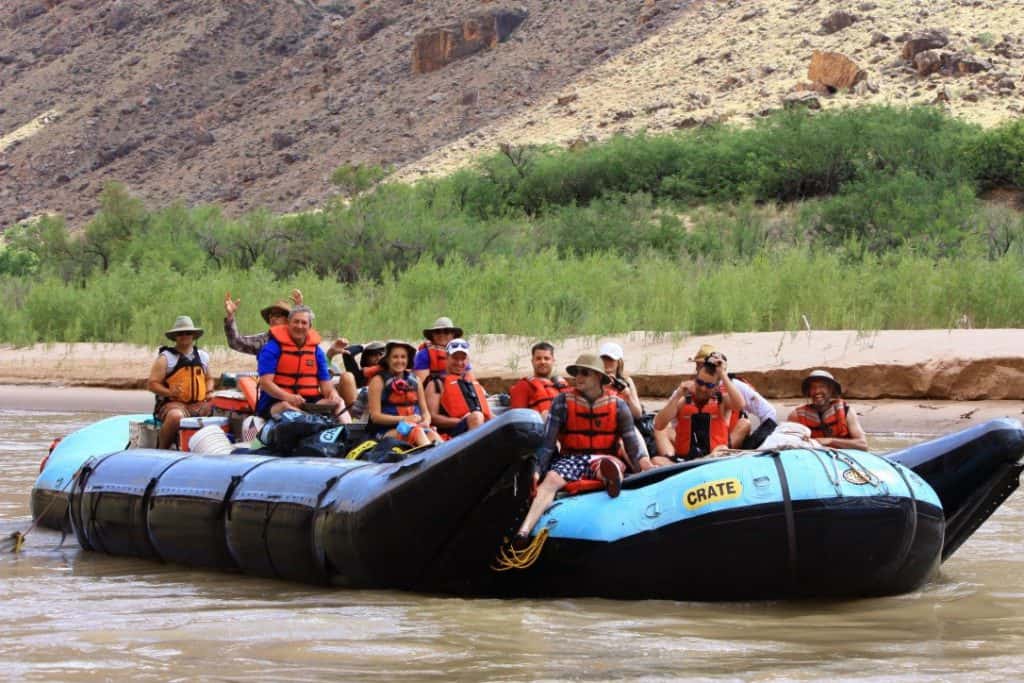 Book Your Adventure Today!
11 day Colorado River trip
Colorado River and Trail Expeditions (CRATE) organized a fantastic trip through the Grand Canyon. We had a paddle raft, dory and 4 oared rafts for our group. The guides were great – lots of experience on the river and very knowledgeable about the geology and history of the area. They provided great food, games and
…
music in addition to guiding us down the river. I would highly recommend CRATE to anyone wanting a river experience. They're the best!
Shirley W.
Awesome Trips
I went for Grand Canyon Rafting Trip in Colorado river in this autumn break. The trip was awesome and full of adventures. We opted for 7 day trip through CRATE. And whole week was amazing. We enjoyed a lot and would recommend CRATE for sure.
Megha K.
This trip expanded my views on the wonders of our "mother earth"
The Grand Canyon National Park – too big to imagine, too old to comprehend, too awesome to put into words. Different ways to "see" it – stand on the rim and peer down into it, fly over it to get a perspective of it's size, put on some boots and hike some of the limited
…
access trails, or, hire an outfitter to take you down into and through the canyon on the Colorado river. The latter of course being the most intimate, intriguing, fun and rewarding journey through time and history that we have embarked on recently.
Several factors contributed to our success. Foremost of these is the outfitter that we chose. The Grand canyon is the grand canyon, and that narrow perspective can be greatly improved on by how it is presented. Of the many outfitters that provide tours on the river, we ultimately chose Colorado River & Trail Expeditions (CRATE) and were not disappointed. The outstanding quality of this outfit can be attributed to the dedication and commitment to the outdoors and wild places by the owners and and their ability to instill this creedo in the trip leaders and guides who accompany us on the trip.
These guys and gals are absolutely the best. They are a professionally trained, dedicated, tireless, talented and fun bunch who constantly go out of their way to ensure that you are having the best possible time, while all the time keeping an eye out for our safety. The stories are endless, but my favorite by far – We stop occasionally to hike back into converging side canyons to view beautiful waterfall and streambed settings, and on one particular hike we went into a particularly high narrow canyon back about a hundred yards that dead-ended into a not so unusual place. However, as we returned, we were greeted by the most surprising sound one would expect to hear. One of the talented guides (Sabrina) who doubles as a concert violinist had set up shop on a giant boulder and began to serenade us. I could not have purchased tickets in any concert hall in the world that would duplicate the acoustics in this tall, narrow canyon. Exceptional !
Beautiful sandbar overnite camping spots that sometimes allowed for volleyball games and other forms of entertainment and camaraderie, fulfilling meals, sleeping under starry skys, even the occasional thunder & lightning show in the canyon was amplified. Historical accounts of early travelers and geological assessments are shared to further our understanding of all that we were trying to comprehend.
Lastly, the makeup of the group was key to our overall enjoyment. We are in tight quarters with our fellow travelers day and night for thirteen days. I believe that our group was so compatible because like minds seek out the same things. In this case, we were drawn to CRATE for the same reasons, Competence & Caring in a small Professionally run company. To the men and women of this exceptional company, our fondest aloha and deepest gratitude for sharing with us your dedication and respect for all things wild.
Mahalo
Read more "This trip expanded my views on the wonders of our "mother earth""
mauistables
Best. Trip. Ever!
Our 7-day rafting trip down the Colorado River through the Lower part of the Grand Canyon was magnificent! The C.R.A.T.E. guides were superb in every way. The adventure was invigorating and challenging. Our group of six 50+ year olds were transported back in time, and we lived like 20 year olds for one magical week
…
at the bottom of the Grand Canyon. The rapids, hiking and cameraderie were among the best we've ever experienced. We'd do it again in a heartbeat. It was a Bucket List item for the ages. Thanks, C.R.A.T.E.!
Maurice R.
Best trip of my life without my wife!
Better than I expected, and that was quite a lot. Plenty of activity, excitement, hiking, rowing as well as attention from staff, from meals to entertainment. An experience I will never forget, and better than any before. Got to see the Grand Canyon from the River!
Daniel Y.
One of the Greatest weeks of my life
The staff at CRATE are amazing. Prepared for everything. Rafting was only part of the experience. Fantastic hiking, amazing food, beautiful campsites, and very, very talented guides. The staff provided insight, assistance, knowledge, entertainment, and much more. The equipment was first rate which was critical as we encountered storms which only added to the experience
…
as a result of the superior tents, cots, canopies, tarps, etc. As an example, we ate gourmet meals during thunder storms.
reigns
It was wonderful ! We were so taken care of
The heat was over 100* on the river. They did a fantastic job of helping us manage the heat and have a good time. The trip was 1/2 day and I highly recommend it. Calm waters meant sitting comfortably and moving around with ease. We stopped and swam which was great even at 47*. The
…
guide was fun and staff was efficient and helpful.
Thanks Guys
Pam from VT
pamVt
Want to go back SOON!
This was the trip of a lifetime. We have already made plans to go back within the next 3 – 5 years for a full 11 day adventure. (working on babysitters) My advice, stop saying how you would really love to do it, and JUST DO IT!!! It will change your life.
silaslewis
CRATE rocks!
We went on the 8 day motorized Colorado River trip thru the Grand Canyon with Colorado River and Trail expeditions. I would go again with them without hesitation. It was a truly amazing trip. Our boatguides were the best, they know the river well,and always made sure we were having a great time, and kept
…
us safe thru the whole trip. the food was fantastic, the cots we slept in were comfortable. Every day we were able to take side trips into the the side canyons, thus seeing the canyon up close and personal. Our guides were very knowledgeable not only about running the river, but were experts in explaining the geology and history of the canyon. Its hard to come out of this experience without gaining a real appreciation of the forces of nature and the sense of history for this beautiful place. This will not be my only trip with CRATE, we plan to do some of the other river trips with them in the future. Thank you CRATE, for such a wonderful time!
Judy M.
This was the trip of a lifetime!
We signed up for the Colorado River & Trail Expeditions (CRATE) 8-day motorized raft trip based on the facts that they were a family-owned and operated business with a great reputation and reasonable prices. My husband and I and our two friends were part of a 20-person 2-raft party guided by Walker, Mindy, Ben &
…
Ryan.
Our expectations were more than exceeded. From the moment we were met at our motel in Las Vegas to when we were delivered safely back there, we were extremely well taken care of.
The food was extraordinary, considering we were camping in primitive areas that offered no amenities (except of course stunning beauty, pristine sand bars, brilliantly starry skies, and only the sounds of the river rushing by). We were awakened with a call for the hot strong Cowboy coffee each morning, then a hot cooked breakfast running the gamut from oatmeal to pancakes, waffles, sausage, eggs each morning. When we stopped for lunch, the guides set up an attractive sandwich buffet with freshly sliced avocados, fruits, vegetables, and cold cuts. Dinner was everything from grilled salmon with salad and green beans to steak and baked potato with sour cream. And freshly baked cakes! Mindy even baked my husband a birthday cake with candles!
The equipment they provided included very comfortable cots and clean sleeping bags and self-inflating pads. It was so warm, we didn't need the optional tents and loved sleeping under the stars.
Safety and sanitation were top priorities: we were required to wear our lifejackets on the boats at all times. We were required to wash our hands before every meal. The handwashing stations were right next to the toilet and right next to the kitchen area. The toilet facilities included one private toilet in a tent and one in a private outdoor setting. Most of us gravitated to the "View Toilet," once we became used to the system. Let's face it, camping in a pristine wilderness area requires that human waste be removed by each group and the fact that Walker and team took care of all that was invaluable.
We were expected to be responsible campers and instructed on removing even "micro trash" like food crumbs and scraps of paper. We were certainly not alone in this as each place we visited was as if we were the first humans there (if you didn't notice any footprints). The hiking trips we took up the side canyons were glorious, sometimes scary, always amazing. The less daring of us were free to stay behind or to get assistance from a guide. I hiked some ledges my friends would not believe! The rewards of standing in a pristine waterfall or exploring a cave or granary or ascending to a higher view were amazing.
We learned a lot about the geologic and biologic history of the canyon as well as the human history of exploration there. The guides often pointed out aspects of each, and also read to us from various journals and books by Canyon explorers. I think we all came away with the resolve that this Grand Canyon is one of the earth's most meaningful and spectacular treasures and must be preserved to inspire all of us with its beauty, majesty, spiritual power, and natural history. Not to mention that the Colorado River is the lifeblood of the Southwest. What I liked best: So many things–the fun of riding the rapids, the beauty of the scenery, the hiking, the waterfalls, the food. That we didn't even see a house for 5 of the 8 days. That we were so cut off from civilization that I could allow my mind to completely empty of my regular life and thoughts. What I liked least: Having to pee in the river (I'm a city girl!) Things to bring: CRATE gives you a really good list and you can also find others online. Be sure to bring well-broken-in water sandals. Most people used the ones with covered toes, the guides all used open-toed styles, think it through as to which suits you better. You will be hiking through streams and over rocky trails. Many of us got blisters–but the guides provided us with duct tape if we needed it. You should bring a couple of pair of shoes–my second pair were waterproof trail runners that were really light and comfortable and it was great to switch off shoes. Think about how to deal with your hair. The only bathing you can do with soap is in the Colorado River, which is cold and muddy. I opted to keep mine in pigtails and embrace mud, sand, and greasy hair. I would have had it braided into corn rolls before if I had thought it through. Bring more than you ever think you'll need of batteries and memory cards for your camera. Be sure to bring a waterproof camera–you will get wet!
You have enough space in your waterproof bag to take clean shirts and undies for each day if you want. Take at least 2 swimsuits and make them 2-piece.
It may not be ideal campership, but a package of wipes for swabbing your face and body parts can help you feel fresh even if you can't imagine dunking yourself in the Colorado River. More advice:
This is a strenuous trip even though you don't have to row. Moving around on the raft and getting on and off it is a challenge in itself. Get in the best shape you possibly can so you can fully enjoy the hikes and the whole experience. You are expected to set up your own cot and sleeping bag and to carry it back and forth from the boat. So lift weights, hike hills, do pushups and pullups. It's important to have confidence in your body.
RealTKing
I would go again in a heartbeat!
We went on an 8-day Colorado River motorized raft trip and it was awesome. Every day was an adventure as we got up and on the river early so we could have maximum time for hiking side canyons. The food was great, campsites were spectacular, hikes were exhilarating, and our boatmen/guides did everything they could
…
to make sure we had a fun but safe time.
NancyS033
First Class Professionalism and Courtesy
I have not yet had the pleasure of touring with CRATE. I did book a family trip on their 8day Grand Canyon tour but for a variety of reasons was not able to take the trip. However, I cannot say enough about the thoughtful care and courtesy that was the hallmark of all my communications
…
with each staff member I connected with.
I booked with CRATE primarily due to the stellar reviews on TA and from my limited experience this appears to be a company that is well run and offers a tremendous experience. My family and I will be back next year if circumstances will allow.
jamielaurenhunter
The BEST, Top-Notch, Highly Professional River Rafting Company!!
As a college professor, sometimes I just need to get-away so I joined the Colorado River & Trail Expeditions on their June 2011 Women's Summer Solstice Retreat and had the most incredible four days (www.crateinc.com)! Everything is done for you. From the moment we left Moab, Utah to the 84 miles of river we rafted
…
to the arrival back at the starting point, CRATE's family of guides made this solo river guest, thoroughly engaged, athletically challenged, and cathartically moved with their professionalism, friendly natures, personable, kind and incredibly accommodating considerations for my safety, education of the area, my understanding of the ecology, geology and Native America legacy, and my overall well-being. Crate sends you a specific list of everything you need, expect, and/or want. Only piece of advice: bring an extra sweater or long underwear if you are from Florida! Highly recommend crateinc.com, especially if you want to go alone.
Read more "The BEST, Top-Notch, Highly Professional River Rafting Company!!"
travelpam32
Crate – Colorado River & Trail Expeditions the best rafting company !
I came back a week ago from 2 rafting trips with CRATE. This time I went for 5 days of rafting in Desolation Canyon which were followed by 3 days of motor trip to Cataract Canyon. They have the best Crew/Guides, with so much knowledge, so nice and very helpful. Their equipment, food, safety, hikes,
…
geological and other explanations are top of the line, They are highly recommended ! I would go rafting with them anywhere in the world.
Read more "Crate – Colorado River & Trail Expeditions the best rafting company !"
Lina B.
CRATE is the best rafting/hiking experience you can have–and at the BEST PRICE!
Just finished 9 days of hiking and rafting the Green River with Colo. River and Trail Expeditions. This follows my trip of May 2010 down the Grand Canyon.
CRATE continues to be the best hiking/rafting/camping experience imaginable. DEFINITELY try to use this company if you're rafting Alaska, the Colorado, the Green River, etc. Family
…
run business for 40 years–good people who care and who hire only those who care. I can't say enough about how great the experience was. Equipment, food, safety, hikes, activities(guitar, singing, etc.), geological and other explanations, etc., etc. ! Highly recommend! ***************
Read more "CRATE is the best rafting/hiking experience you can have–and at the BEST PRICE!"
JJJRS5
9 days on the Colorado River, lots to see, lots of fun, u gotta do it!
Great trip, great guides, sleeping under the stars(wow), great hikes. Don't bring a lot of stuff with you, stick to their list, it is sufficient; however, DON'T Forget the hand lotion.
jtmrider
Something for your 'bucket list,' – but don't leave it too late!
Grand Canyon with bells and whistles – great stay at the Bar 10, aerial views of the canyon, heli drop-off, rapids, scenery, great food and company, and enthusiasm! Made our trip to America. Thanks a bunch, Walker and Mindy.
Philip N.
This was one of our BEST TRIPS!!!
What a great experience! We flew into the Bar 10 Ranch (partners with CRATE for this particular expedition type), got to sleep in a covered wagon, ride horses and ATVs. A helicopter brought us down to the river at Whitmore Wash the next morning…what a beautiful way to be introduced to the Grand Canyon! We
…
then proceeded down the river, ran some rapids, stopped for lunch, ran some more rapids, and stopped for a hike to see a beautiful waterfall. Dinner was fantastic…our family doesn't typically get steamed veggies, mashed potatoes or peach cobbler (all of which were made by the CRATE guides) when we camp! Slept under the stars on cots right next to the river…truly a beautiful night. The next day involved a great breakfast and some more river running before ending at Pierce Ferry. Our guides (Walker and Mindy) were EXCELLENT!!! They were very informed about the wildlife, geology, history, and pretty much anything else having to do with the Colorado River and the Grand Canyon. All of the equipment for camping was provided…cots, tents, sleeping bags, dishes, utensils, etc. All of the food was prepared for us, and was delicious! We always felt safe, relaxed (never rushed), comfortable, and informed thanks to Walker and Mindy and CRATE's equipment. We will DEFINITELY be back for a longer journey!!!
ShawnGranner
Five Days & Four Nights in Paradise
Spectacular scenery, wonderful weather and excellent camaraderie. What else is required for a perfect trip down the Colorado River? In a word CRATE. The folks at Colorado River and Trail Expeditions (CRATE) made this the trip of a lifetime for me. They have been doing this for 40 years. We took 14 folks on one
…
of their 37 foot motorized rafts. We hiked into the canyon on Monday and helicoptered out on a Friday. The experience is one I will not soon forget. The value CRATE brings to the table is difficult to describe in words. Starting with communication-many of us were in contact with the folks at CRATE by email months in advance of our trip. Our questions were answered clearly and promptly. Many of us had never been on the river, CRATE made sure we were well prepared with the clothing we needed (layers in the early Spring are a must). We had the option to ship items ahead of time if we wished but many of us brought our gear down the 9 mile Bright Angel Trail. Whether we were on the raft, exploring a day hike, or setting up camp for the evening, the CRATE guides on our adventure were superb. Combining the perfect mix of patience and experience-never in a hurry yet always on time. We enjoyed three square meals each day and comfortable sleeping every night. They were also diligent about leaving the canyon the way we found it. After breaking camp each morning the only evidence we left behind were our footprints in the sand. I had seen the Grand Canyon from the rim as a child, but the experience of running the river is beyond words. If you have a bucket list, this belongs on it. Someday I hope to bring my 3 adult sons back to the Canyon. When I do, you can bet it will be with CRATE.
Tketchersid
Family Trip on Desolation Canyon
About 10 years ago I bid at an environmental auction on a 5 day Desolation Canyon trip, thinking to take my mother. She developed Alzheimer's Disease and I was never able to take her. I called CRATE and they voided the expiration date and there it sat past the year's end. It was 10 years
…
later when I could take my nephew's family down the river and CRATE still honored the voucher for two adults! We were 11 and so had our own private trip along with another couple and their grandson. Our ages ranged from 10-75! That is not an easy age range to plan for or please, but our 3 WOMEN guides were perfect and flexible, to mention nothing of their cooking and fashion show attire in the evening. This was not my first trip. That was in 1954 with Hatch, yes Buzz Hatch, down the Yampa when Reclamation wanted to put a dam at Split Mountain. I had done Desolation two other times, once with the Wasatch Mountain Club, so it was good to see this section of the Green River again. The planning and execution was everything I expected from a first rate outfitter and we had a memorable time, especially using the rubber ducky inflatable kayaks. Plan a family trip with CRATE. It is a real vacation because you don't have to DO anything except enjoy the experience. I was inspired to log in and write this review 6 months later by the gorgeous calendar they sent me for 2011 with different artists interpretation of Grand Canyon scenes done primarily by river runners. The calendar brought back memories of my two trips down the Grand with Ken Sleight and Dee Holladay almost 40 years ago. If you have never done a family river trip, this is a good place to start.
SSS39
We provide most things you need. Check here for what to bring on your Grand Canyon adventure.
Incredible vacations and experiences with CRATE in the Grand Canyon. View gallery of some of our trip experiences.
Questions such as getting started, reservations, planning, equipment and more on our FAQ Page.
Grand Canyon Rafting trip availability or questions about making rafting trip reservations.
CRATE Rafting Trips Since 1971
Free PDF copy of our Rafting Brochure!