Thinking about rafting the Grand Canyon for the first time?  It's hard to know what to expect on a river trip, especially if you haven't been before.  We get a lot of e-mails and calls with general questions about our rafting trips.  In an effort to help you better understand rafting the Grand Canyon with CRATE, here is a short FAQ list to answer some questions you may have.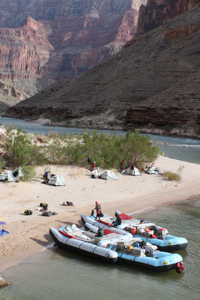 Q- What is the best time of year to raft the Grand Canyon?
A- We have scheduled our expeditions during the times of year that we think are most appropriate and enjoyable. It doesn't really matter when you go. However, as a general rule of thumb, you can think of April and May as the most moderate months as far as temperatures go. It can be kind of chilly on the river, especially when you are splashed in the rapids, but it's usually perfect for long off-river hikes. This is also the best time to see wildflowers in bloom. June and July are warm and dry, perfect for running rapids and playing in side streams, waterfalls, and natural pools. In August, thunder showers cool things off a bit, and the rain causes cactus and other desert plants to bloom. Early-to-mid September, like the spring months, offers cooler temperatures and ideal weather for off-river trekking.
Q- What is your age restriction for the Grand Canyon?
A- 12 Years and older.
Q- Is there 1-Day rafting available in the Grand Canyon?
A- Access in and out of the Grand Canyon is very limited.  There is a company that provides 1/2 and full day calm water float trips from the Glen Canyon Dam to Lees Ferry (Colorado River Discovery).  They will take 4 years and older.  The shortest rafting trip with CRATE is our Ranch and Raft trip which is 3 days.
Q- Do I really need to bring a rain suit in July?
A- YES!  We highly recommend bringing a rain jacket, at least.  The Colorado River water temperature stays around 50 degrees F year round.  Running rapids in the morning can be cold if the sun hasn't come up over the Canyon walls. 
Q- What kind of footwear should I bring?
A- Good quality, comfortable footwear.  We recommend one pair of river sandals that can be worn on the raft and also on off river hiking excursions (Chaco, Teva, Keen).  We also recommend one pair of athletic shoes as a backup or an alternative hiking shoe.  Hiking boots are optional, but recommended if you need the foot-ankle support.
Q- How experienced are your guides?
A- Most of our guides develop their expertise through an in-house training program that gives them an opportunity to learn everything about the river business from the bottom up. They participate in numerous training trips as helpers, or "swampers," and must be able to repair rafts, motors and other equipments before they start operating their own rafts with customers on board. This usually requires two seasons. Most of our guides have a minimum of 3-5 years' experience. Our veteran guides have been with us from 10-20 years.
Q- What is your operating season?
A- Early April through late September.
Q- How many people per boat?
A- Our 37 foot motorized "S" rigs can accommodate 12-14 passengers plus 2 guides.  Our 18 foot row rigs can accommodate 3-4 passengers plus 1 guide.  Our paddle raft holds 6-8 paddlers plus 1 guide.

Q- What if I have a group?
A- We gladly welcome groups.  12 people qualify for our 10% Group Discount.  If you are interested in chartering a trip, please contact us.
Q- How far in advance do I need to book?
A- Most people book a year in advance.  Our April and May trips tend to fill up faster than our later summer trips.  However, there are usually some last minute cancellations.  Just call or e-mail our office to check availability.  Final payment is generally due 60 days prior to the trip departure date.

Q- Can I book a trip online?
A- We like to deal with our clients directly and get to know them.  Feel free to call us or e-mail us anytime with questions or to sign up for a trip.
Q- Why should we choose your company?
A- If you appreciate personal service and enjoy being treated more like a "friend" than a "client," you will probably like going with us. From office staff to river crew, we will do everything we can to help you plan, prepare and enjoy your time on the river. Our guides are the best! In addition to their training and experience, they are kind and friendly and enthusiastic. You should also consider we do not overcrowd our trips or our rafts. Our equipment is in excellent condition. We love what we do!
Q- What is your menu like?
A- Delicious Dutch-oven dinners, sandwich bar lunches, and hearty camp breakfasts are provided throughout the river trip. We think our menu will satisfy everyone, from those who are watching calories and cholesterol to those who want to splurge on the richest desserts and the biggest steaks! With ample quantites of fresh fruits, vegetables, whole grains, and pasta, non-meat eaters also have a variety of good foods from which to choose. Hot beverages such as coffee, tea, and cocoa are served in camp. Assorted non-alcoholic cold drinks are available throughout the day. We do not provide alcoholic beverages, but adult guests may bring small amounts of beer, wine, or liquor for their personal use.
Q- What about bathing and bathroom facilities?
A- It is okay to bathe and/or wash in the river, providing you use biodegradable soap and shampoo. Hand washing devices are set up in every camp. We carry clean, easy-to-use portable toilet facilities with us. They are set up in each camp and concealed in large, roomy tents for privacy.
Q- What is a typical day like on the river?
A- Our guides will wake you early in the morning with a call for "coffee."  When you hear the call, it means time to come to the kitchen area.  After eating your breakfast, you will have a chance to pack your personal camping gear.  The guides will break-down the kitchen and start to load the rafts.  You may carry your gear to the beach area in front of the boats and when the guides have secured the deck, they will ask your your helping loading personal dry bags.  We stop during the day of lunch, usually on a sandy beach along the bank of the river.  After a full day or rafting and hiking, we will find a place to set up camp.  We ask everyone who is able to help the crew unload the boats to form a line and pass gear on the to the beach.  Guides will set up the kitchen and community camping gear while individuals set up their personal area.  Soon after making camp, the guides will begin to cook dinner.  This is often a good time to write in your journal, read a book, or take a refreshing bath or "power nap."
For more FAQs: https://www.crateinc.com/why-crate
To make a reservation or check availiability please call or e-mail us at:
1-800-253-7328 / [email protected]
www.crateinc.com