CPAP in the Outdoors
Abel O. Nelson

Approximately 22 million Americans have some form of sleep apnea; I am one
of those fortunate folks and must use a CPAP machine to treat the condition. I have
not allowed it, however, to impede my enjoyment of spending time outdoors, most often as a
commercial river guide.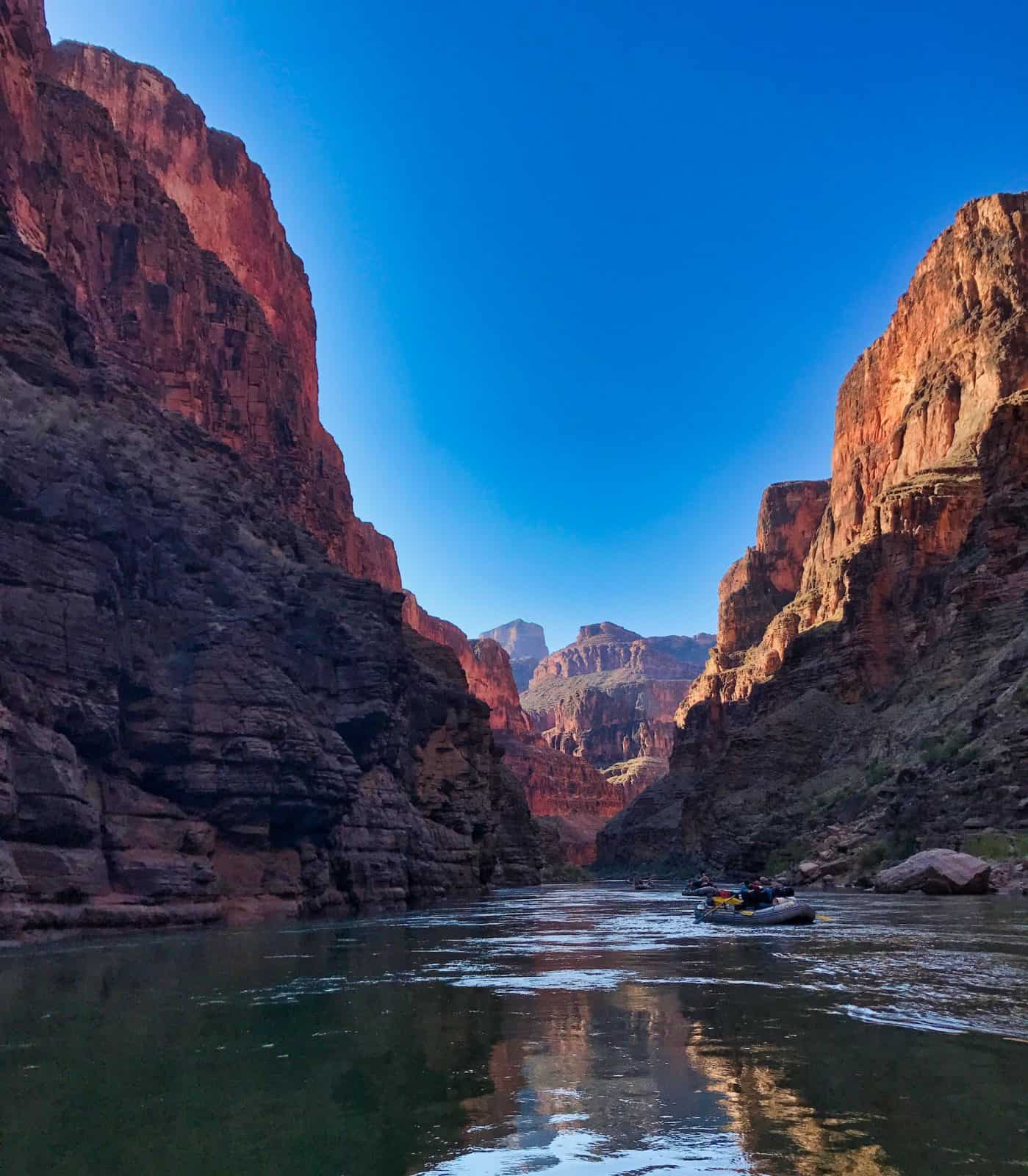 Mount Sinyala view from the Muav
Gorge
This write-up describes the solution I use to enable working up to 14-day rafting trips where the power
grid is nowhere to be found.

There are a number of commercially available solutions for battery-powered CPAP machines, however,
most assume access to a power source within 24 hours of one's location to recharge the battery; whether
it be a wall outlet at an established campsite or a camper vehicle with a generator.

Another option is the use of a deep-cycle marine battery to power a CPAP, frankly very effective, however,
the battery can be quite heavy and unwieldy making it difficult to pack around. Those assumptions do not
work for the environment I travel in and necessitate a more creative solution.

I settled on the following:

All of this fits into the Z1 travel bag, shown below, which packs into my waterproof river bag containing all my
sleep gear; sleeping bag, sheets, pillow and warm stuff.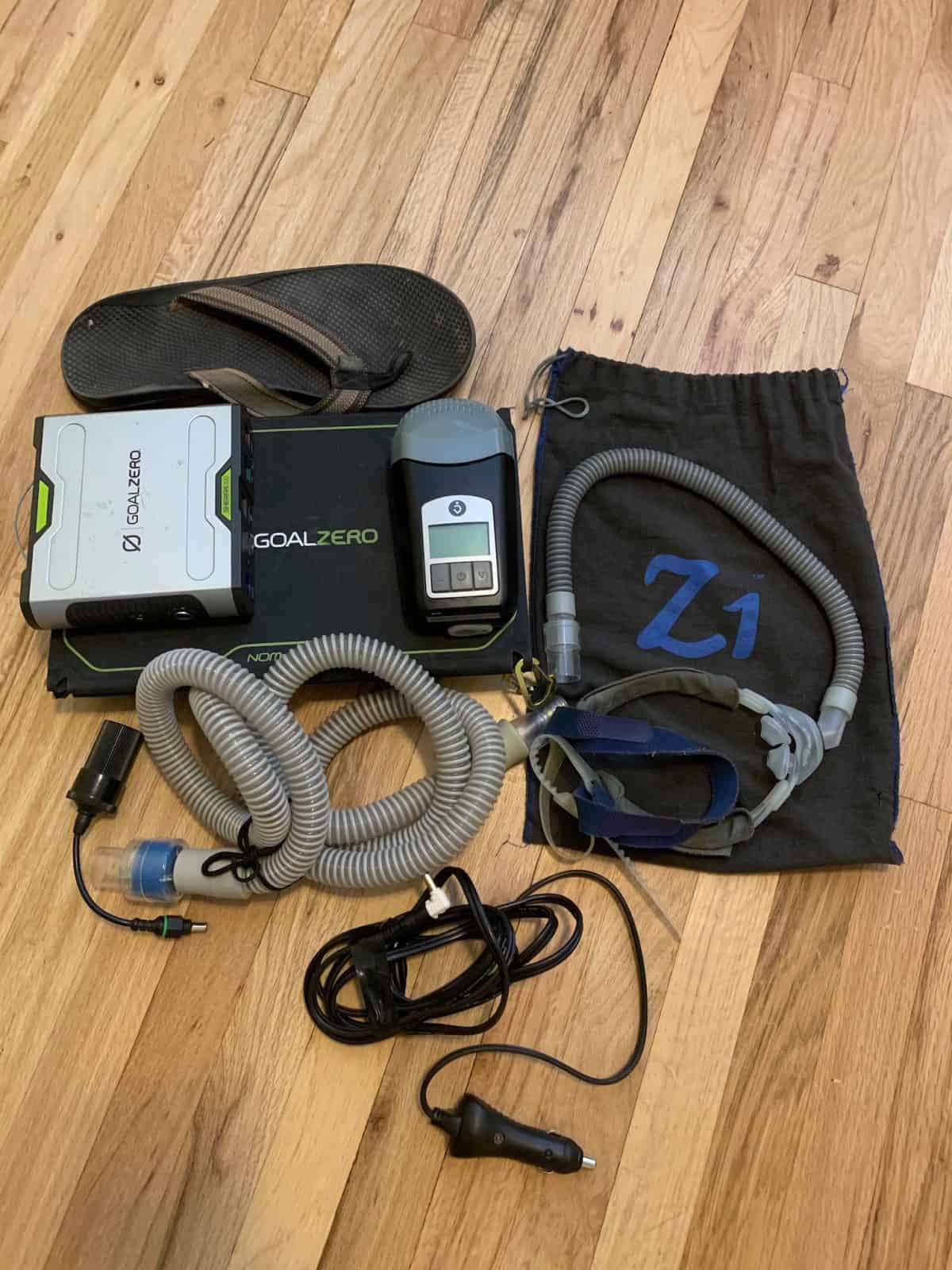 Complete Solar CPAP kit with size 12 Chaco sandal
for scale
HDM has a battery kit as well as a DC
mobile power adapter, but my insurance would not cover those
additional items and I wanted a solar-rechargeable power source that could charge up my
camera and other assorted electronics (yes, shouldn't have all that stuff in the outdoors, but it *is* the 21st century!).
My solution allows me to treat my sleep apnea with virtually unlimited days out, so long as there are solar rays available.
The HME component is an inline humidifier, definitely not as efficient as my home machine, but helpful in the desert Southwest
where I spend most my outdoor time.
Most, if not all, the outdoor/camping CPAP solutions recommend that one does not use the humidifier on a standard CPAP system.
The power requirements necessary to heat water for humidification are simply too high for most battery powered machines causing
the batteries to run down very quickly.
I am able to get approximately 20 hours of CPAP therapy with a single Sherpa 100 battery and with a spare I can keep one charging
during the day and always have additional electrons, just in case. I understand that I could squeak more battery life if I disable
the "Auto" function on the Z1 but my particular condition is best suited to auto-adjusted pressure throughout my sleep cycle.
I chain my Goal Zero solar panels (Nomad 28 Plus and Nomad 20) together to increase output while charging my batteries.
This kit has enabled me the pleasure of spending extended time outdoors without concern for maintaining CPAP usage compliance.
The best thing of all though, is that I get a great night's sleep every night outside under the stars!
Below is a photo of my Sherpa 100 (partially shaded) attached to the chained Nomad panels whilst the river trip crew takes a hike
up a side canyon.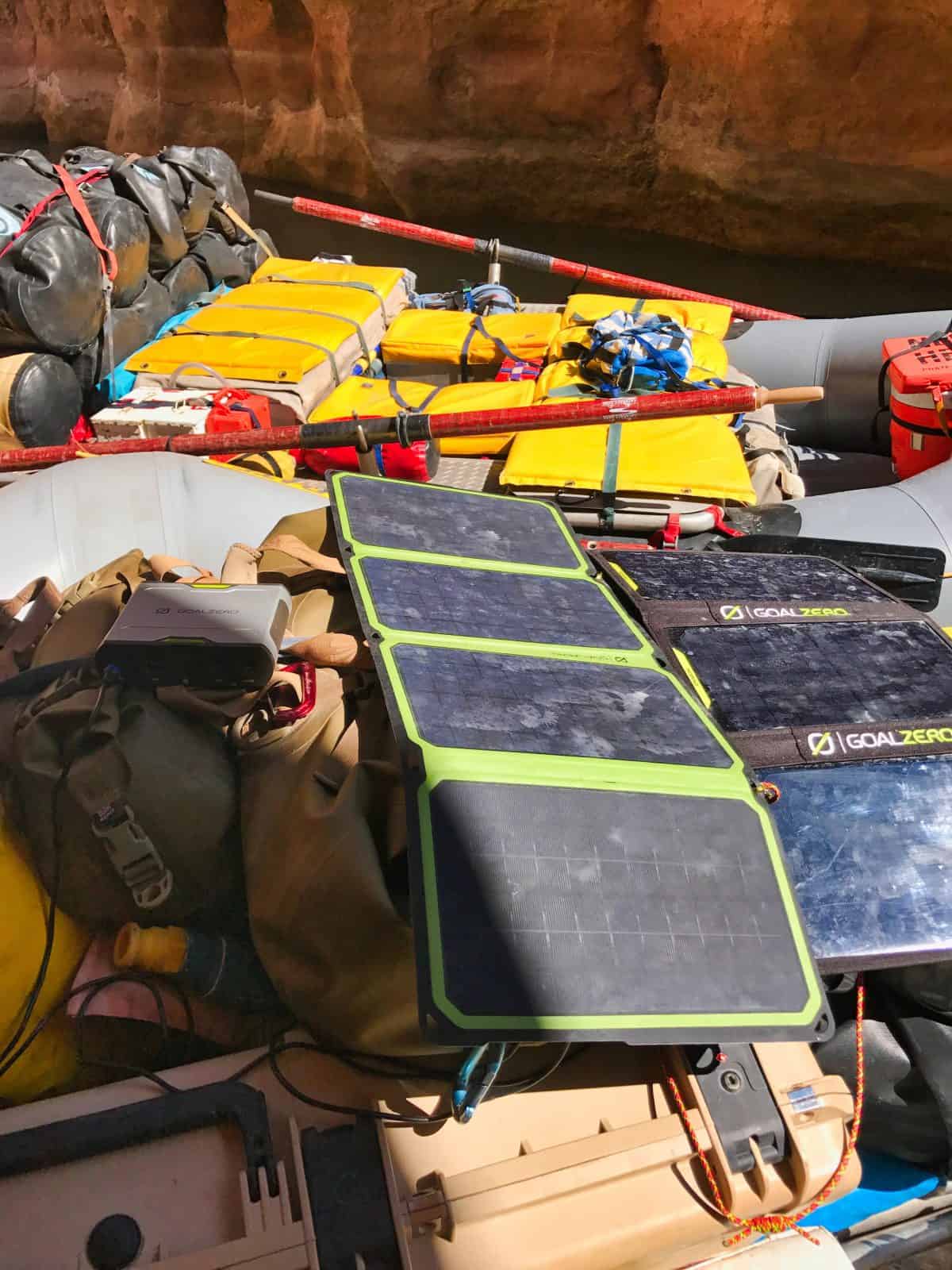 Chained charging in Havasu harbor, Grand Canyon NP
This is a close-up of the kit, less hose and 2nd panel. Extremely portable and completely TSA compliant, which means I can fly to
my destination with the kit, and use the CPAP on the flight if I want to catch some zzz's.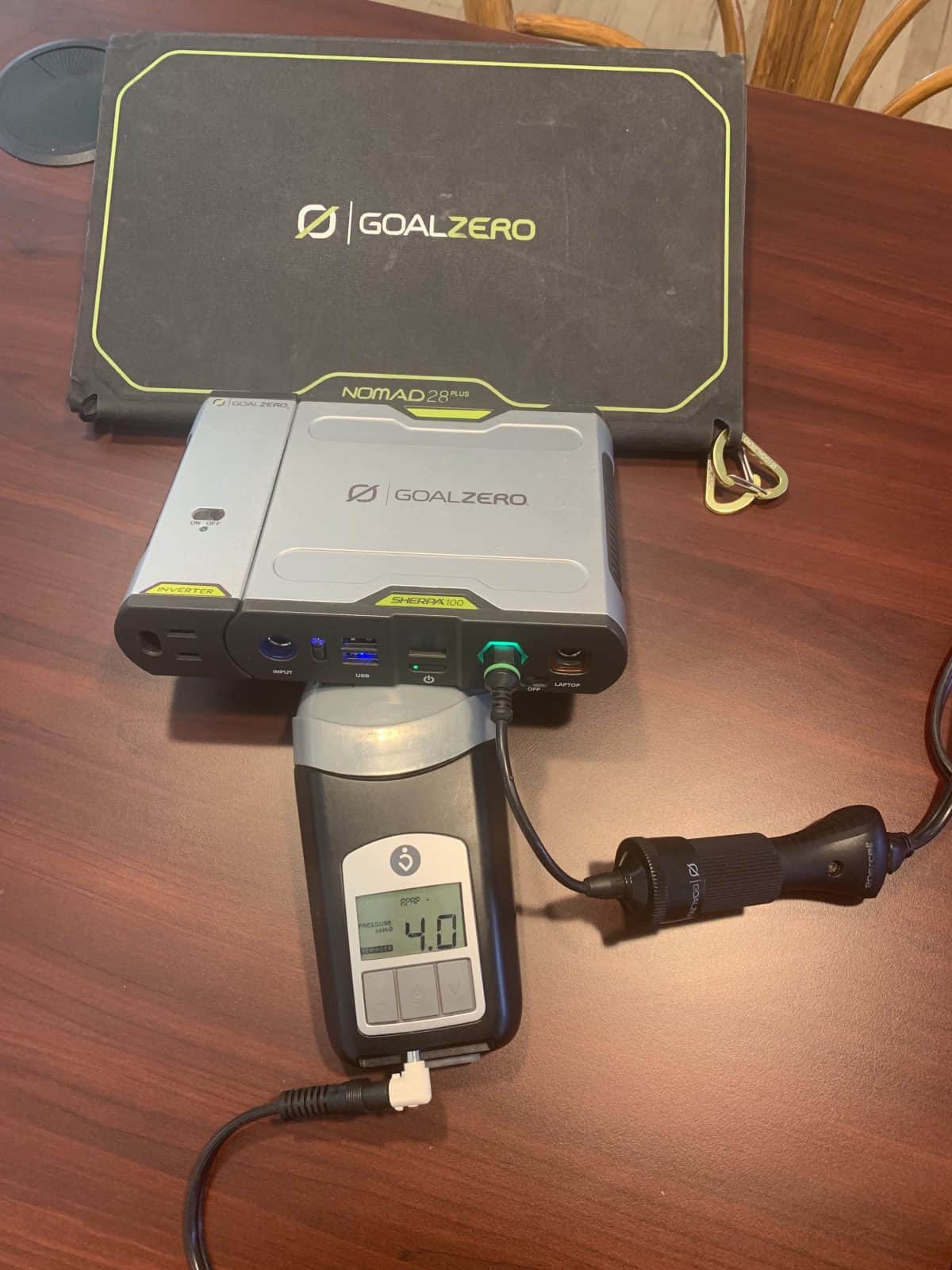 TSA-Compliant for air travel too!!
Additional links for further research and information:

Goal Zero
ResMed CPAP Camping Tips
ResMed Battery Guide (including specific models and their respective power draw)
Human Design Medical (manufacturer of the Z1 Auto)
Easy Breathe, Online CPAP Store