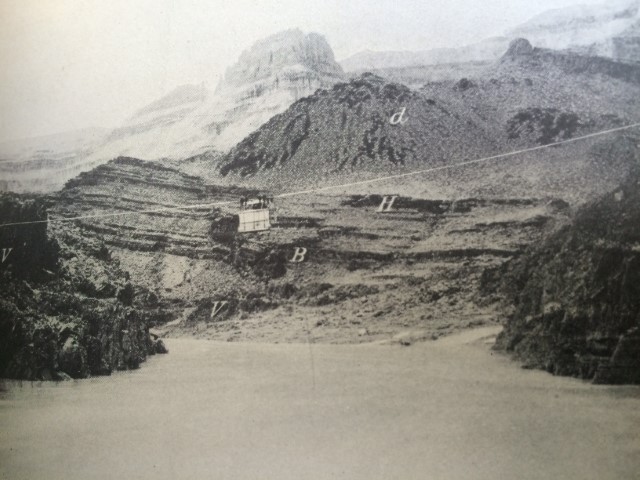 William Wallace Bass moved to the Grand Canyon in 1883.  He moved from the East for health reasons and rumors of Gold brought him into the Grand Canyon.  When the rumors turned out to be false he turned to the tourist industry.  He set up a camp at Havasupai Point on the rim of the Grand Canyon.  This camp was accessible via a road Bass built from Ashfork.  During its 36-year history several thousand visitors registered there including such names as George Wharton James, writer Zane Grey, artist Thomas Moran, naturalist John Muir, industrialist Henry Ford and Army Lieutenant Joseph Ives.
From the Bass Camp on the rim, Bass constructed a trail and led tourists down to the Colorado River at the bottom of the Grand Canyon.  Guests were able to cross the river in a boat until 1908.  Then in 1908 Bass constructed a cable car across the river and attached a cart to ferry people, supplies, and animals across the river.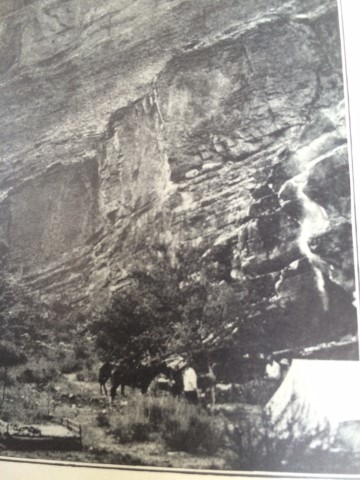 Once across the river, guests were led up and over a saddle into the Shinumo Creek drainage.  A couple of miles up Shinumo Creek, Bass built a tent camp complete with an orchard.  The camp in Shinumo was nestled in an incredibly beautiful location with a nice stream and beautiful trees.  The guests who were able to experience the Grand Canyon with Bass were extremely lucky.
Today Bass's broken down cable car is rotting away at mile 108.  This part of the canyon has always been one of my favorite parts.  Shinumo Creek is always a cool and relaxing stop.  In addition, the rapids of Crystal, Horn Creek, Hermit, Granite, and Hance are now behind you.  Upon the rim, the lone "lollipop" tree up on the Powell Plateau is in view.
The hike up to Base Camp is also one of my favorites.  The views from the saddle up the river are incredible, and hiking down along Shinumo Creek is heavenly.  The ancestral Puebloans must have also like this area because there are a huge number of artifacts and structures that are still visible.
I have hiked the trail many times and when I get up to the abandoned camp I always think of the effort taken to carry things in and out of the Grand Canyon.  At the camp, many artifacts are still present including an Iron stove and lots of coffee pots a