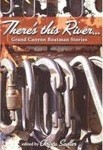 FEATURED BOOK OF THE WEEK:
THERE'S THIS RIVER – Grand Canyon Boatman Stories
edited by Christa Sadler $17.95
Boatmen always have a story to tell. You'll hear many of them on your river trip. In the book, you can read many more. It's a fun and enjoyable anthology by people who love the Grand Canyon up close and personal.
You can order this book on our online store. Or just give us a call at (800)253-7328.