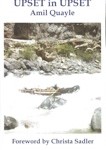 FEATURED BOOK OF THE WEEK:
UPSET IN UPSET, a Monograph by Amil Quayle
This memoir is about an experience Amil Quayle had on his 2nd run as a guide through the Grand Canyon in 1966. He was alone with a family of four, a 33-foot surplus pontoon raft, one outboard motor, and no communication equipment other than signaling mirrors and panels. Those were the days when you hardly ever saw other rafting parties, so when disaster struck at Upset Rapid, Quayle had no one but himself and the help of one of the passengers, to get everyone off the river safely. This epic achievement has been a part of the guiding community lore for for more than 40 years, but like most stories that are retold time and time again, some things needed to be set right. Amil recalls the details in a nicely crafted story that will show you what river running was like "in the old days."
$5.00 + Shipping and Handling (Can be autographed by the author on request.)
You can order this book on our online store. Or just give us a call at (800)253-7328.