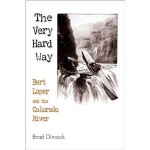 FEATURED BOOK OF THE WEEK
THE VERY HARD WAY, BERT LOPER AND THE COLORADO RIVER, by Brad Dimock
Bert Loper was born in 1869 the very day that John Wesley Powell discovered the confluence of the San Juan and Colorado Rivers. Loper spent much of his life devoted to those two streams. Orphaned and abused, Loper worked most of his life at the very bottom, the nameless grunt in hard rock mines, the sore-backed shoveler on a placer bar, the subsistence rancher on a lonely gravel delta in Glen Canyon. Whatever Loper got, he got the very hard way.
But on the muddy whitewater streams of the Southwest Loper found a joy, a thrill, and a peace. By the time he died at his oars in a Grand Canyon rapid at eighty, he had covered more boats, and known more rivermen than anyone. Two weeks before he vanished in the Colorado , the very first motorboat had run Grand Canyon-bookending his incredible career. Bert Loper's is the tale of river running in the West, and his life encapsulates the Colorado River.
This book can be purchased on Colorado River & Trail Expeditions online store.