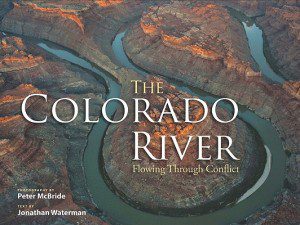 FEATURED BOOK OF THE WEEK:
THE COLORADO RIVER: FLOWING THROUGH CONFLICT
Text By: Jonathan Waterman
Photography By: Peter McBride
This book can be purchased at the CRATE BOOKSTORE for
$27.95 – Signed Copies Available
Supplying vital water to more than 30 million Americans living in the arid West, the Colorado River is one of the most diverted, dammed, and heavily litigated rivers in the world. In full-color photo essay format, The Colorado River: Flowing Through Conflict, follows the river's epic 1,450- mile journey from its headwaters high in the Colorado Rockies to its dried-up delta touching the Sea of Cortez. With striking photography and authoritative prose, Peter McBride and Jonathan Waterman illuminate the historical, geographical, and environmental significance of this life-giving river.