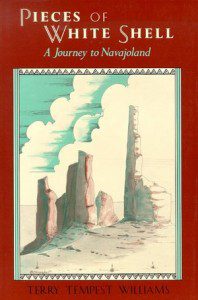 FEATURED BOOK OF THE WEEK:
PIECES OF WHITE SHELL, A JOURNEY TO NAVAJO LAND
by Terry Tempest Williams
This map can be purchased at the CRATE BOOKSTORE for $14.95
A warm, sensitive, informative, and delightful journey to the land of the Navajo through the art of storytelling. The author recounts the myths, legends, and beliefs of the Navajo people and leads us to know the importance of such a tradition in sustaining the people though times of change. The stories tie the people to their land. Terry shows us how we can find our own history, our own traditions, our sense of how to live well. Recipient of many literary awards, including best non-fiction, American Southwest Literature, 1986.