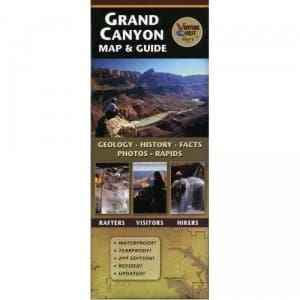 FEATURED BOOK OF THE WEEK:
GRAND CANYON MAP & GUIDE
by Bronze Black
This map can be purchased at the CRATE BOOKSTORE for $10.00
The Grand Canyon Map and Guide is a comprehensive resource for Grand Canyon National Park, covering the entire Grand Canyon from Lake Powell to Lake Mead.  It contains a thorough review of geology, plants, animals, and human history.  Beautiful color photographs illustrate many features and key locations.
It is great for sightseeing and perfect for a day hike, backpack trip, or raft adventure!  This map has been used in educational exhibits in Grand Canyon National Park as well as the National Geographic Visitor Center near Grand Canyon.  The Grand Canyon Map and Guide labels all of the major side canyons, Colorado River rapids, points along the rim and all the major buttes, and temples within the
Grand Canyon. Author, Bronze Black has combined his background in geology, graphic design, and river running to produce this unique, compact, and educational map.  2nd edition 2008, 22 x 30 inch poster, folds to 4.5 x 11 inches, water-proof, tearproof.