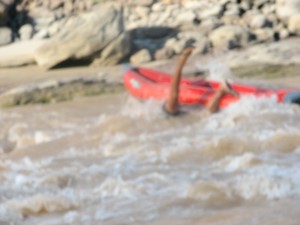 Paddling an "Inflatable Kayak," also known as the "Ducky" or "Funyak," is a great way to experience a rafting trip.  The boat is similar in shape to a canoe, but it is much more stable and forgiving.  Inflatable kayaks come in one man and 2-man varieties and are fun for both beginners and advanced paddlers.  CRATE offers the inflatable kayak option on all of their Desolation Canyon rafting tours as well as on kayak support trips in the Grand Canyon.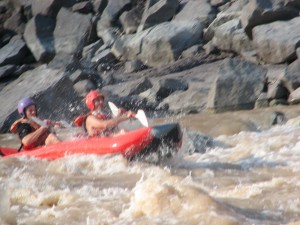 Desolation Canyon is the ideal place for the craft because the water is warm and the rapids are exciting.  For those new to paddling whitewater, it is a good idea to practice self-rescue.  This can be accomplished by flipping the boat over in calm water and then flipping it back over and climbing back into the boat, all while maintaining control of the paddle.  This is good to know because it is common to have the inflatable kayaks tip over in the larger rapids on the Green River.
The larger rapids on the Green River in Desolation Canyon include:  3-Fords, Coal Creek, Wire Fence, Cow Swim, and Steer Ridge.  It depends on the river's level which will be the biggest of the  bunch.  In general the highest water of the season is in early June.