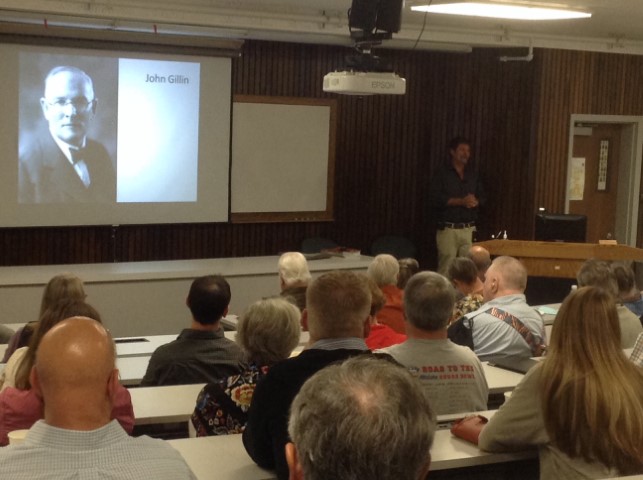 For our lunch hour the CRATE team decided to go up to the University of Utah and listen to Jerry Spangler, professional archaeologist, Director of the Colorado Plateau Archaeological Alliance, and expert on Utah's Nine Mile Canyon.  Spangler's presentation "Nine Mile Canyon:  The Archaeological History of an American Treasure" is named after his new book which chronicles the history of archaeological research in the area dating back to 1890.
For those unfamiliar with the area.  Our Desolation Canyon river trip on the Green River originates at Sand Wash.  Just below Sand Wash on river right Nine Mile or Minnie Maud Creek joins the Green River.  This Nine Mile Canyon is known as the "world's longest art gallery", and it is believed to be home to one of the most concentrated areas of Rock Art in the United States.
From the presentation we learned that 9-mile canyon is actually 45 miles long and John Wesley Powell had actually named Rock Creek, further downstream in Desolation Canyon, 9-Mile Canyon because he had spent some time mapping there.   Unfortunately somewhere along the way Powell's map has been misinterpreted.
In addition to the wonderful photos of the archaeology of the area Spangler gave a very interesting history of the archaeologists who have worked in the area.  Colorado River & Trail Expeditions is really excited because we have a Desolation Canyon Archaeology Rafting Expedition slated for June 1-8, 2014 and Spangler or one of his crew has agreed to join us on the trip and talk about the area and show us some of the sites they have found.
For more information about CRATE's Desolation Canyon Archaeology Rafting Expedition call Vicki at 1-800-253-7328.